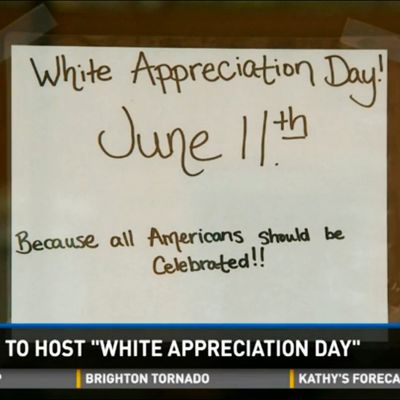 Okay.
Photo: Courtesy of 9News
Traditionally celebrated every day of the year, a man in Colorado has very serious plans to turn one specific day, June 11, into "White Appreciation Day" at his BBQ joint. "Basically on that day, all white people would get 10 percent off," explains Edgar Antillon, co-owner of Rubbin' Buttz BBQ in the town of Milliken. "We have a whole month for Black History Month, we have a whole month for Hispanic Heritage Month, so we figure that the least we can do is offer one day to appreciate white Americans."
The move started drawing attention after the restaurant posted a window sign that reads "White Appreciation Day! June 11th. Because all Americans should be celebrated!!"
Regardless, Colorado has laws, as someone from the Department of Regulatory Agencies reminded viewers on the local news last night, and racial discrimination typically violates one of them. The department "would investigate" any complaints that arise from this discount, the person says. Surely, Rubbin' Buttz's lawyer is advising against his client's new observance day.
Antillon, who's Mexican American and says he's quite familiar with racism, is pretty sure his discount will do the promote the complete opposite of discrimination. In his mind, it basically boils down to: "We're all American, whether you came from a different country or you were born here."
It's possible he's not an equal-opportunity discounter, though. While he says he'd consider offering one to other racial groups, he admits that's "unlikely to actually happen."
[9NEWS]