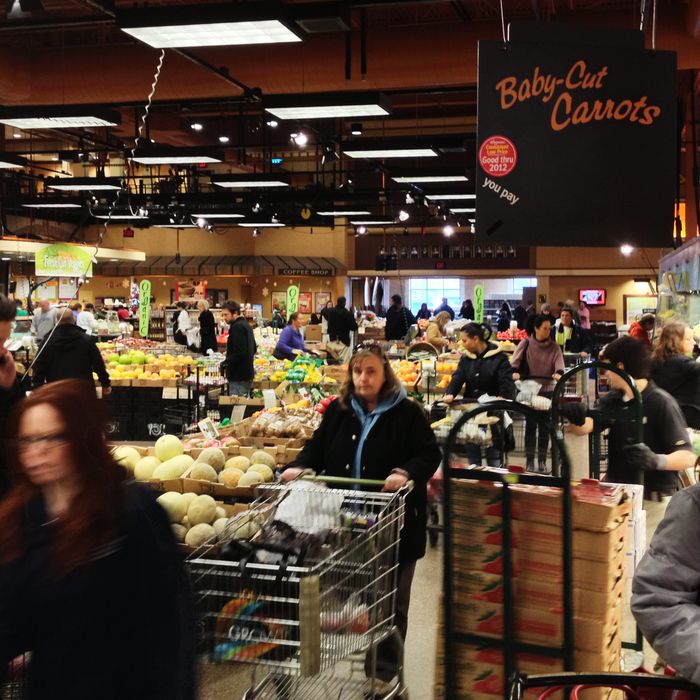 Rochester-based grocer Wegmans will finally open its first New York City location, and the chain's cultish fans immediately experienced a collective meltdown. This, despite the fact that the store, set to open in the Brooklyn Navy Yard, won't land here until 2017. No matter: People love their Wegmans.
To get a grip on why people go so bonkers for Wegmans, Grub got on the phone with a friend and known Wegmans super-fan, Sean Patrick Kelly. In fact, he's not just a fan, he's also in the industry, having worked as a fromager at both Murray's and Bedford Cheese; Kelly now works as buyer for Dean & DeLuca. He was more than happy to tell us all about Wegmania.
Let's start with you explaining your Wegmans connection.
Ay! Well, I grew up in upstate New York and Wegmans originates a ways west of me. But I had some family in the Lehigh Valley in Pennsylvania and that was their main store. So whenever I would go to visit them, which was very often, we would go there.
Isn't that kind of a bummer, having to go visit family and then being forced to go to the grocery store?
So in that way, for me, it ended up being a novelty destination store, since it wasn't always available. It was a regular sort of thing for them since they had it at their disposal, but I would always excitedly tag along. It was really different than anything I had by me or anything that I grew up going to. It was more like a field trip than a chore.
Yeah, but it's just a grocery store. What could be different about it?
Well, one of the things that I remember is the sheer size. To see a store that had every different department be the size of an entire grocery store in my hometown was always amazing.
Okay, so it was really big. But so what? There are other big grocery stores.
Well, another thing was the general feel while shopping there. Obviously I didn't realize it fully at the time, but it was really my first experience with top-to-bottom customer service: fully stocked shelves, interesting merchandizing, big displays, constant sampling, all that.
All right, can you elaborate more on how that affected you?
Definitely. It was the first time that I felt like shopping for food was more than a chore or errand. And the way they laid the store out and had their staff act in a way that made you feel like it was more than just a shift or a chore for them as well. So it was definitely not just the size, it was an experience going there. Absolutely.
Okay, I kind of get it. Do you feel like Wegmans has anything to do with why you've ended up in the retail side of food?
I think it 100 percent has affected the way I approach the business. But also, yeah, I do think that the experiences there have contributed to me moving into the business.
You've worked at some pretty high end-places, selling cheese and whatnot. In what tangible way has it affected your approach?
Because it was one of the first experiences I had with discovering food and being encouraged to explore.
But do you have any memories of experiences that stick out?
Well, for example, a Wegmans in Pennsylvania is the first place I ever saw a black truffle in person.
Okay, that's cool. My local Shop & Stop definitely didn't have those..
I was like, Holy shit. This is something I've only read about and is supposed to be the holy grail of flavor. And here it is sitting in the same place I can buy bulk olive oil, paper towels, Coke, and ice cream.
Wait, was that weird to see this legendary food next to all those everyday products?
No, that didn't lower the status of the truffle for me. It elevated the shopping experience as a whole.
All right, okay. Let's talk about the prepared foods. When you think about grocery store and deli steam table food, it's so depressing. But people freak out over the Wegmans prepared food as if Alain Ducasse were back there in the kitchen. What is up with that?
Yeah, for real. Definitely, and I think that the fact that they constantly presented a gigantic array of fresh ingredients helped to legitimize what they were preparing in store. The prepared food section always stuck out for me not so much for what they had — I was probably a little oblivious at the time — but for how people approached it.
Yeah, they seem awestruck by it, which I just can't understand.
Oh, most definitely. And, really, that's what every retailer wants to do deep down. Rekindle that sense of happy confusion that you get when confronted by an overwhelming quantity of choices.
I mean, what about your family? Was Wegmans for dinner something you guys did?
If a family friend showed up to dinner with a side dish they got there, people would be impressed rather than turned off by the fact that they picked up a premade thing from the grocery store.
So it was a big deal. Do you remember eating anything from there that you particularly liked?
I remember their croissants blowing my mind.
Was that the first time you ever had a croissant that was any good? Good ones are not so easy to find, even in New York.
I also remember a somewhat pretentious family friend who would bring them by and say that they were the only ones he would bother to eat outside of Paris. That just made me laugh. Oh, and any time he ordered them there he would do it with a cartoonish French accent."Kwaaahhh-sohhnt"
Now I assume Wegmans customers speak in bad French accents.
But that speaks more to the quality of what they made than to the weirdness of our friend.