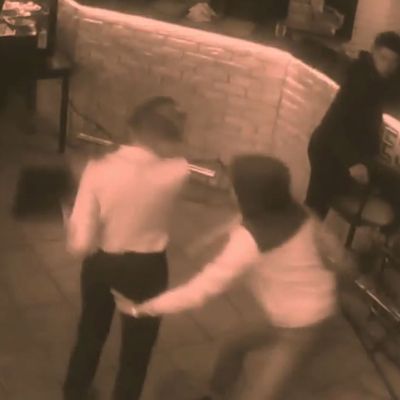 That butt grab was totally staged.
It looks like the viral video of that Russian waitress defending herself against a man who repeatedly groped her is too good to be true. There were suspicions from the start, but France 24 now reports that the scene was conceived by a clever restaurant banking on the (accurate) belief that "people like to watch fights."
A reporter called a phone number listed in one version of the video, and instead of the restaurant shown in the footage (Caesar Cafe), an ad agency answered, and the rep admitted they were all actors. "We spent practically nothing on this video," café manager Oleg Saoushin says, "and I think that it will give the café a good image because the video has a very positive message."
Agency director Marcel Akhmetov explains:
That said, the actress playing the waitress did have to hit the guy really hard to make it credible. She weighs 60 kilos while he only weighs 47, so the blow really hurt him. He was dizzy for the next hour. About twenty different local restaurants have already called to try and hire this waitress … even though she's a professional actress!
Weird, right?
[France24]