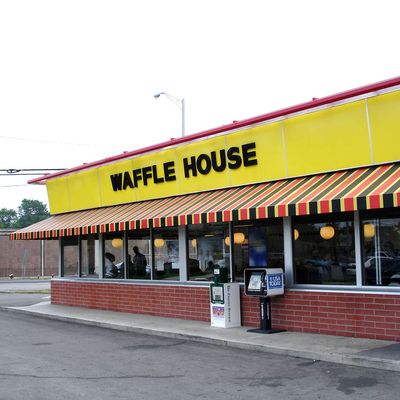 Keep it up.
Photo: Eli Hodapp/Flickr
Waffle House might crank out great hash browns, but it's also home to some poor behavior: Kid Rock fistfights here, "unruly" patrons are sometimes shot to death, and fringe militiamen occasionally plan terrorist attacks from tables, just to name a few incidents.
So this sweet story is a welcome relief: Five-year-old Josiah Duncan was eating at an Alabama Waffle House when a disheveled man walked in and sat down at a booth by himself. He was homeless and nobody waited on him, so Josiah assumed the role of server and asked if he needed a menu because, obviously, "he couldn't order without one." The man settled on a burger with bacon, so Faulk placed his order. When the food came out, Josiah made his new friend wait quietly while he sang a loud blessing over the food, causing a scene apparently so moving that everyone in the restaurant teared up. "The man cried. I cried. Everybody cried," Duncan's proud mother says.
[WSFA]