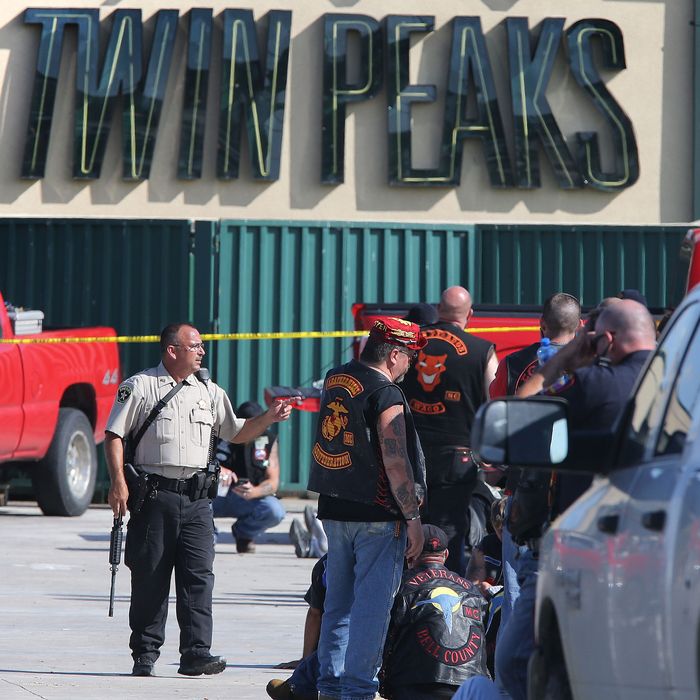 What a disaster.
Photo: Jerry Larson/AP/Corbis
Twin Peaks' Dallas corporate office has wasted no time distancing itself from the Waco, Texas, location where yesterday's biker-gang fight left nine dead and 192 in custody. As expected, police quickly shut down the restaurant to secure the scene, but the company evidently has no intention of ever letting it reopen. Here's the statement:
Unfortunately the management team of the franchised restaurant in Waco chose to ignore the warnings and advice from both the police and our company, and did not uphold the high security standards we have in place to ensure everyone is safe at our restaurants.

We will not tolerate the actions of this relatively new franchisee and are revoking their franchise agreement immediately. Our sympathies continue to be with the families of those who died and are very thankful no employees, guests, police officers or bystanders were hurt or injured.
The Waco police force is saying that this outpost's management "wanted" gang members around, and police sergeant Patrick Swanton called a representative's assertion that Twin Peaks has had "ongoing and positive communications" with local authorities an "absolute fabrication." As he put it, the chain now has "some answering" to do.