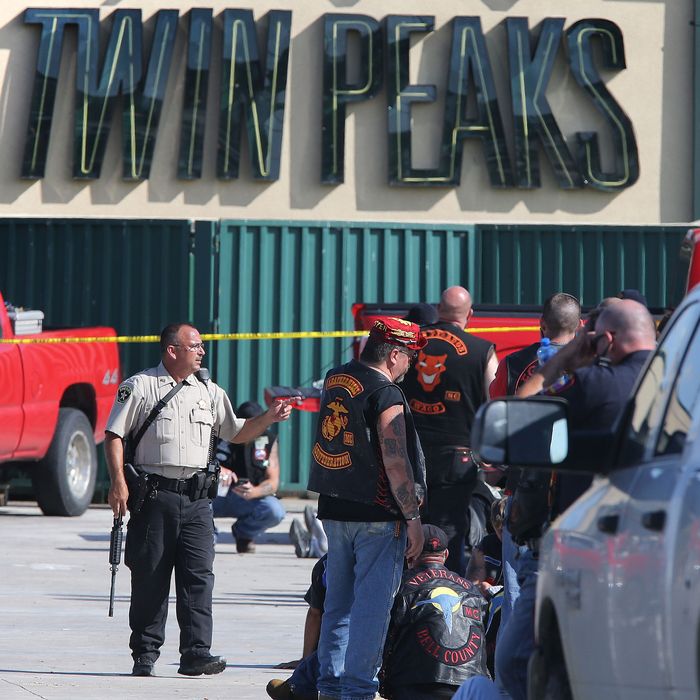 "Scenic views," to quote the chain.
Photo: Jerry Larson/AP/Corbis
Don Carlos Mexican Restaurant had front-row seats to Sunday's biker-gang melee that exploded outside Waco's Twin Peaks. But being so close, the company notes in a lawsuit filed yesterday, caused more than $1 million in lost business and property damages. Attorneys now want the Dallas-based chain, as well as Peaktastic Beverage LLC (the franchisee) to pay up.
The lawsuit argues that Don Carlos's more sedate taco-eating crowd was "caught in the crossfire" — bullets struck their cars, police hid on the patio — and the restaurant was forced to close for three days.
Peaktastic Beverage is called a "grossly negligent" franchise operator in the lawsuit — a sentiment apparently shared by local police offers, who have said that management "wanted" gang members around. In a statement to the press, Don Carlos's lead counsel Tony Buzzbee opted for more dramatic wording: "Twin Peaks didn't just add gas to the fire, it threw the match. Inviting armed rival gangs to a place where alcohol is served is not only unwise, it is reckless. All of the neighboring businesses are damaged, and Twin Peaks needs to be held accountable."
Don Carlos says it has no clue whether business will rebound at the "former crime scene." Twin Peaks, meanwhile, has closed that Waco franchise, and all the signs suggest it'll go back to simply being the nation's fastest-growing restaurant chain in no time.