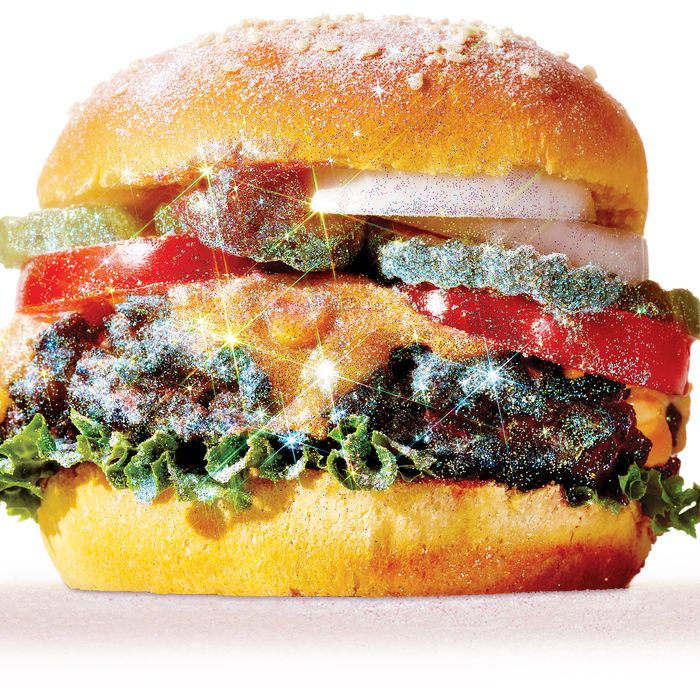 The burger's rise from the lowly patty to food-world high art.
Photo: Bobby Doherty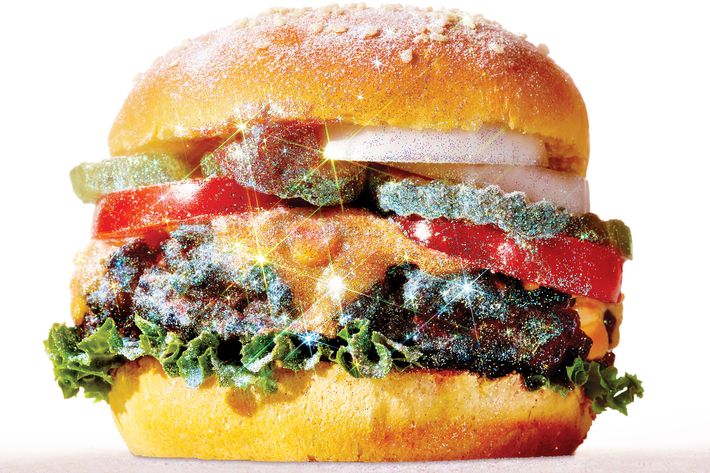 Grills were being wheeled onto patios, cookouts prematurely envisioned, National Hamburger Month just days away. For the Burgerati, the high season of the hamburger was nigh, and the group had come together in late April for a conclave at the Ox-Cart Tavern, a gastropub in D­itmas Park. Many of them had first met over Instagram, where leering, close-up photographs of hamburgers are a pornographic currency. Four of the Burger Babez, an all-female monthly burger club, were in attendance. Brad Garoon, who blogs as Burger Weekly, sat beside Ammar Shallal of Burgerator, a global burger-rating mobile app. Three of the people at the table were from Burger Lift, a start-up that manufactures stainless-steel trivets for individual hamburgers.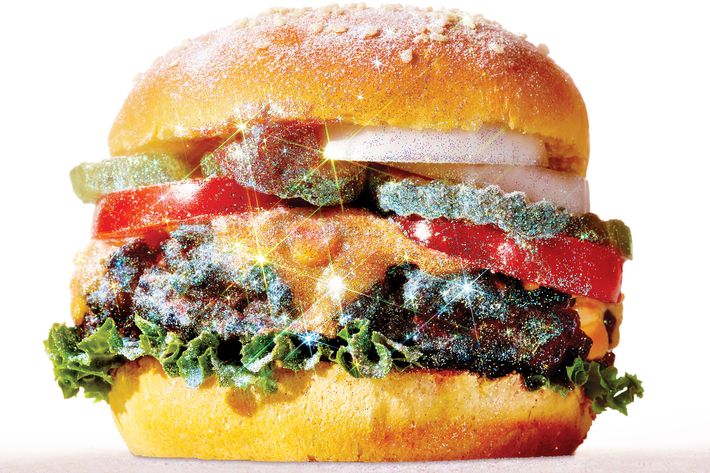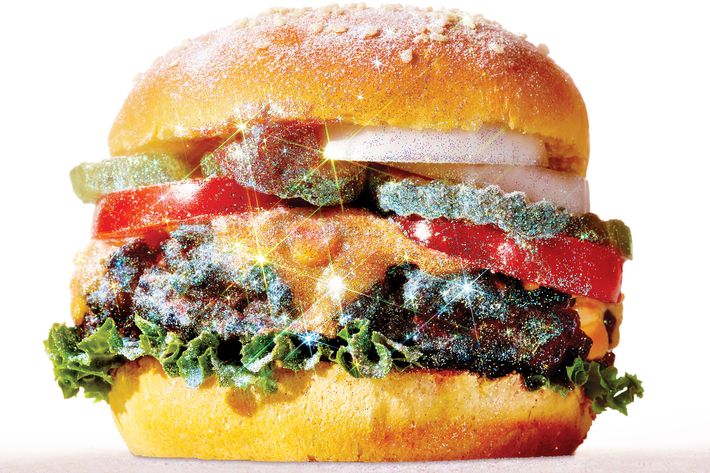 Ciancio had called the chef at Ox-Cart  "a bit of a burger nerd," and the burgers there skewed chef-y, like La Vaca, which comes topped with a fried chipotle pepper, pico de gallo, and Oaxaca cheese. When the burgers arrived at the table, the Burger Lifters all placed their Burger Lifts (low, round, grated pedestals) under the burgers on their plates, as did Ciancio, who'd removed his from a small Ziploc bag he carries with him wherever he goes. "It protects your burger from the tyranny of soggy buns," Ciancio said. Last year, Burger Lift raised $11,000 on Kickstarter, and Mercer Kitchen now serves its burgers on Burger Lifts. "So brilliant," Gabrielle Novick, a Burger Babe, said. "You guys should be on Shark Tank."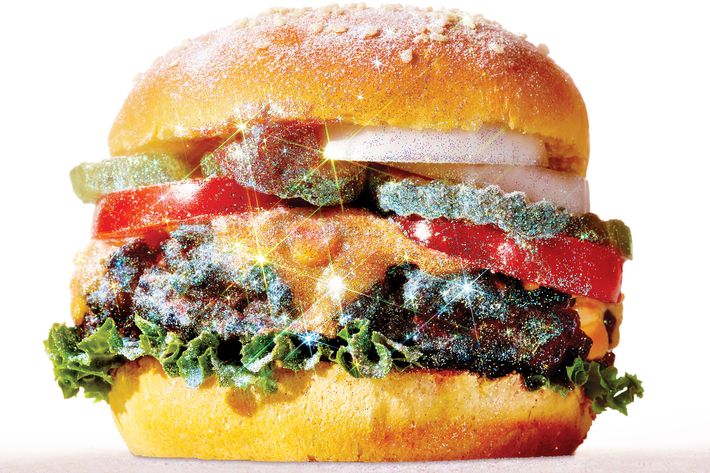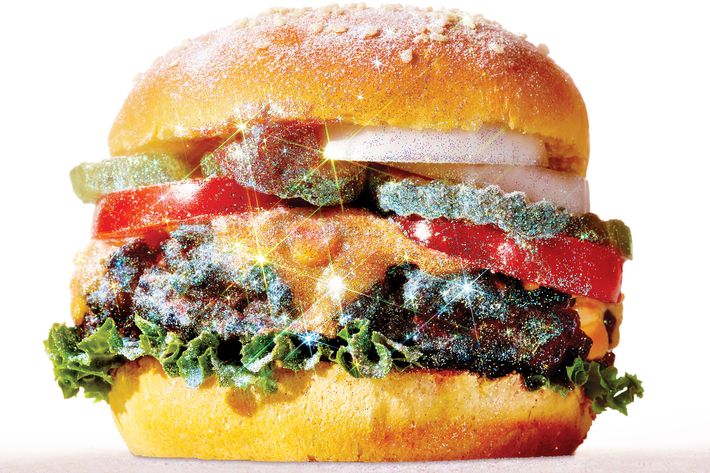 Burger restaurants have long been the largest category of fast-food establishments in the United States and show no signs of going away — despite record beef prices in 2014, hamburger consumption rose 3 percent — but the old burger order seems to be crumbling. McDonald's recently announced sales declines for the first time in a decade and closed hundreds of locations. Last July, a Consumer Reports survey of 21 fast-food burgers rated the McDonald's burger last. Hamburgers are no longer being taken for granted, and the so-called better-burger movement is on fire — a few years ago, Five Guys was declared the fastest-growing restaurant chain in the country, and Shake Shack, the first chain since TGI Friday's to originate in New York rather than the heartland, went public in January. In fact, New York has become a locus of innovation at all tiers of burgerdom, with ever more chefs both fancy and plain making bids for burger greatness.
All of which was pleasing to the Burgerati, who were young and full of high purpose (to find and eat the best burgers). Shallal, convinced that fast food in general was in eclipse and being overtaken by restaurants like Shake Shack, spoke in the visionary tones of someone present at the birth of a utopia. When I asked how his app makes money, he smiled beatifically. "It doesn't make money," he said. "It's for the people. This is our contribution to the burger world."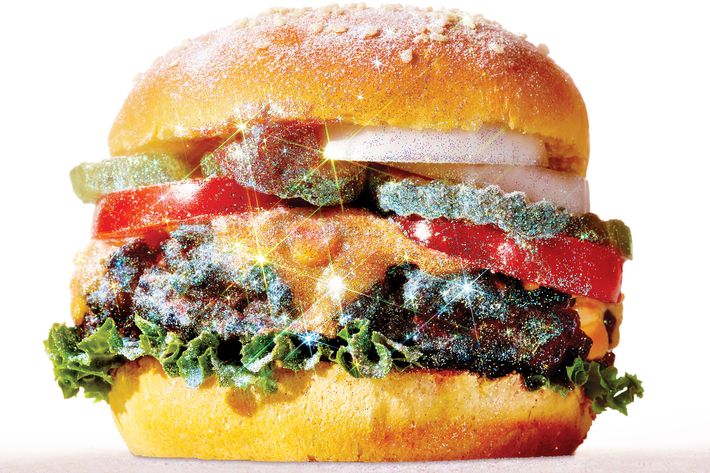 "Without a doubt," George Motz was saying a few weeks earlier, "the burgerscape has changed dramatically." Having devoted the last 12 years of his professional life exclusively to hamburgers — he directed the documentary Hamburger America, wrote the book Hamburger America, developed the burger-locating app Burger GPS, hosted the Travel Channel show Burger Land, and was now finishing up work on Hamburger America: The Cookbook — Motz likely has thought more about the hamburger and its place in American culture than anyone else alive. He has muttonchop sideburns but is leaner than you might expect for someone who, when deep in his research phase, will eat as many as 20 burgers in a week. "I do take care of myself," Motz said. "I consider my hamburger intake a privilege, not a right. Working out, I earn my burger calories." That morning, he'd done seven miles on the recumbent bike. "You'll notice I didn't eat my French fries," he added. "These are amazing, but I know they're just more calories."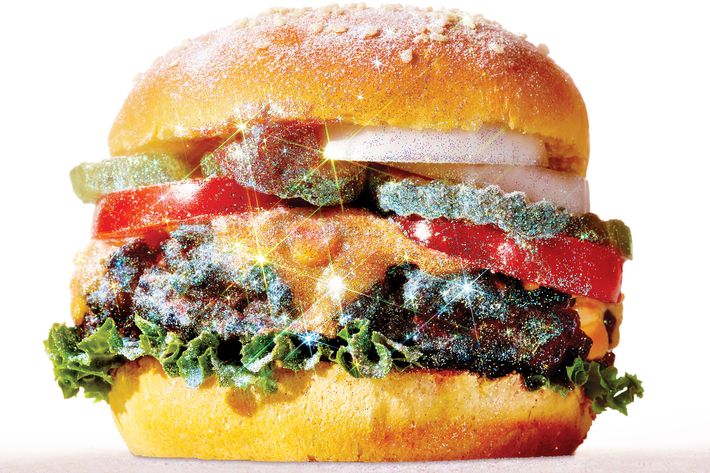 We were at Emily in Clinton Hill. It's a pizza restaurant, but we'd come for chef Matt Hyland's hamburger, which had lately become an object of salivation among burger Brahmins and was, Motz said, an exemplar of "where the burger is right now." Not so long ago, the appearance of a burger on a previously more exclusive menu was an early warning sign of a restaurant in trouble, an 11th-hour crowd-pleaser that reeked of desperation. But Motz was talking about the rise of the chef burger, sometimes called the craft burger or the artisan burger. "You've got these chefs that are putting their spin on the classic in a really, really great way," he said. "They're making these burgers where it's obvious when you take your first bite that … it's not just a burger, an afterthought."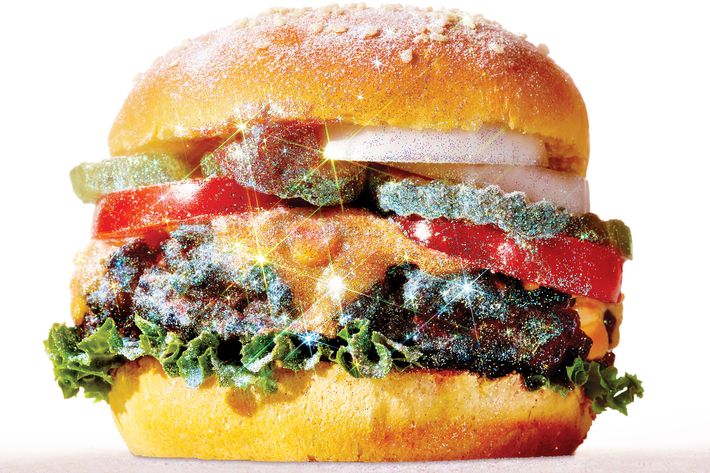 Where the burger is right now. That a pizza place was serving a burger in the first place was part of it — two weeks earlier, when Motz had walked in, more than half the tables had burgers on them. So was the fact that Emily was a serious, New ­Brooklyn–style restaurant. And then there was the burger itself, two of which sat in front of us, made of a dry-aged blend from ­DeBragga butchers, griddled on a blacktop, and served on a Tom Cat Bakery pretzel bun with a slice of one-year-aged Grafton Cheddar and an umami-bomb sauce based on Korean wing sauce.
Motz began eating, pausing between bites only to emit low, ursine growls. "Mmmm … mmmm … Oh my God … mmm." Motz looked up. "This is what happens when you give a shit about a burger," he said. He took another bite. "Mmmm … How good is that, dude?"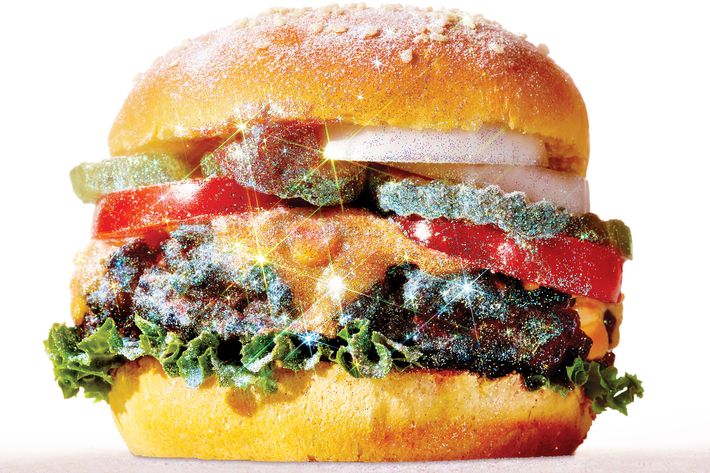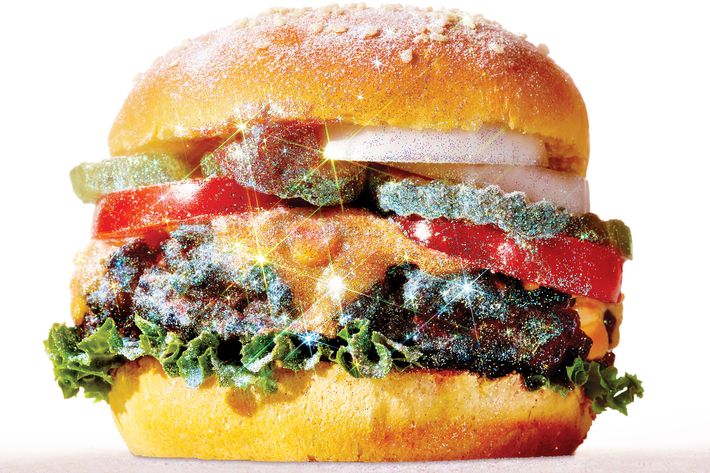 Motz himself had transformed from average burger consumer to obsessed devotee when he was in his early 20s, and like all who make that journey, he had been trying to recapture and improve upon the moment ever since. Having grown up on McDonald's and Howard Johnson's (which painted fake grill marks on its burgers using food coloring), he was visiting Los Angeles when he walked into the Apple Pan on West Pico Boulevard. "It was the place that time had forgotten. And at that moment, after I ate a burger, I realized that this was the place I think we all dream actually exists, and it still does, and from that point on, I made a point to find those places. I knew they were out there." What was so special about the Apple Pan burger? "It's a fantastic burger based on not just the burger itself but what I call the whole burger experience," Motz said. "When you're having that kind of multisensory moment with a hamburger, I think it elevates it for sure. Since then, I've tried to think of the hamburger as not just a food item but as representative of America." Motz hesitated. "You've got a little hot sauce on your nose," he said.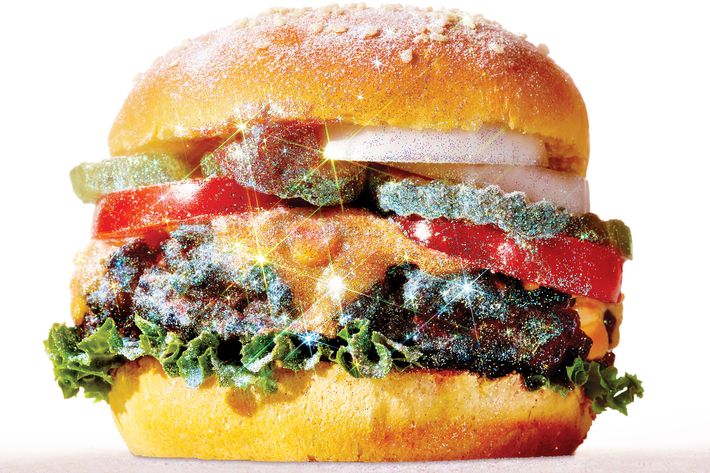 While there have been endless Scholastic debates on the true original "elevated" burger (was it the '21' Club's mid-century embellishments of duck fat and fennel seeds or Ruby Tuesday's pathbreaking 1960s substitution of an English muffin for the traditional bun?), the first celebrity-chef burger, and also the first truly mediagenic burger, is undisputed: Daniel Boulud's DB Burger. In 2000, when his DB Bistro Moderne was eight months away from opening and anti-globalization activists in his native France had just vandalized a McDonald's, Boulud was feeling protective of his adopted country. "The French wish they could have invented McDonald's," he told the Times. He decided to create a burger that would be a cultural exchange on a bun, bridging the haute techniques and ingredients of France and American simplicity. "I wanted to make a burger you could drink red wine with," he told me. "That was my obsession. It was really a burger for grown-ups."
What he came up with took three days to make and was stuffed with red-wine-braised short ribs, black truffles, and foie gras. New York's high-low gourmets swooned. "We had a customer from Baltimore who came once a month and blew $1,200 on burgers and a bottle of Côte-Rôtie or some Burgundy," Boulud says. "To me, it was, Whoa, I've really made it."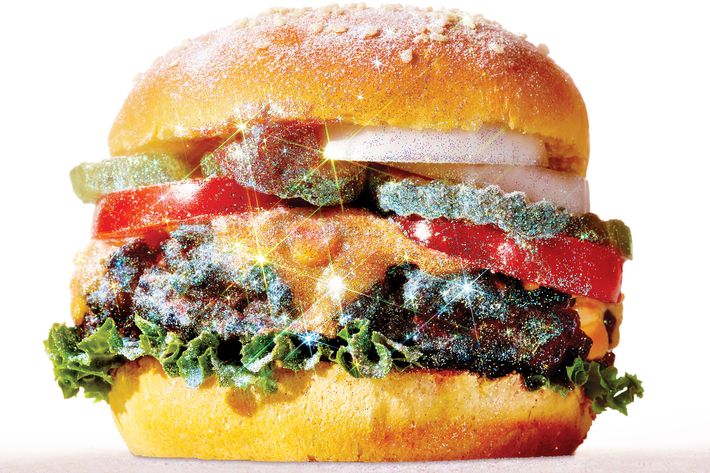 The DB Burger begat imitators who, lacking Boulud's artistic vision, focused only on its price and superficial luxury. The Old Homestead Steakhouse began offering an $81 burger made from 14 ounces of Wagyu beef stuffed with another four-ounce medallion of Wagyu sirloin. The Wall Street Burger Shoppe then debuted a $175 burger that came with flakes of gold leaf. "I was kind of laughing," Boulud recalls. "It was more about trying to enter this competition of more expensive rather than trying to come up with a more interesting, complex burger." (Boulud, it must be said, created a gimmick of his own: the Royale version of his own burger, with two layers of truffles, for $85 and a Super-Royale, with four layers of truffles, for $150.) Finally, in 2012, after a restaurant called Serendipity 3 put Le Burger Extravagant on its menu for $295 (caviar, quail egg, a diamond-studded gold toothpick), the food truck Burger 666 introduced what may have been the world's first satirical burger. The Douche Burger, priced at $666, was piled high with what the truck owner called "rich-people shit," including lobster, caviar, and Champagne-steamed Gruyère.
While cows are four-stomached ruminants designed to eat grass, not grain, burgers made from them aren't exactly health food and won't reverse climate change. The meat might be leaner (a pro or con, depending on who's eating it) and contain higher levels of heart-healthy omega-3 fatty acids and a lower ratio of omega-6 to omega-3 fatty acids. But only very marginally: An eight-ounce grass-fed burger has between 45 and 68 milligrams of omega-3s. The equivalent portion of sockeye salmon serves up 65 times that much. "The omega-3s come from eating greens — grass if you're a cow, algae if you're a salmon," says Marion Nestle, a professor of nutrition at New York University. "If anything, omega-3s are one more reason to eat your veggies."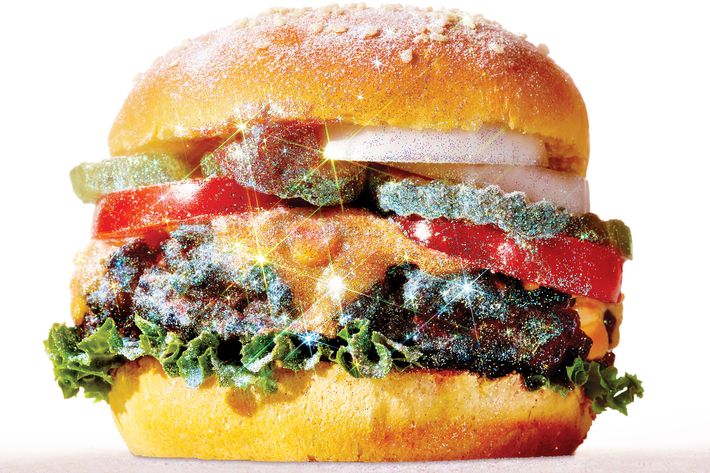 On the plus side: Moving animals regularly to fresh pasture ensures the even spread of manure, improving soil and reducing erosion; ample grazing room obviates the need for manure pits, which can leak into local streams and rivers; and grass-fed animals don't consume grain raised with chemical fertilizer. Then again, cows burp — a lot — releasing methane, a greenhouse gas 25 times more potent than carbon dioxide. And grass-fed cows are the gassiest, since grass is harder to digest than sugary corn, and because these animals grow more slowly and are therefore allowed to live to an older age before slaughtering. The U.S. cattle industry currently produces 9.6 kilograms of greenhouse gas for every 1,000 calories of beef (compared to just 2 for pork and 1.7 for poultry). Three-quarters of the world's agricultural land is used for grazing, and a substantial portion of cropland is dedicated to growing grain to feed cattle. This, to produce just 8 percent of the world's food. For those who care about climate change, what the cow eats is vastly less important than whether we eat the cow. ■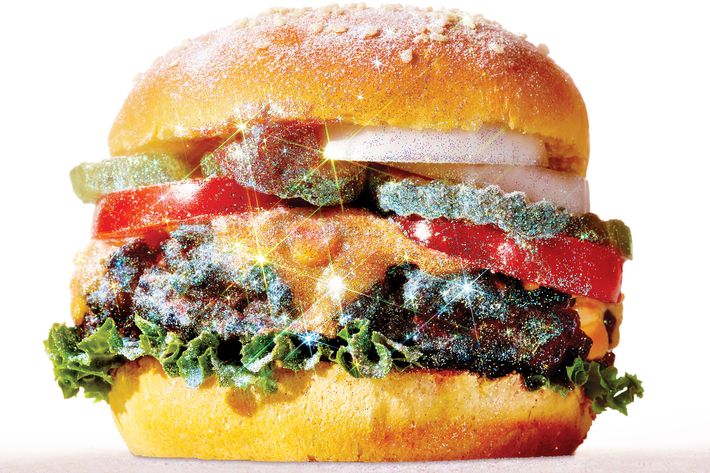 The real significance of Boulud's original, of course, was its premise that the lowly hamburger could be worthy of serious gastronomic consideration. Two other burgers, though, would signpost the sandwich's inexorable march toward perfection: First Danny Meyer's Shake Shack, with the 2005 debut of its nostalgic roadside Shack Burger, and, three years later, Keith McNally's Minetta Tavern, with its steaklike dry-aged Black Label Burger. What both had in common was the source of their meat, butcher Pat LaFrieda, who had supplied each restaurant with its own custom blend and whose name appeared on Minetta's menu and in Shake Shack's press materials. This was something new.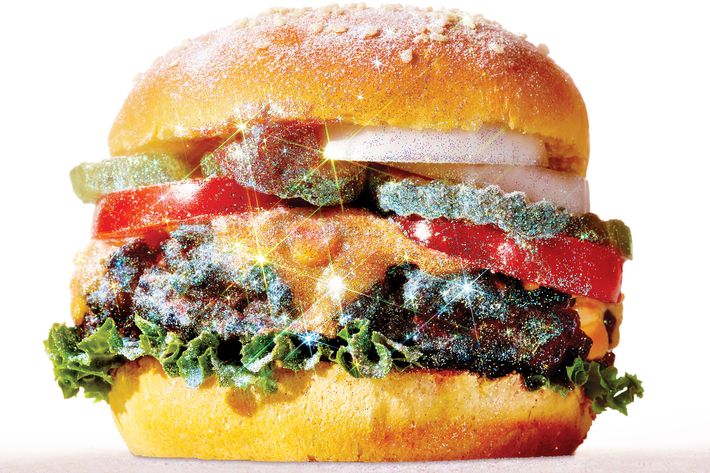 Traditionally, restaurants' ground-beef purchases had been limited to commodity meat for family-meal burgers. It would have been considered absurd to speak of the precise cuts of meat that went into them, or the breed of cow those cuts came from, or what percentages of each were used in the blend. Butchers tended to have a single house blend, and customers weren't interested in knowing the name of the purveyor who'd supplied the meat.
LaFrieda was already using only whole-muscle cuts for his ground beef — a rarity in a business for which ground beef was traditionally a dump site for the trimmings of trimmings from used-up dairy cows — and had made his one-off special blend for Henry Meer, but it was the blogger frenzies over Shake Shack's and Minetta's burgers that made him famous. There was a gustatory logic to his grinds: Brisket, which he often used in the mix, contains naturally occurring oleic acid, which imparts an appealing, very particular fattiness; and short rib has a certain greasy softness and pungency that "brings in the chocolate of the meat," in Meer's words. The rise of custom blends, from LaFrieda and others, is also thanks to the growing awareness of Americans, who were starting to care more where their food came from. "What has really made the difference is the marketability of certain cuts," says Jamie Schweid of Schweid & Sons, "and I think it's grown in conjunction with the growth of the Food Network." New York restaurants are constantly searching for new ways to differentiate themselves in the market. "We're all so insecure, we all need our own special grind," Meer says. Suddenly, LaFrieda was a celebrity, attracting a profile in this magazine and later a television show on Food Network. When Danny Meyer rang the bell to open trading at the New York Stock Exchange on the day of Shake Shack's IPO, LaFrieda was standing beside him. Motz told me he has several restaurateur friends who feel they need LaFrieda's name on their menu to guarantee success.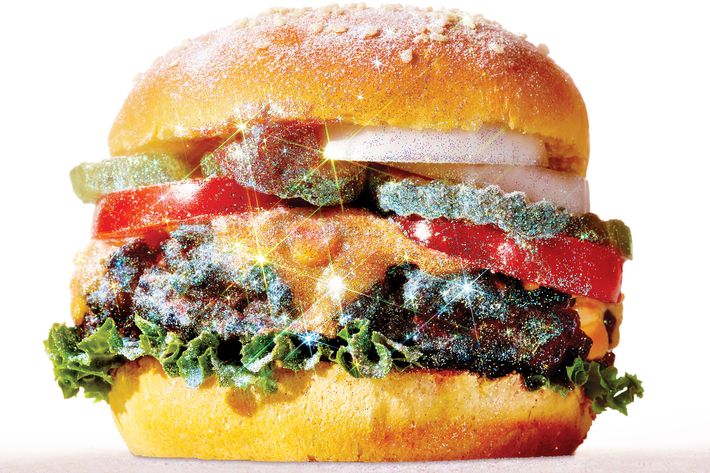 Though the statement burger seemed, to some at the time, a decadent food fashion, there were macroeconomic forces at work that have given it remarkable staying power. One is the unprecedented rise in the price of beef. For reasons including the spike in oil prices after 9/11, the creation of the Renewable Fuels Standard in 2005, the Energy Security and Independence Act of 2007, and government subsidies, ethanol production has increased sevenfold since 2001. With more corn being diverted to make it (from 17 percent of the national crop in 2005 to 45 percent in 2010), the cost of the grain to cattle ranchers shot up, and several years of droughts in the Midwest compounded the problem by destroying cow forage. Ranchers responded by culling their herds, reducing the national beef-cow inventory to its lowest point since the early 1950s. Between 2010 and January 2015, the average retail price of ground beef rose 86 percent to $4.24 per pound, a record. For restaurateurs to be able to pass along at least some of this cost to customers by hiking menu prices, it was smart business to gussy up burgers into something more than bar food.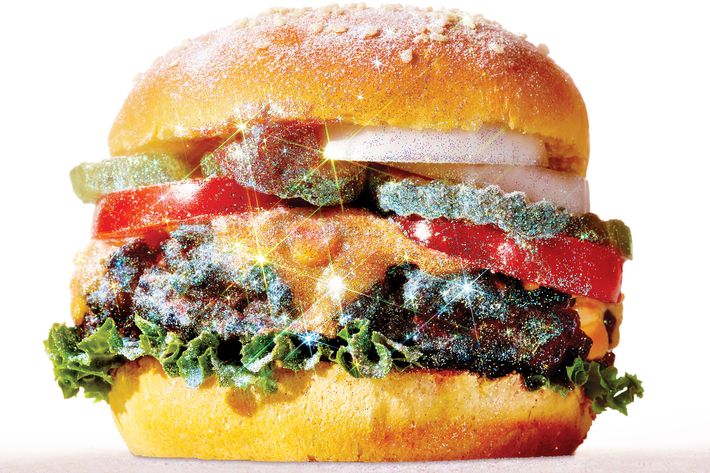 At the same time, on the demand side, the economic meltdown devastated corporate expense accounts. Steakhouse staples such as rib eyes and strip steaks became unaffordable luxuries. Economy cuts like hanger, skirt, or flatiron steak (one-fourth the price of a New York strip) started cropping up on high-end restaurant menus. So did hamburgers. As LaFrieda says: "Do you want a $60 côte de boeuf or a $20 hamburger?" According to LaFrieda, though Minetta's short-rib-blend burger sold for $16 and its dry-age-blend Black Label for $26 and the city was in the teeth of the recession, the restaurant in its first year sold 6,000 of the cheaper burgers and 13,500 of the more expensive ones. "The dry-age burger at $26 was the economy cut if you were looking for a dry-age experience," he says.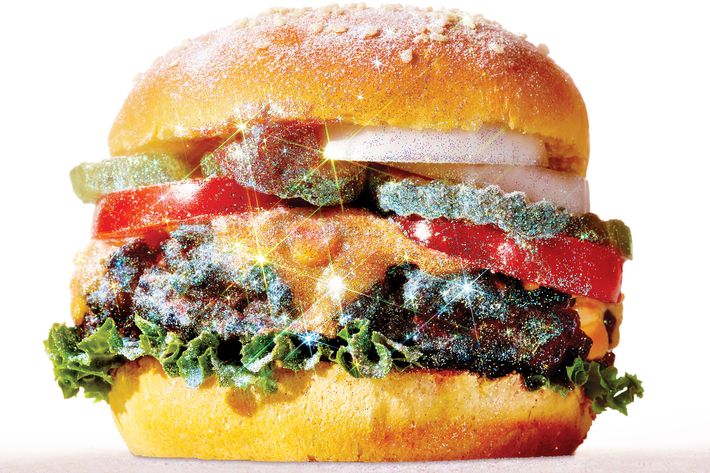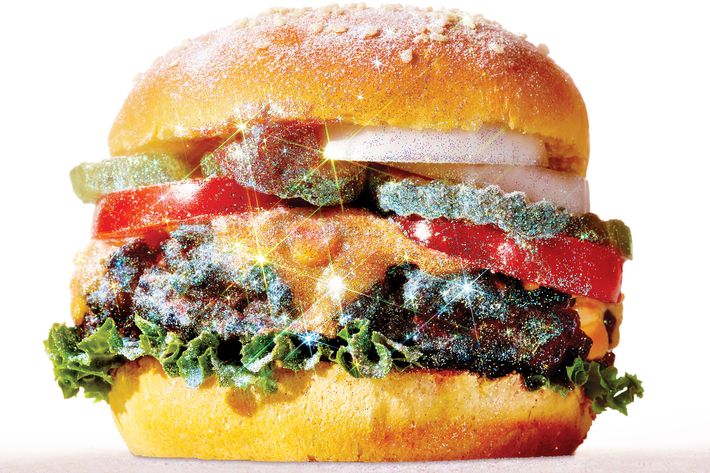 And so the chef burger went from fad to fixture. Boulud says his DB Burger can sometimes easily account for 40 percent of orders. For hard-core burger aficionados, there's always a new best burger to try. Maybe it's the one at Soho bistro Raoul's — a burger au poivre accompanied by a ramekin of extra dipping sauce, a mere 12 of which are sold each night and only at the bar — which enjoyed a burst of attention last year after Josh Ozersky, writing in Esquire, named it the best burger in America. Maybe it's the burger at the NoMad Bar on 28th Street, which applies the concept of negative space to the hamburger — focusing on the fat that frames the protein, with the first LaFrieda custom blend that uses suet and bone marrow and an unusually high 25 percent fat content. Maybe it's the smash burger served by the Hard Times Sundaes food truck in remote Mill Basin, Brooklyn, whose chef Andrew Zurica is "like a burger savant," per Ciancio. "He's pulling his burger powers from a place I don't know how to reach."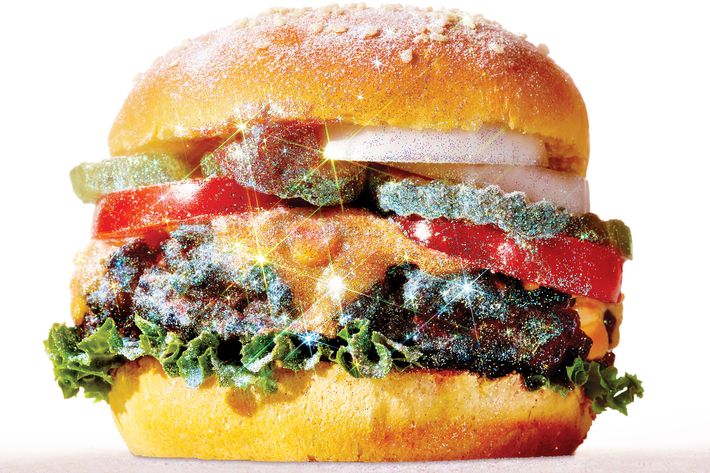 What is a hamburger, anyway? Wherein lies a burger's burgerness? It's a patty of cooked ground beef, everyone can agree, but there consensus ends. In his improbably brilliant monograph, The Hamburger: A History (Yale University Press), Ozersky, who died last month, makes the eccentric, supremacist argument that an enriched white bun is vital — thereby denying burgerhood to, among other burgers, Shake Shack's, which comes on a potato roll. Motz requires only a bread of some sort. But is bread even necessary? Is the bunless "chopped steak" burger at Via Carota, in the West Village, not a burger? More important, what is it about the burger that has made it so enduring, so ubiquitous, so mutable? How did a flat piece of nothing become the magic food?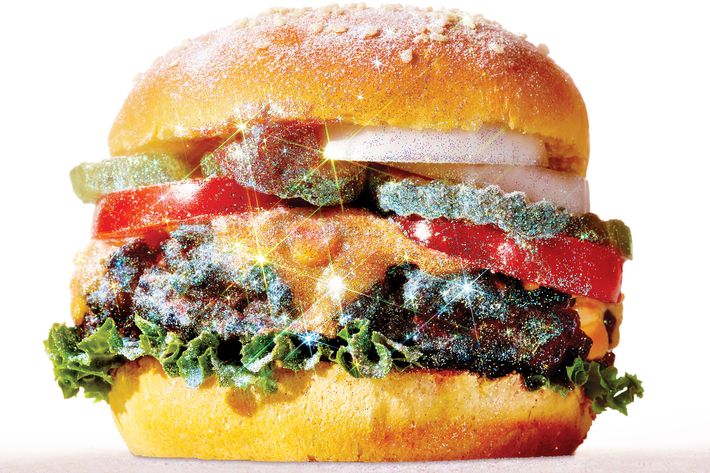 There are dueling schools of thought. Essentialists credit the burger's outsize appeal to something intrinsic. They point to its shape: Because the hamburger has a lot of surface area relative to its volume, it packs in an inordinate quantity of delicious Maillard flavors (as browning is more technically known). They point to its typical size, a portion that makes the burger a meal in itself. "They translate really well from street food to sit-down," says Adam Fleischman, founder of Umami Burger. Together, the size and shape give the burger portability: From the beginning, you could eat it in your car, even with one hand on the wheel. Essentialists also point to the singular character of beef, which LaFrieda describes as "the most sought-after, subtle, yet flavorful meat protein." Ozersky writes that "there is an inevitability to the hamburger" and calls it "the rock-bottom entry point to the American beef dream."
As the poor man's steak (and now the upper-middle-class man's steak, too), the hamburger, then, becomes a passport to a better life. "The idea of putting ground beef between two pieces of bread and eating it is specifically an American invention," Motz says. "And people know that. I think Americans are intensely proud of their hamburger heritage." (Competing burger-origin claims have been made on behalf of the Mongolian steppe, where Tatars packed raw chopped meat under their horse saddles, and Germany, since the hamburger was known in 19th-century America as Hamburg steak, but Ozersky, like Motz, situates the burger's conception in America.) Motz, hardly the most objective source, sees the hamburger as possessing a formal perfection, complete in itself. "I always see grease as a condiment," he says. "Technically, whenever you cook a burger, it's cooking in its own grease. I consider it almost a hamburger confit."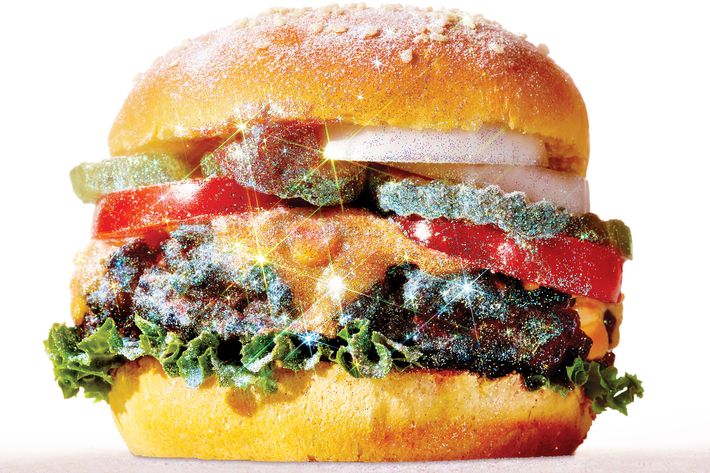 Then there are the Circumstantialists. Andrew F. Smith, a culinary historian at the New School and, as the author of Hamburger: A Global History, Ozersky's rival burger Herodotus, argues that the burger is contingent, a fluke of history. While acknowledging some of its virtues (that it's a neutral platform for other flavors, a cheap foodstuff, and a delivery vehicle for the quadruple cortical-pleasure whammy of salt, sugar, fat, and amino acid), he sees it chiefly as the right-place-right-time beneficiary of White Castle's Billy Ingram and McDonald's Ray Kroc, entrepreneurs whose pioneering business strategies (the fast-food chain and the fast-food franchise) happened to cross paths with the hamburger. To this way of thinking, it could just as easily have been the hot dog that achieved dominance.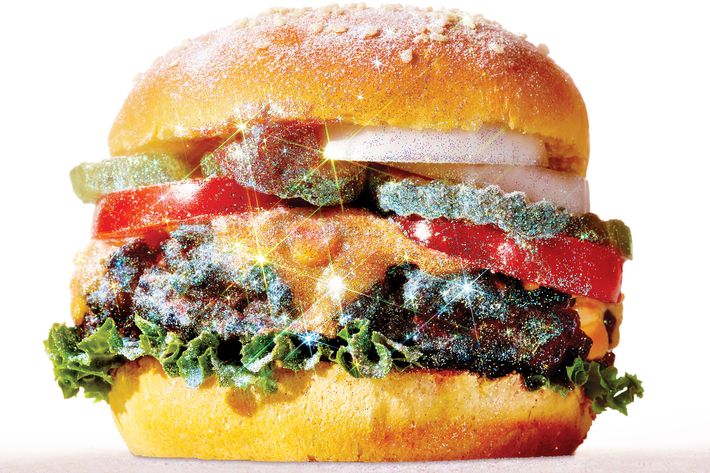 In the view of this Frankfurter School, the burger continues to prevail merely through a combination of corporate inertia, consumer convenience, and a ­perpetual nostalgia machine that keeps encoding new generations with childhood memories of hamburgers that they will summon and nourish by continuing to eat hamburgers for the rest of their lives, while also exposing their children to them, ad infinitum.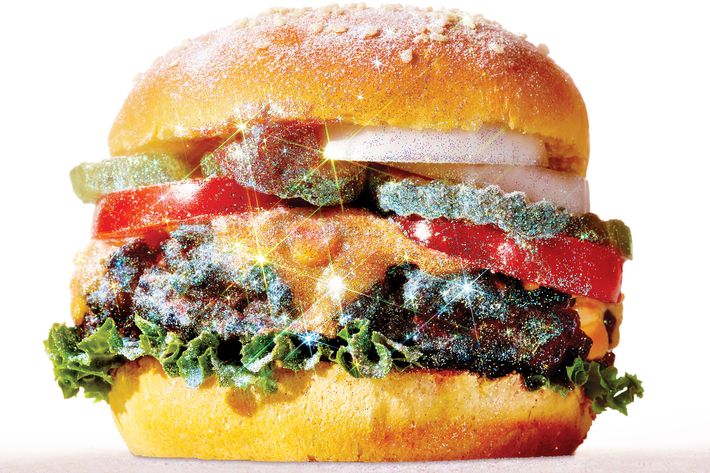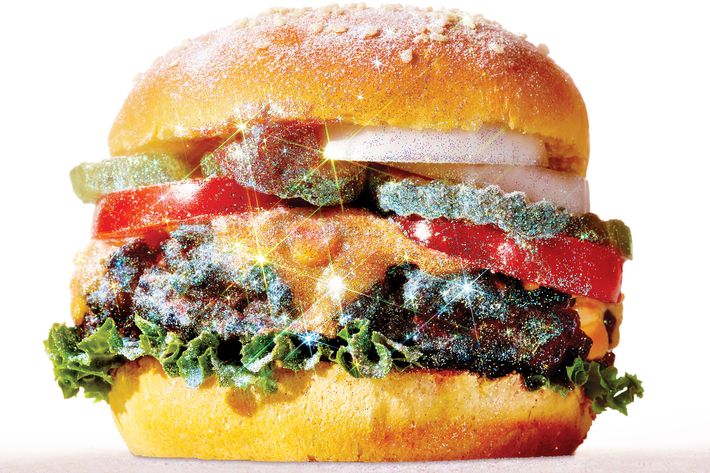 Finally, there are the seditious few who see the whole discussion as being beside the point. Damian Lanigan, a British-born Brooklyn comedy writer, recently tweeted his annoyance about Americans' "undue reverence for hamburgers." When I called seeking clarification, he suggested that instead of being a patriotic badge of honor, the hamburger is a nationalist crutch. "I'm not denying that two bites tastes good," he said. "I'm just questioning the lionizing … C'mon, lads, it's basically a pretty simple, straightforward, slightly disgusting thing that has its pleasures."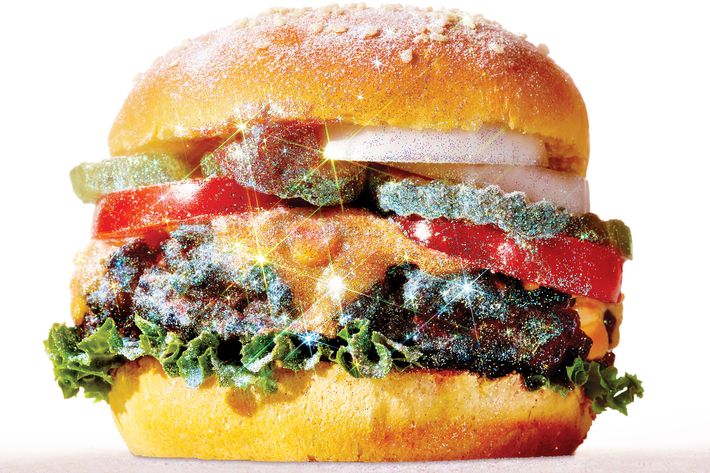 Now that Shake Shack is a public company with 64 stores on three continents, it's easy to forget that when it opened in Madison Square Park in 2001, it was just a hot-dog stand. It wasn't until four years later, when it moved into a 400-square-foot kiosk in the park, that it added burgers to the menu. Even then, the kitchen was designed primarily to make hot dogs and frozen custards. Right away, though, hamburgers made up the majority of orders. "As soon as the Shack Burger was put on the menu, from day one it became a burger joint," CEO Randy Garutti told me over lunch recently at the Midtown East location of Shake Shack.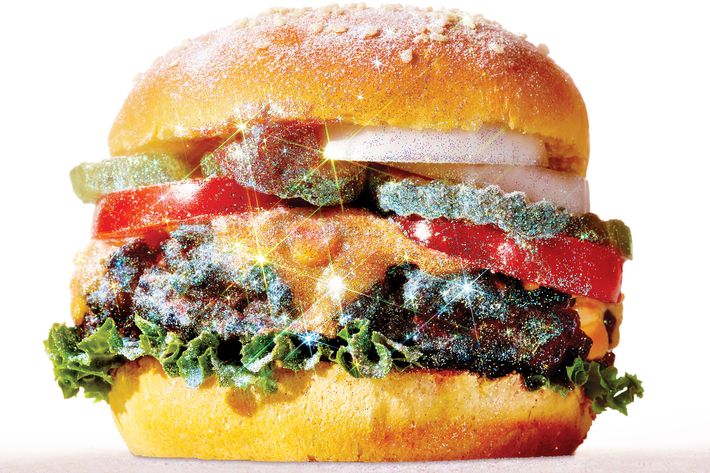 He devoured a Shack-cago Dog as he recalled the early days. "At that time, we were asking the question 'Whoever said that fast food has to be not good?' " Their improvements, including the LaFrieda custom grind, the fresh beef delivered daily, the use of Rick's Pickles and high-quality lettuce and tomatoes, came at a price. A four-ounce Shack Burger costs $5.19. ("Our beef prices went up 40 percent in the last 15 months," Garutti said. "We only raised our prices 6 percent. I mean, we're taking a hit.") But a lot of people are willing to pay that to eat hormone- and antibiotic-free meat while sitting at tables made from reclaimed bowling lanes. "The people who eat at Shake Shack," Garutti said, panning the lunchtime crowd, "are the same people who are proud to walk out of Whole Foods with a bag, proud to walk out of the Container Store 'cause it's a cool company that takes care of its people. These are people who have high expectations of who they're gonna share with. And you can't forget, this story couldn't happen outside of the digital-age growth at the same exact time. Twitter. Instagram. Think about what we do now. We're going to go out today, and we're going to Instagram this, and everyone's going to know. Are people Instagramming when they go to fast food and saying, 'I want my whole world to know I just ate there'? They're not."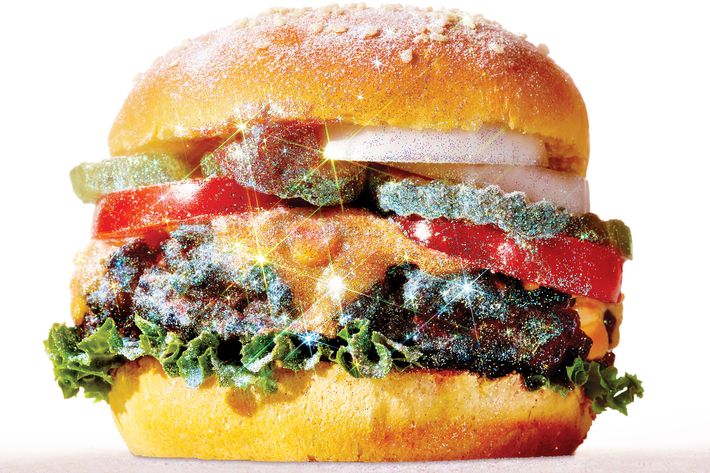 Nor did it take the unsettling recent return of the Hamburglar — who, channeling some corporate committee's deranged idea of millennial fashion, now looks like a cheerful rapist — to confirm that McDonald's, the iconic American hamburger restaurant, has lost its way. In 2011, for the first time, it sold more pounds of chicken than beef, reflecting a broader national consumption pattern. McDonald's burgers aren't even that cheap anymore: Gone are the two-Big-Macs-for-$5 specials; a Big Mac Meal now costs $6.99. It's no accident that McDonald's has lately been pushing its McRib (pork) sandwich and chicken items, including a new "Artisan" chicken sandwich and the revived Chicken Selects. And the burgers themselves — despite fitful and flailing attempts to introduce premium versions, first with the Angus Third Pounder, more recently with the Sirloin Third Pounder — have actually gotten worse. Larry Light, McDonald's chief marketing officer in the early aughts, told me that the company, in pursuit of efficiency, had increased hold times (the allowance for how long a cooked burger is kept before being thrown out) and stopped toasting the buns. "Each of these little changes, the consumer couldn't tell the difference," Light says. "But over the years, the combination of all these modifications, you have severely degraded the product."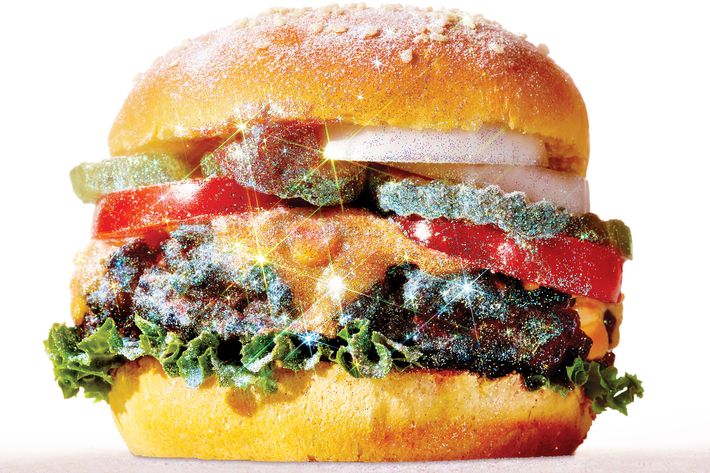 But finally even the fast-food industry has begun to acknowledge that people want more from their burger. McDonald's is still dominant, with a 15 percent market share, but distant runners-up Burger King and Wendy's have been stealing market share. Wendy's, especially, has tried to modernize; in 2011, it embarked on an extensive two-year effort, code-named Project Gold Hamburger, to update its 42-year-old hamburger recipe. "We really started to deconstruct the product," says Lori Estrada, senior vice-president of R&D. The members of the Wendy's team tasted a lot of burgers, including the ones served by chains like Umami Burger, BurgerFi, and Smashburger. They consulted a pickle chemist and switched to using fresh pickles. They went from one to two slices of cheese, started toasting the buns, increased the thickness of the patty, boosted the mayo's fat content, changed from white to red onions, and loosened the texture of their patties. The next year Wendy's introduced the new burger, called Dave's Hot 'N Juicy, and in 2013, the company surpassed Burger King in sales to become the second-largest burger chain in the country.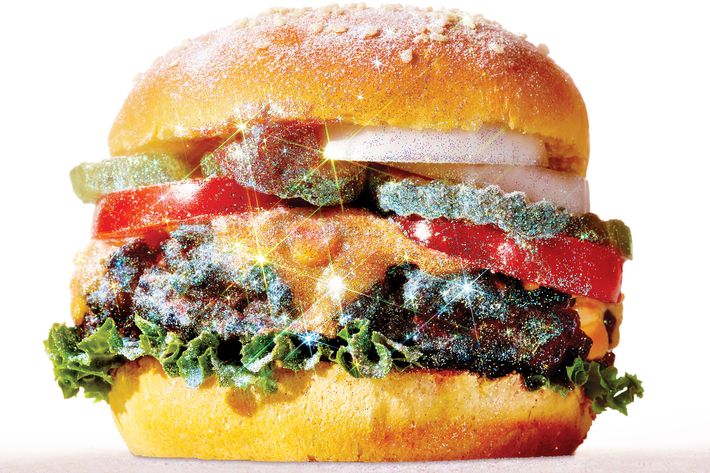 If Shake Shack, and even Wendy's, was looking to the past for inspiration, Heston Blumenthal, owner of London's Fat Duck restaurant and a leading figure in the molecular-gastronomy movement, was interested in rocketing the hamburger into the future. A few years ago, for a BBC series in which he set about creating "perfect" versions of everyday foods, he undertook a burger moon shot. Following a tour of various iconic American burger spots including In-N-Out, Shake Shack, Louis' Lunch in New Haven, and McDonald's in Times Square, Blumenthal and his team spent six months making dozens of different burgers in pursuit of its ultimate incarnation.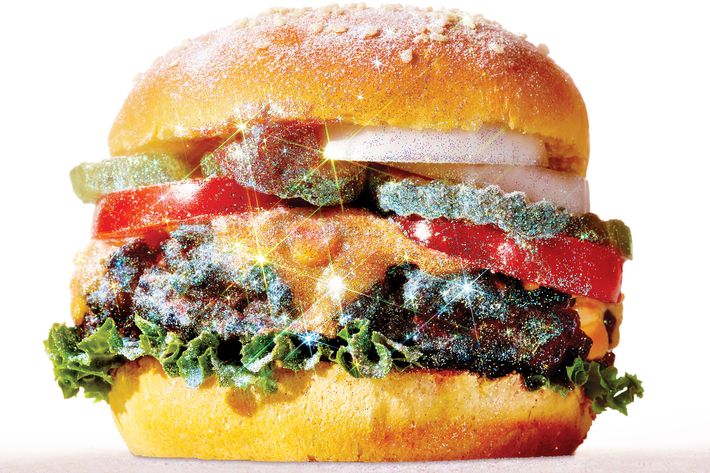 Beyond the surreal theatrics of molecular gastronomy — the spherical olives and atomized martinis and potato foams — it is substantively animated by the search for new solutions to old problems, and Blumenthal took nothing as a given. Kyle Connaughton, who led Blumenthal's experimental kitchen, says the members of his team tossed aside all preconceptions about buns and ketchup. Through trial and error, they homed in on a precise combination of cuts of meat and a fat-to-meat ratio, and they introduced a funky, dry-aged element using 30-day-aged short rib. Some of what they did was just hyperrefinement of the finicky chef variety: Instead of using traditionally butchered crosscuts of meat (each slice incorporating parts of different subprimal muscles, including silverskin and other connective tissue), they "seam-boned" a cow, isolating individual muscles to use in their grind.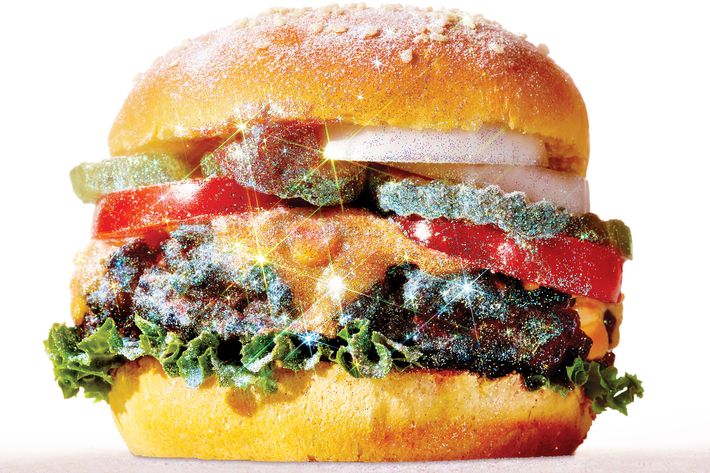 But much of their work advanced mankind's understanding of the burger. They considered patty thickness, traveling to Holland to consult with an oral physiologist who advised them that because of jaw mechanics, a burger should not exceed the width of two fingers. With the physiologist, they explored the ideal level of tensile resistance — the give, when you bite down — using specialized lab instruments that measured how objects shatter under pressure.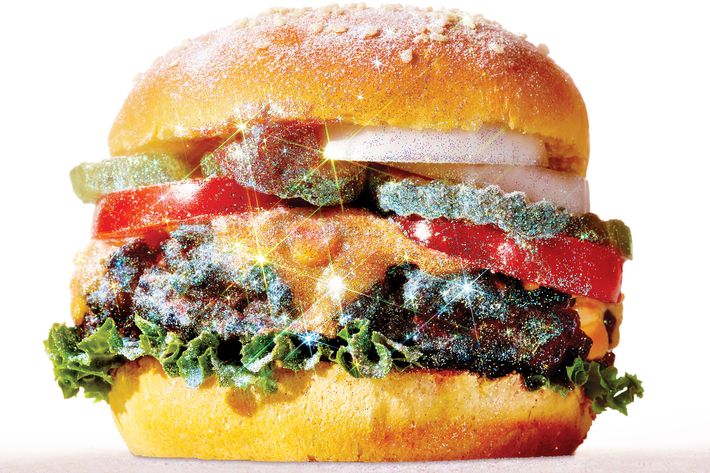 After speaking with a scientist in Germany who'd worked with industrial sausage-makers, they made what Connaughton considers their most interesting discovery: When they ground the meat, instead of letting it fall haphazardly into a bowl, with the grain of the strands lying every which way, they laid them out running all in the same direction, wrapped them in plastic like a sausage roulade, chilled the package, then sliced it crosswise with a sharp, thin knife. This had several advantages, the first being textural. "So later, when it's a burger, all the grind is standing up vertically; when you bite into it, it falls apart beautifully," Connaughton explained to me. And with the strands all upright as the burger cooked, steam "would have an open pathway to escape, so you don't get the bowing effect." Bowing makes a burger harder to manage in its bun. The sheared-flat surface of the burger also resulted in even searing, with more thorough browning, without resorting to a spatula to press it on the cooking surface (undesirable because it forces the juices out). Blumenthal did use a spatula, however, to flip the burger every 30 seconds until it was done; it was a method he'd borrowed from the food-science writer Harold McGee, who hit upon it as a way to simulate what Connaughton calls "rotisserie logic" — the gentle pulses of radiant heat that characterize the ancient method of rotisserie cooking.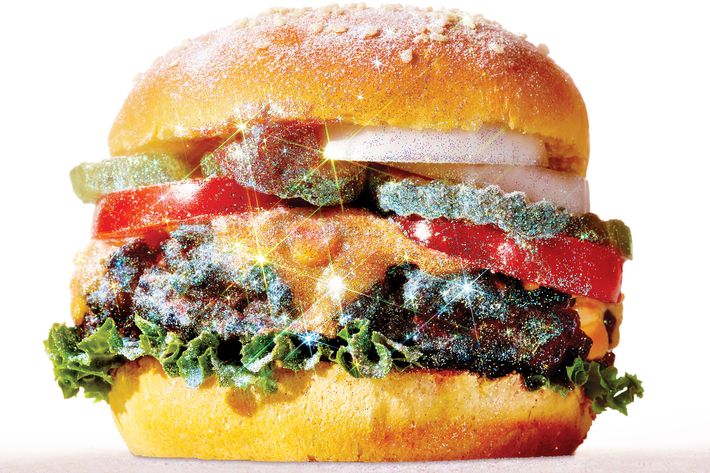 For the bun, the Blumenthal team members started out assuming they'd use a brioche. "It makes a great burger bun," Connaughton says. But it has also become the default elevated-burger bun, and the teammates pushed themselves, interrogating whether it couldn't be improved upon. Ultimately, they concluded that the brioche's dense crumb structure made it too rigid to smoosh to a biteable size when you grabbed the burger. Instead, they created a hybrid dough batter that would reconcile the competing demands of a perfect bun: Thin enough to not overly tax the jaw, soft enough to absorb the burger's moisture, and possessing the structural integrity not to fall apart.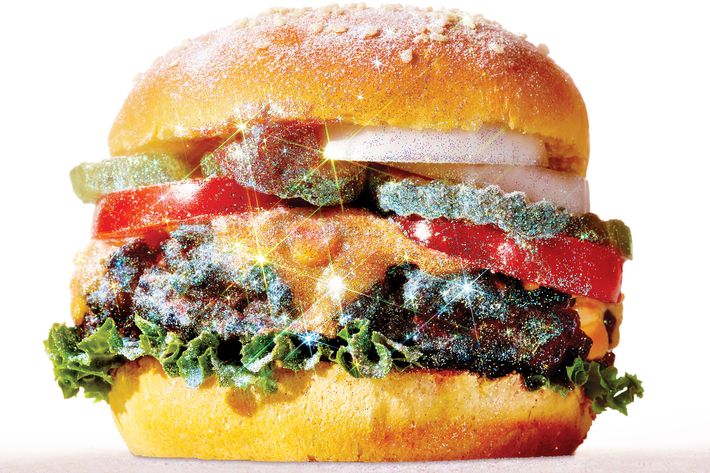 In order to top the burger with an aged Comté cheese, more delicious than American cheese but lacking its melting properties, they devised an ingenious solution in which they emulsified the Comté with sherry, then chilled it solid and cut slices out of it. To make a more intense ketchup, they were similarly resourceful: Blumenthal had been working with the University of Reading to study the glutamates from a tomato's interior versus exterior, and it turned out that the goopy jelly in the fruit's middle, which is often discarded, is much more dense with umami molecules than the skin or flesh. While ketchup is usually based on cooking down whole tomatoes, Blumenthal created a tomato concentrate exclusively from the jelly. "It takes a lot of tomatoes to make it," Connaughton acknowledges.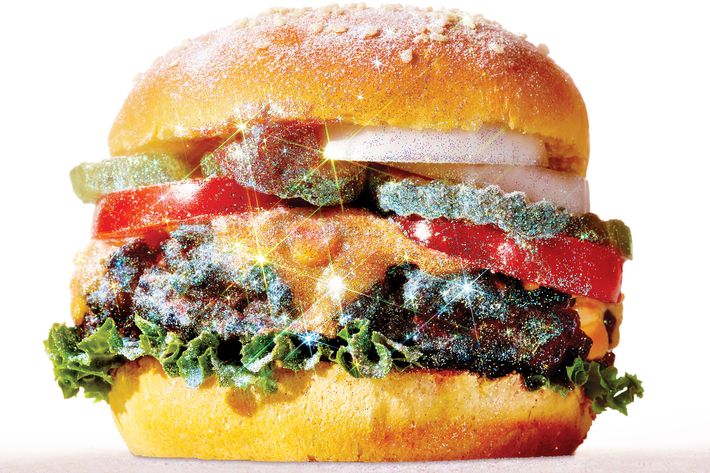 Because of all the elements Blumenthal wanted to include, among them a thick patty and various condiments including lettuce and tomato, the whole package ended up being more like three fingers thick. Some of this width would be compacted when the bun was pressed down, but the team spent some time considering the burger's "build" — what went on bottom, what on top. This meant asking questions, Connaughton says, like "when you take each bite, what's actually hitting your palate first? What orthonasal and retronasal aromas are you getting in what order, and what things are hitting your palate, and what tactile sensations and what sounds?" Among the takeaways from this exercise: It was important to keep the lettuce away from heat and moisture, which would wilt it, and the tomato slice needed to be positioned so that a bite wouldn't press its juices out.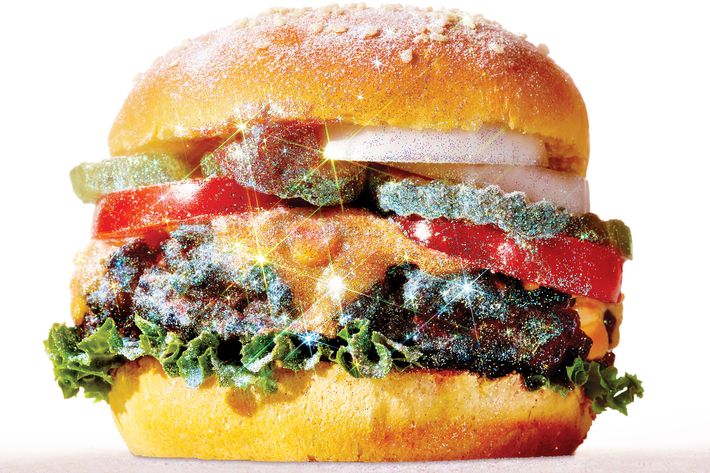 Blumenthal also wanted to construct the burger in such a way that every element of it was present in every bite. To study how the burger was eaten, members of the team ate the burger under lab conditions, with a ceiling-mounted camera directly above the plate and a scale under it. After each bite, they put the burger back down on the plate. When it was finished, they graphed the successive weights and analyzed the accompanying video, studying how they rotated the burger as they ate it. They were surprised by the result, Connaughton recalls. "There's a certain movement of food around your mouth as you create the bolus" — a mouthful of food chewed to the point of being swallowable — "that your brain has figured out, so that when you go to take a bite of something, you could take a small bite or a big bite, but you will make the exact same bite size every time." This was mainly of academic interest.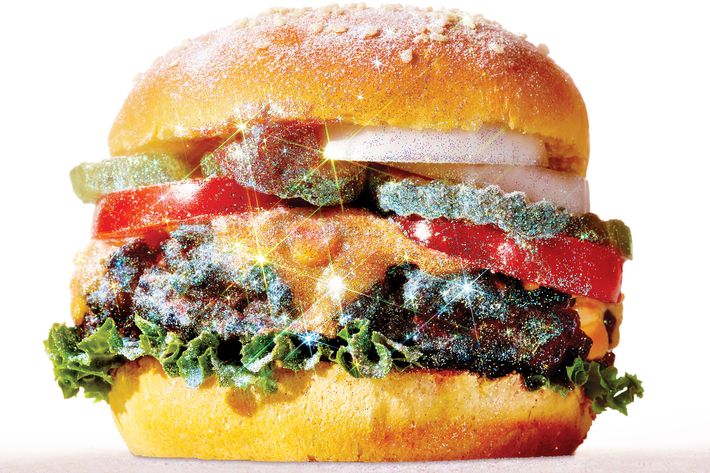 If the Blumenthal exercise suggested that perhaps we'd reached the end of burger history — where else was there for the burger to go? — this notion quickly proved foolish when Nathan Myrhvold, the former CTO of Microsoft and creator of the $625, six-volume Modernist Cuisine cookbook, broke through to a new burger frontier. Not coincidentally, the Modernist Cuisine development kitchen was staffed with Blumenthal alumni, including Connaughton. Their new approach to the actual cooking of a hamburger was the most high-tech in history. To achieve the coveted balance of crisp exterior and juicy interior to which all burgers aspire, they used sous-vide to get the burger's core to an optimal 130 degrees, then lowered the patty for 30 seconds into liquid nitrogen, long enough to flash-freeze the outermost millimeter. This enabled them to then deep-fry the burger for a minute without overcooking the center. And deep-frying let them brown the entire burger, including its sides and all the nooks and crannies that wouldn't normally make contact with a cooking surface.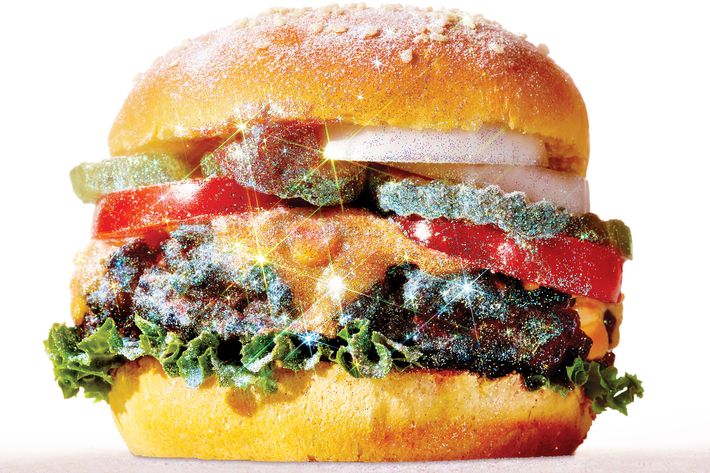 What's a backyard griller supposed to do with any of this? I asked Connaughton if he uses any of the Blumenthal methods when he's making burgers at home, and he said he does. He uses the same cuts of meat. He trims, salts, cubes, and grinds them in the same manner. He makes the same cheese and tomato concentrate. And he flips the burgers every 30 seconds when he cooks them. Clearly, this was no example for a civilian to follow.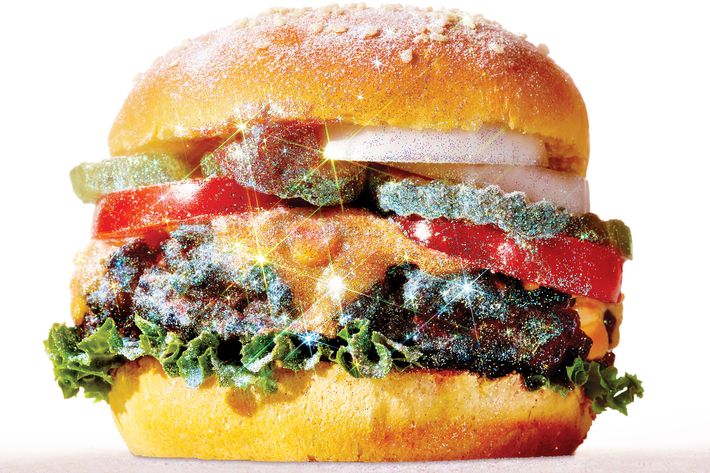 Several years ago, at a dinner, I was seated next to a bond trader who expounded at great length about his meticulous project to make the perfect hamburger. A few weeks ago, I called to ask him what had happened. Peter, who asked that his last name not be used ("In the business I'm in, there's no such thing as good press; we call it reputational risk"), said the whole thing had sprung from a nostalgic urge. After moving out of Manhattan to raise a family in the suburbs, he had sought to preserve some of what he missed about the city, where in his younger days he'd frequented classic burger joints like J.G. Melon. "I love certain things in life," he told me, "and one of those things is burgers."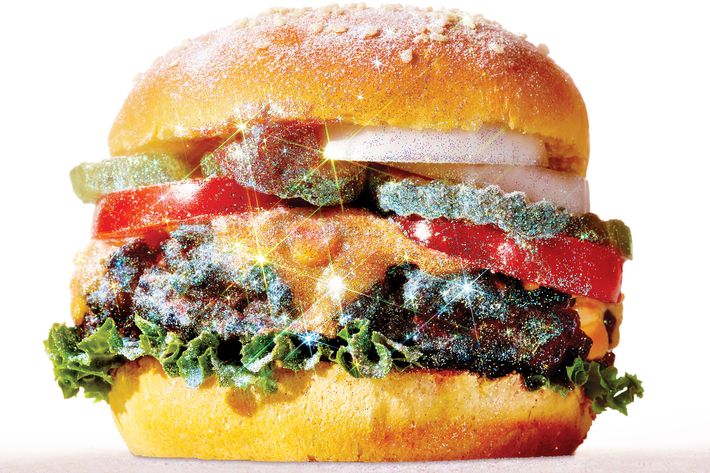 He Googled "best burgers." He pored over books and burger-focused websites and back issues of Cook's Illustrated, from which he borrowed a number of techniques. Through trial and error, he arrived at his own best burger. He obtained his meat, via FedEx, from De­Bragga. He settled on a ground-beef blend that was half dry-aged and half short rib. He marinated the beef in soy sauce to allow the seasoning to penetrate the meat. He ground the meat himself, trimming all the hard fat first, cubing the meat, then freezing it to help the fat separate when it went through the grinder. "If you grind it fresh, it doesn't have the opportunity to protease," Peter explained. He concocted his own Big Mac–style special sauce (ketchup, mayo, relish, white-wine vinegar, sugar), and settled on toppings of American cheese and bread-and-butter pickles and on a potato-roll bun. He grew a garden in his backyard to supply his tomato, lettuce, and Vidalia onion. "That's my version of the American perfect burger," he told me. "There's a perfect ratio of burger to bun I got from J.G. Melon. You don't want the bun to overtake the burger. You don't want a burger that's too huge and that's all you're tasting. I always say you want a size where, if you're hungry, you definitely want two. I feel like wanting more of the burger is a key part of the burger."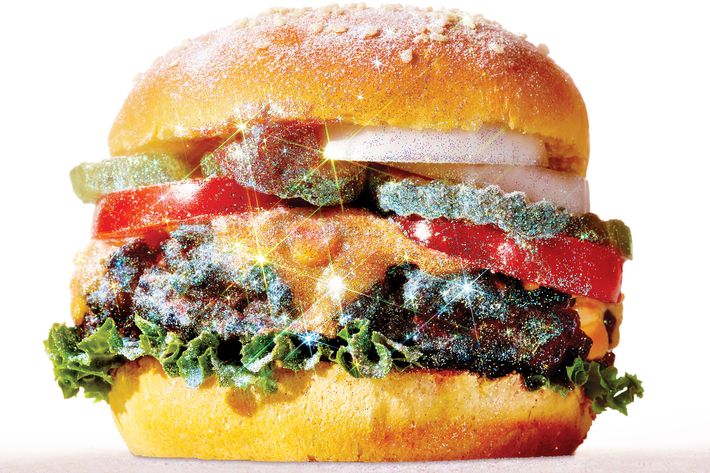 Peter himself, though, had reached some kind of burger limit. "My wife has asked me to stop making them," he said. "Like, 'Now we need to move on.' " He didn't sound too broken up about it. "After this whole process, after I perfected it, I had people over, and I'd serve it if people came over," he said. "I just got sick of it after a while. There was definitely a time when I didn't have it for a six-month period. I can't say my love of burgers is what it was when I started the process."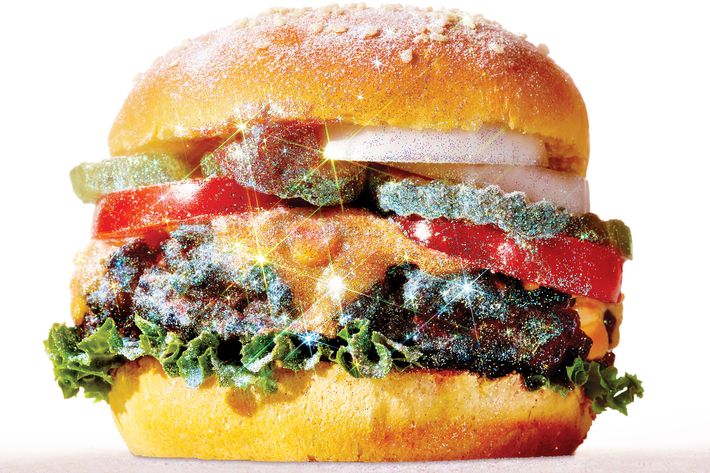 *This article appears in the June 1, 2015 issue of New York Magazine.