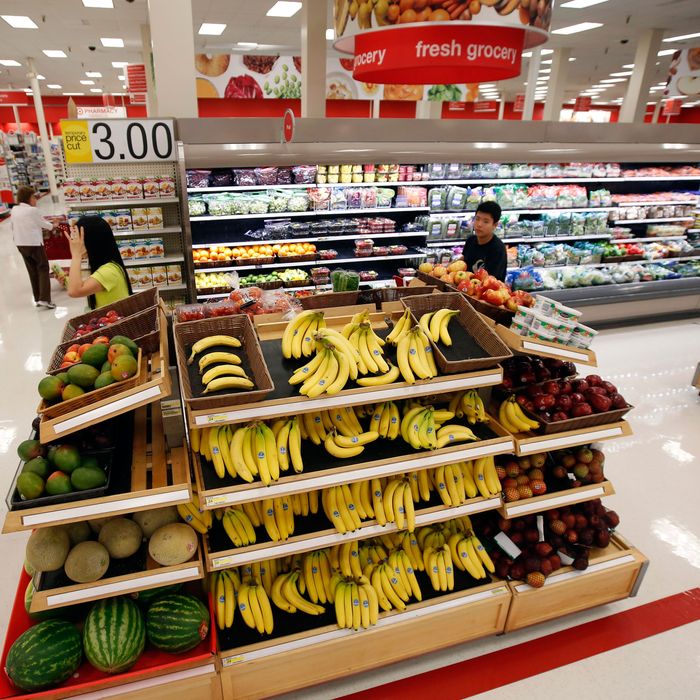 More bananas!
Photo: Patrick T. Fallon/Bloomberg via Getty Images
Corn Flakes just aren't cool anymore: Going forward, Target will deemphasize the packaged foods upon which they built their grocery business in favor of smaller brands and natural foods. The decision was announced earlier this year to top suppliers, including General Mills and Campbell's, by chief executive Brian Cornell, who told The Wall Street Journal that "assortment is being shaped around what consumers are looking for."
What this means is Target will soon shift their focus from canned soup to "fancy sauces" and yogurt, which will getter shelf space, circulation, and promotion. But Campbell's won't just face competition from the newly prioritized granola, as Target will also be pumping more resources into their private-label brands. The move is an attempt to appeal to the younger consumers that the brand covets, shoppers whom the company refers to as the "demanding enthusiasts." But it's also an attempt by image-conscious executives — who worry that all these chips and cereals are undermining their chic-for-cheap business model — to remake Target's grocery aisles in the image of Whole Foods.
Perhaps Target's brass noticed that Whole Foods is struggling
to capture a younger, less-affluent audience of its own, and sees an opportunity to claim that turf before something like a Whole Foods Lite can open instead. No matter what happens, it sounds like even the biggest of chain stores are getting the message that people want healthy — or at least healthy-seeming — food instead of over-processed junk.
[WSJ]