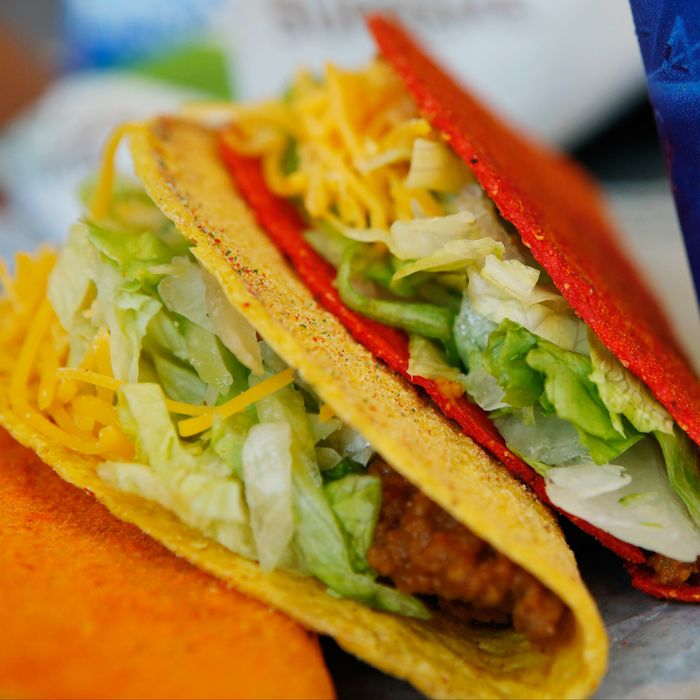 This gets immunity.
Photo: Patrick T. Fallon/Getty Images
No doubt feeling the mounting pressure industrywide, Taco Bell and its Yum! Brands sibling, Pizza Hut, both say that they will phase out the fake ingredients in their food. Pizza Hut's phony fillers will be gone by July, while Taco Bell says it needs until the end of 2015 to remove things like high-fructose corn syrup and trans fats. But by 2017, Taco Bell promises to also yank preservatives and additives "where possible."
Some may remember that just a year ago, Taco Bell defended ingredients like torula yeast and trehalose as things that "improve the taste." Neither of them is actually artificial, but the strategy apparently did nothing for the chain's health perception, so now it's time for a menu "simplification." Yellow No. 6 had a good run while it lasted.
Questions arise, of course: Is the Taco Bell demographic even sober enough to care what comprises a biscuit taco? The biggest one, though, concerns the plan for the Bell's fleet of Frankenfoods. The menu overhaul will reportedly affect more than 95 percent of the food, but it will not affect beverages or co-branded items. But by Grub's calculations, those last two categories comprise 95 percent of Taco Bell's menu at any given time: Doritos tacos, Fritos tacos, Flamin' Hot Fritos "dip," Starburst slushes, Cap'n Crunch doughnuts, Cinnabon-flavored coffee, and so on.
[AP]