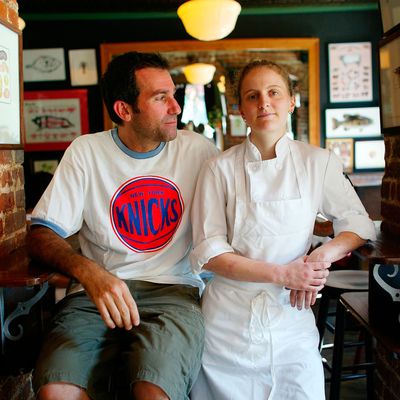 Vintage Bloomfield and Friedman.
Photo: David Howells/Corbis
Here's some exciting news: April Bloomfield and Ken Friedman are set to open a four-story restaurant atop the 70 Pine Street tower, which is being converted into — wait for it! — luxury apartments. Friedman pretty much confirmed the project to the Post, writing: "We hope we are doing this extraordinary project. This is one of New York's most beautiful buildings and the top floors are breathtaking. I'll let you know as soon as we are definitely doing it." Steve Cuozzo writes the deal is "all but done," pending a few final formalities.
With a space that large, Bloomfield and Friedman can open multiple concepts. The alleged plan is that one floor will house a fine-dining restaurant, while the others will offer more casual small plates and cocktails. That's quite a nice amenity.
[NYP]