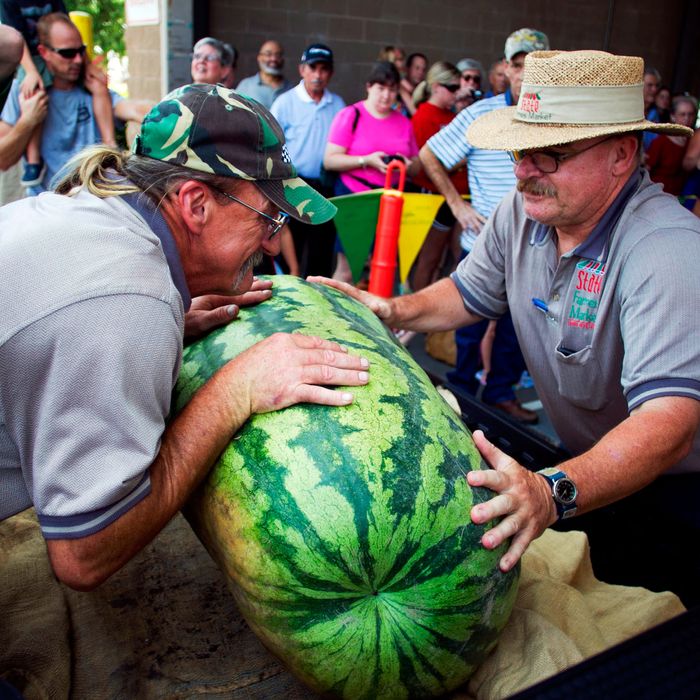 In the future, this might be considered tiny.
Photo: Robert Willett/Raleigh News & Observer/MCT
Geneticists have apparently figured out why domesticated tomatoes are so much more gargantuan than wild tomatoes, and the answer is simple enough that it can be used to supersize any fruit. In a new paper in Nature Genetics, researchers explain that by toying with the meristem, or the uppermost part of a stem, they can grow a huge flower that produces fruit of "extreme size."
If the genetic sequences were tweaked to the specific plant, they go on to say, this simple trick could work on any fruit with a gene-signaling pathway called CLA. This could revolutionize crop growing, leading to bigger kumquats and strawberries, but also bigger "fruits," botanically speaking, like ears of corn and grains of rice.
Taste is too subjective for the scientific method, so the authors don't address whether their modified beefsteaks are still delicious, but they note, sort of as an aside, that these "mutants" can also end up with "unusual floral organs." If fears over GMOs seem extreme now, there's now the remote possibility of war with giant tomatoes sprouting appendages.
[Science]