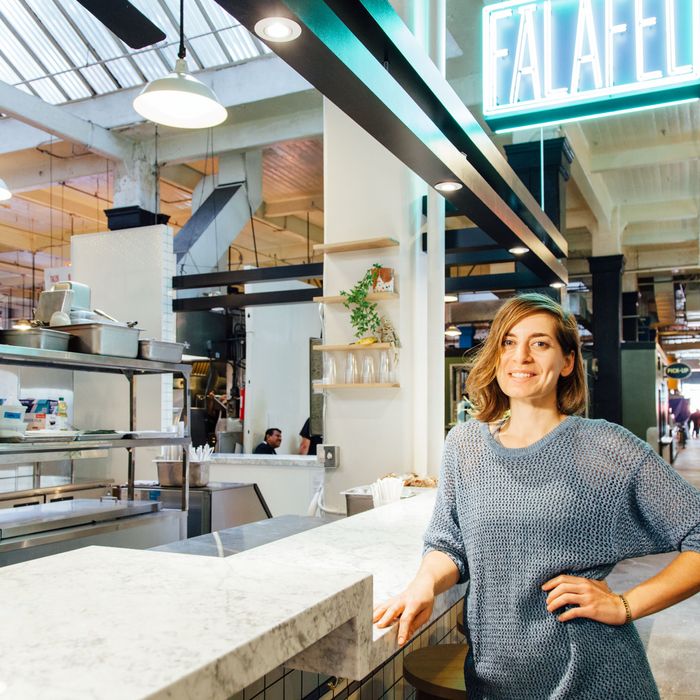 "It's not that much easier here than in New York."
Photo: Rodolfo Carlos
Like so many chefs these days, former Glasserie chef Sara Kramer left Brooklyn, where her career had just taken off, to move across the country — in Kramer's case, to Los Angeles. Now she has opened one of the two restaurants she has planned: a falafel shop called Madcapra housed inside the historic Grand Central Market.
At the time of her move, Kramer cited a few motivating factors for the departure: "It's just becoming more and more expensive to rent a restaurant in New York," she said at the time, adding that she also wanted to escape New York's over-saturated market. "I wanted to be able to have an impact — and have it not just be the let's-write-about-it-for-a-few-weeks-and-then-it-goes-away sort of thing. It feels now-or-never in terms of trying to do something that has some lasting and staying power." That was a year ago, so Grub checked back in with Kramer to see how her expectations compare to the realities of opening in L.A., and what makes the city more and less challenging than New York.
I'm curious about how the process of opening a restaurant in Los Angeles compares to New York. To start, how is the real-estate market different? Was it easier to find a space?
It is, I think, a little bit easier — and certainly easier historically. But we are coming at the crest of a giant wave of people having interest in finding space in Los Angeles, particularly downtown and on the east side. A few years ago, it wasn't very hard. I will say, though, that prices are significantly less expensive here than in New York.
Do you have any kind of sense of how much you're saving in rent?
It's hard to say exactly, without having a particular example from a comparable business in New York. We were approached by the Grand Central Market, and it was the most tangible way to open as quickly as possible. It was a good option to allow Sarah [Hymanson] and I — who are new to L.A. — to get our bearings on the city, and also start working as soon as we got here. But even in a place like that, it's been a long process.
And you're working on a second concept, right? More of a classic sit-down restaurant?
That is still a ways out, so we're going in succession here. We're doing the falafel shop first, and the restaurant second. When we started looking, we were trying to combine the concept into one space, but we didn't find anything quickly enough, and Grand Central Market is such a awesome place to be. We've still been looking for a space, but it's not that much easier here than in New York. It's not necessarily easier to go through the entire process of permitting because there's a lot of very particular regulations in California. I wouldn't say it's any less stringent than New York — perhaps it's even more. And L.A. is a big city that has an amazing amount of interest in it right now, so there's a lot of competition for spaces.
There are so many New York food halls popping up, but none of them have the charm of Grand Central. Nothing has been able to re-create that vibe.
It's cool, because I think Grand Central Market is still gritty, as compared to the places that are popping up that are really well curated. Gotham West feels so new and polished. I like that Grand Central Market is not really polished, and they are very actively trying to maintain that feel, because it is important to the quality of the experience. The people that control it are very aware of that, and want to maintain the diversity of vendors and of the clientele.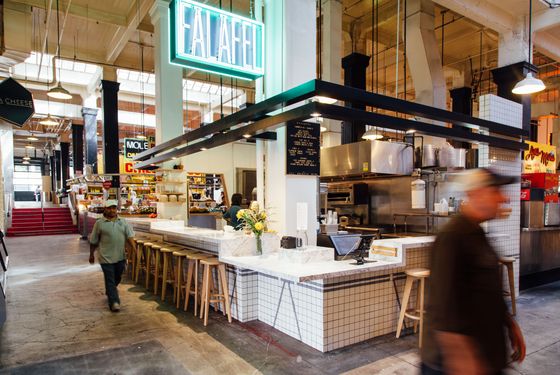 Have there been any unexpected challenges of opening in L.A.?
Actually, the biggest difference for me has been the difference in labor-law practices. In California, you need to pay your workers overtime after eight hours in a shift, even if that's their only shift in the week. So if someone is working ten hours, they get two hours of overtime, even if they have no other shifts scheduled for the week. That is hard for us.
L.A. is much firmer on its policy for employees taking breaks, too. Restaurants in New York are supposed to do that, but no place has a break that you have to take every day: Staffers will sit down and eat some food or take 15 minutes, but in California it's a very big deal to take a half-hour break after five hours of work, if you're working an eight-hour shift. You can only waive the break if you're working a six-hour shift. In a restaurant like ours, that's extremely small, it's difficult to cover all of the employees taking half-hour breaks, because every person is pretty crucial at the time they are working. There's not a lot of flow.
How many people do you have working at once?
We've got one person taking orders and three cooks at any given time, and that's it. I can't be there to cover everybody's individual break, which I will be doing sometimes. It's an extremely difficult policy for us, as a tiny business. I understand why the rule is there, as far as protecting restaurant workers in very large settings, and more corporate structures, but it really works against us — and unfortunately our employees, because we're just going to try to keep them for six-hour shifts.
I know you brought along your former sous-chef, Sarah [Hymanson], who's now your partner. And Brenna [White], the Smile's former pastry chef, is also onboard. You have such a New York crew! Was this a conscious decision?
It hasn't been so much actively recruiting people, as people coming to us. Brenna also wanted a change from New York and heard that I was coming out here. Another friend who just moved back here was working as a pastry chef at Reynard, and then a line cook at Marco's, and he is going to help us out for a bit. We've been gathering really wonderful people, both from back east and from here, who we're really excited to work with. That's been a big surprise, as we thought we were going to be scraping for people, because everybody does. I know a lot of people, within and beyond food, who are moving here right now. It is definitely a deluge.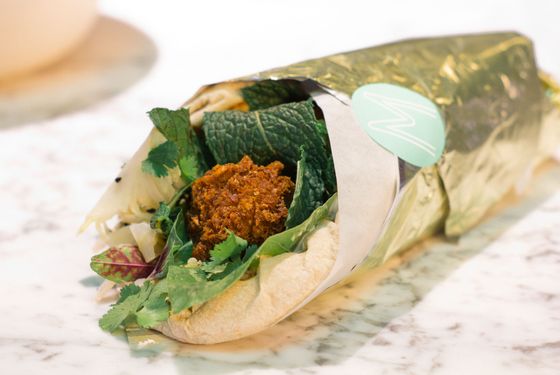 Is the idea to eventually scale this concept, or just to have one?
We'll see!
Would you like to return to New York?
I would love to be bi-coastal and have a presence in both cities. It's very hard at this point to imagine, and I would have to wait until I got to the point where I had staffers who were strong enough. It's definitely not out of the question, but it would be a more sane choice to just stay in one place.
As much as I would like to have you here, it seems like chefs can really stand out out in L.A. right now
It's such a burgeoning scene here. The media and the public are so interested in the ethnic food here, and have really pushed the boundaries of finding the best in the city. In terms of concept, it's always a little bit tenuous to describe what the difference is between ethnic restaurants and our restaurant — because it's not that we're not making slightly ethnic food, but it's definitely more American and experience-oriented. It's a more creative and less traditional approach to food — just a higher-concept approach. What people are grabbing onto now here has been seeing a lot of success in New York for a while: a casual experience, like high-class dining on a more approachable level. So I'm very excited to grow here and be welcomed here. People have been really genuine and very welcoming. It feels, like, totally contradictory about what people say about L.A.