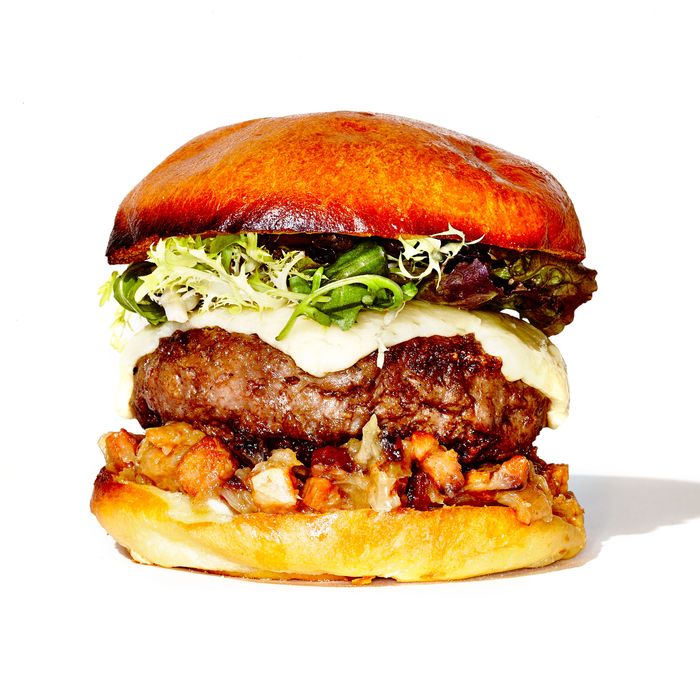 The secret ingredient: beef hearts.
Photo: Bobby Doherty/New York Magazine
It's amazing, considering the recent round-the-clock coverage and practically Talmudic scrutiny of our local burger scene, that one of the best new specimens has virtually eluded the burger-nerd radar. It is the big-flavored, dry-aged eight-ounce cheeseburger Ryan Skeen has put on the menu at Church Street Tavern, where he recently took over the kitchen.
Those up on the Underground Gourmet burger archives will remember Skeen as the creator of one of the U.G.'s all-time favorites — the oddball genius concoction that he, like a one-man Pat LaFrieda Meat Purveyors, Inc., ground in-house at Resto several years ago from a combo of beef cheek, hanger steak, and pork fatback. You might also know Skeen as a talented, classically trained albeit peripatetic chef, one who, though he might rightly consider his calling as being above the patty-flipping fray, can cook burgers in cast-iron pans the way that, say, Yo-Yo Ma can play bluegrass on cellos.
Now, at Church Street, Skeen has moved into the dry-aged-beef camp and the result is predictably mind-blowing. The menu somewhat modestly describes this estimable thing as a tavern burger: "dry-aged house blend, Vermont cheddar, bacon-onion relish, fries, $19." What it fails to note is that the blend includes not only strip and rib-eye trimmings, as well as whole muscle from sides of Wagyu that Skeen gets from a Vermont farm co-op, but also beef heart for a soupçon of added gamey funk.
But the beef is not all. Like all great burgers, this is an ensemble piece. Given a crusty sear in a hot pan, the loosely packed pucks are minimally glazed with the cheese. A judicious dose of housemade bacon-onion chutney cut with malt vinegar only highlights the richness of the meat. And a Grandaisy brioche bun has enough of a squish factor to satisfy the Martin's Potato Rolls contingent. Even a smattering of arugula doesn't detract.