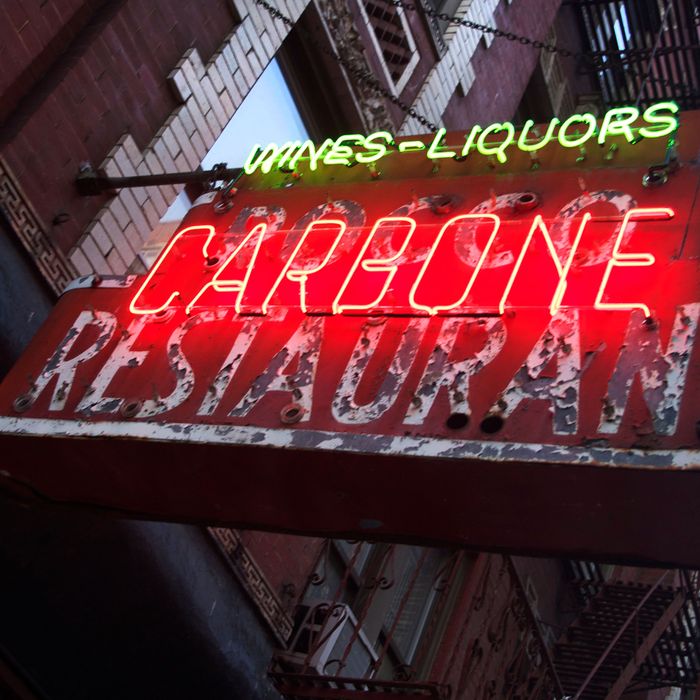 "If the restaurant went to anyone else, all would've been lost."
Photo: Christopher Bonanos
It's only a matter of time until New York is just one big juice bar, right? That's the thinking every time a once-valued, now out-of-favor New York institution is forced to close its doors, either because business has dried up, the owner wants to sell, a developer envisions a great new condo, or rising rents have simply become untenable. Recent casualties include an 100-year-old Italian café, an 81-year-old dive bar, and a 110-year-old bakery. But there's value in nostalgia, and a number of restaurateurs are now stepping in to rescue historic spots, attempting to maintain the vintage appeal while simultaneously opening a thriving business inside a historic location's old bones. In a way, it's a noble cause — yet, from a business standpoint, it's a move that can be fraught with potential peril.
The number of refreshed businesses is impressive: Minetta Tavern, Holiday Cocktail Lounge, Fedora, Bill's Gay Nineties, the Waverly Inn, and many more. A Caffe Dante revival will arrive soon. And some restaurateurs go the Carbone route, changing the name but still paying tribute by serving similar food (in this case, red-sauce in Rocco's old home).
The first step to opening a fauxstalgia joint is to find the right restaurant to revamp. For the Torrisi team, looking to open a throwback red-sauce joint, Rocco — an Italian restaurant that opened in 1922 and closed in 2011 (owing to a $10,000 rent increase) — just made sense. "To have it be in Rocco, where the bones of the restaurant are legitimately vintage and antique, was perfect for us," says Mario Carbone. "And we could make a difference. If the restaurant went to anyone else, all would've been lost. It could have been anything. We could at least do our part in keeping the tradition going." (That is, if $64 veal Parmesan counts as keeping the red-sauce tradition alive.)
Carbone and his partners ended up only keeping the bones, though: They gut-renovated the space and ripped out the antique-tile floors — a change bemoaned by Vanishing New York's Jeremiah Moss. Often, fixing a decaying (but still charming) space requires a whole lot of time and money, and can be trickier than simply starting a project from scratch. The Holiday Cocktail Lounge restoration took three years, and Noah Bernamoff, who's opening a third location of Black Seed inside the space of 110-year-old De Robertis Pastry Shop and Caffé, has faced delays in an effort to retain the bakery's architectural elements.
"When you occupy a space for 110 years, you keep fixing stuff as needed, but you don't ever close down and overhaul the building," Bernamoff says. "It's easier to swing a sledgehammer than dismantle things piece by minuscule piece. But we think it's time and money well spent, given how much the space means to the neighborhood." It's tough for Bernamoff to say how much more money it costs to overhaul a historic spot, as opposed to starting fresh, but he estimates a 10 percent increase in construction costs.
The most infamous change to an institution, though, is Carbone layering its name atop Rocco's iconic neon sign. (Bernamoff actually plans to do the same with the De Robertis neon sign that he and Black Seed co-owner Matt Kliegman inherited.) "That sign was, and is, very important to us, and a lot of New Yorkers," Carbone says. "We made the decision that it couldn't come down — that it was a monument — but what do you do? Do you leave it as Rocco? From a business standpoint, it needed to have our name on it."
Sometimes, new owners — like Gabriel Stulman with Fedora and Keith McNally with Minetta Tavern — opt to stick with the name of the place they're restoring, which is what Linden Pride is doing with his Dante revamp. "We met with the family about six months ago, and they mentioned that they wanted to sell the business, but to somebody who was going to retain and reinvigorate the concept and the brand," Pride says. "And that's something that was very appealing to us. We wanted to go in and clean this place up, and try to retain some of the historical integrity. We've striving for innovation through authenticity."
The problem is that striving for authenticity, when it's done wrong, can end up making New York feel like a phony "Epcot Center of a city." But the revival of Holiday Cocktail Lounge seems to be, by most accounts, a success: The original closed in 2012 after the owners decided to sell the building, and when it reopened under new ownership in March, it looked and felt like a version of its old self. That's in part because a regular customer oversaw the resurrection: Pirate's Booty owner Robert Ehrlich bought the space and hired La Palapa's Barbara Sibley — who has lived above Holiday for over a decade — as his creative director.
"It took Robert some time to realize this was so precious," Sibley says. "As much as my input helped, every day, 30 or so people would stop by and get sad that it closed. But I had to accept that we had to make changes. I'd say, 'Don't touch that wall!' We also believe that you can't re-create the history. That would be like Disneyland."
It doesn't always work. Bill's Food & Drink — John DeLucie's makeover of 88-year-old speakeasy Bill's Gay Nineties — has not seen the same success, at least in terms of critical reception. DeLucie is no stranger to historic resurrections. He converted the Waverly Inn with Graydon Carter, as well as the Lion. But even though he kept the original Bill's piano player and many of the historic design details, the overpriced food soured the experience. Adam Platt called it "another pricey new midtown restaurant that hews closely to a careworn formula."
Meanwhile, Carter, who seems to exclusively reclaim legendary properties, has faced similar problems with the Waverly Inn, Monkey Bar, and the Beatrice Inn. At each place — all redone as riffs on the neo-speakeasy concept — he has attracted bold-faced names and cultivated demand … at first. That doesn't necessarily translate to enduring success: Critics have historically cast his food as overpriced and uneven, at best. In 2011, two years after Carter revived 75-year-old Monkey Bar, he had to give it yet another face-lift for this very reason. "The food bar in New York has risen considerably," Carter told the Times. "One-star food doesn't cut it anymore." But then, two years later in 2013, the Beatrice Inn received a zero-star review from Pete Wells.
Regardless of the quality of the food, these restaurateurs know that historic revamps come with backlash: When there's public outcry over the closing of an institution, the splashy young, new tenant often isn't seen in the most favorable light. "People poke their heads in and they're like, 'Oh my God, I can't believe it it's gone!'" Bernamoff says. "We feel bad that it's gone, too, but it's not like we pushed anybody out. They were very happy to sell the building, and I feel very good about the fact that we're not opening a T-Mobile or a Duane Reade in the space, which is the likelihood at these rent prices." As Carbone says, "If we hadn't taken it over, that neon sign wouldn't be hanging, that restaurant wouldn't be an Italian restaurant, and nobody would know that it was Rocco today."
The hard truth is that in the case of some New York institutions, their value is more sentimental than financial. They have trouble generating attention until it's too late, and new owners coming in to revamp is often the only way to reignite interest in these spots. "People get sad when things change, but when is the last time that you spent your money supporting one of these old businesses?" Sibley asks.
Watching new concepts infiltrate these historic spaces — and desperately try to bridge old with new — is bittersweet, but it's certainly preferable to watching a place become a juice bar or a bank. What's important to remember is that small businesses, of all kinds and ages, don't exist in some kind of bubble. They require continued love and financial support.
"The world changes," Bernamoff says. "I'm sorry if we're a part of it."