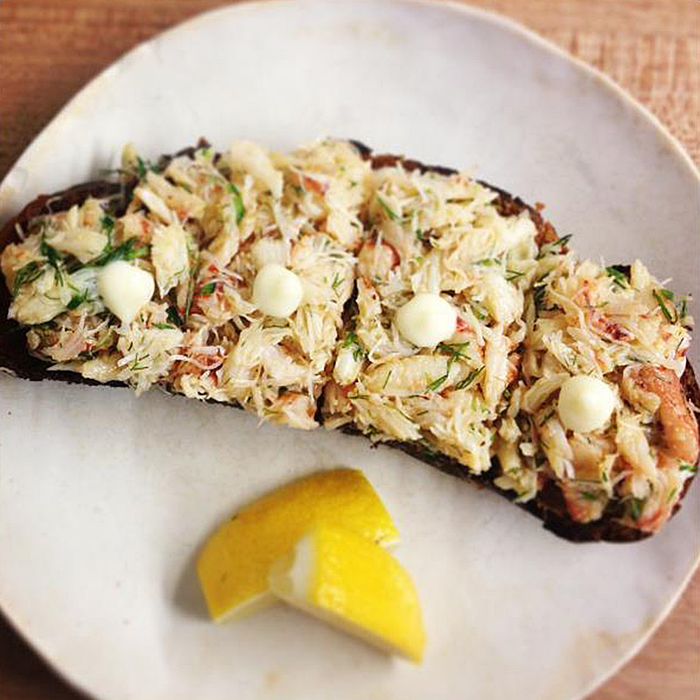 Jean-Georges Restaurants has pledged to raise $1,000,000 — a good reason to eat ABC Kitchen's crab toast.
Photo: ABC Kitchen
Mere days after the U.N. announced that it had received a fraction of the aid money they had requested for Nepal, the country got struck by yet another earthquake. There are many ways that you can help, and so as long as you're dining out in New York, you can do it for a good cause. Here's where to go:
Porter House, Center Bar, and Benoit
For the month of May, Michael Lomonaco will donate a portion of his proceeds to the Red Cross's efforts in Nepal, and he's asking his fellow chefs to join his #DineOut4Nepal campaign. (Restaurants can attach a line to checks where guests can donate whatever amount they're comfortable giving.) So far, he's been joined by Benoit in New York (and Chris Himmel's restaurants in Boston).
Little Tibet
As part of the second annual Queens Beer Week, this Jackson Heights restaurant is throwing a Saturday night party featuring a charity raffle. Guests will have the chance to win prizes from various Queens breweries and a "Night of 1000 Momos," which grants you and three friends up to 1,000 free Tibetan dumplings for one night only. To get in the running, all you have to do is purchase a beer or donate a dollar of any denomination. One-hundred percent of the proceeds will go toward supporting relief.
Paulaner
The Bowery brew-house, which features a menu from chef Daniel Kill, will donate $1 for every beer sold between May 6 through May 20 to the American Red Cross.
Jean-Georges Restaurants
The international restaurant group has pledged to raise $1,000,000 for Mercy Corps, a global network of first responders for natural disasters, and will donate $5 for every bottle of water purchased at one of its establishments. (In New York, they include Jean Georges, ABC Kitchen, and Perry Street.)
La Bernardin and Aldo Sohm Wine Bar
Eric Ripert's two New York establishments are both serving a $12 two-ounce portion of Tibetan yak cheese with condiments — and $5 of the price will go to Save the Children and the Tibet Fund, earmarked for Nepal.
Bunna Cafe
Through tomorrow, the Ethiopian café in Bushwick will accept cash donations as part of a fund-raising drive in collaboration with Global Shapers Kathmandu. Together, they'll purchase and ship supplies to the devastated areas of the Sindhupalchowk district.