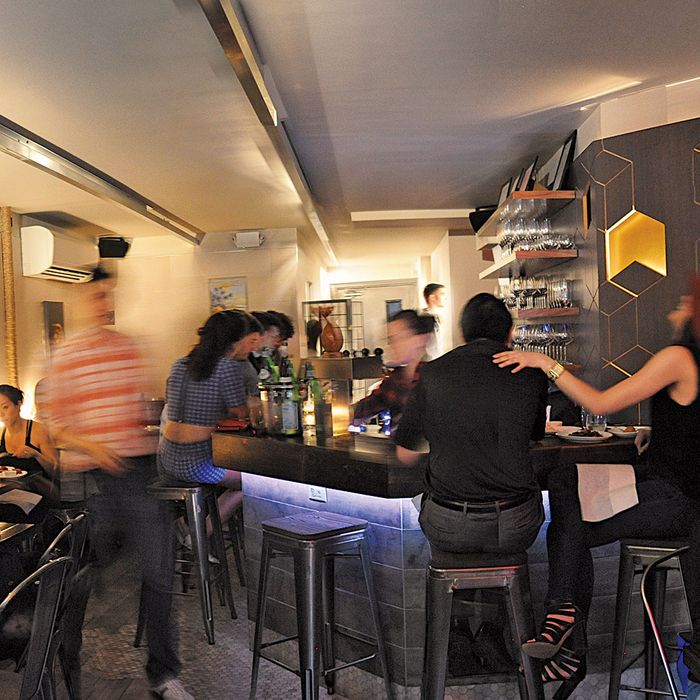 Photo: Tirzah Brott/New York Magazine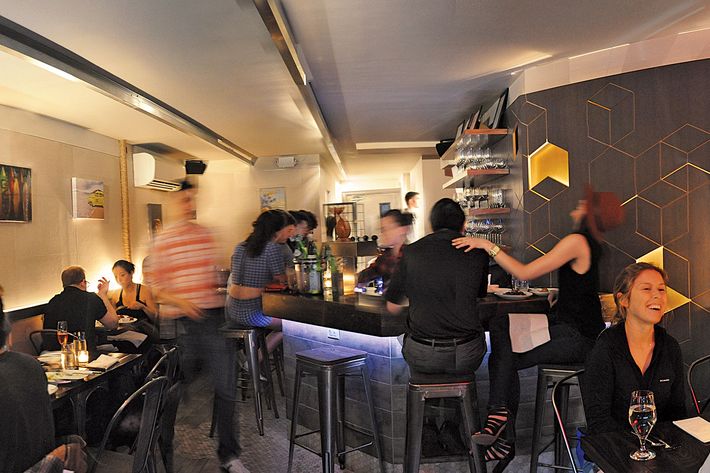 Although the name sounds otherworldly and even borderline bizarre, Noreetuh, which opened not long ago on lower First Avenue in the East Village, is a New York restaurant of a very familiar kind. Like many notable joints of the Kitchen Slave era (Momofuku, Torrisi, the Spotted Pig, Roberta's, et al.), it's located in a former borderland region of the city, once better known for tattoo parlors and smoke shops than for fine dining. Like at those establishments, the room is small (actually two rooms, each the size of a submarine galley) and the décor is relatively spare (brick wall, simple lacquered-wood tables). Like at those restaurants, the chef de cuisine, Chung Chow, is perhaps overqualified for such a modest operation (he was sous-chef at Per Se), and, as with many talented younger cooks, he's abandoned the old haute-cuisine model to focus on the kind of seemingly simple, comforting food he grew up with.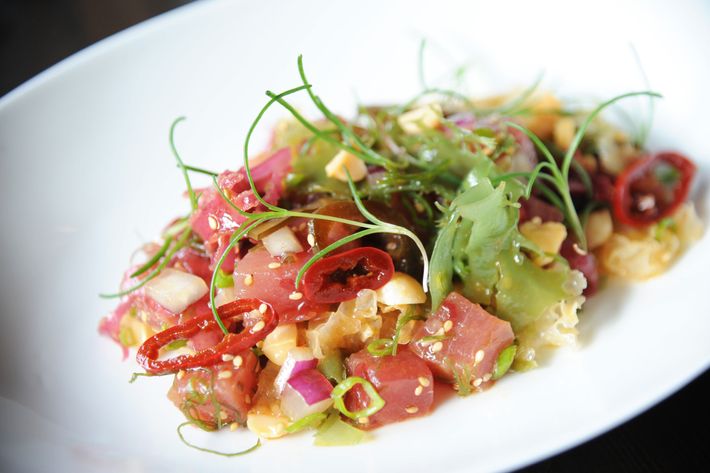 Chow is a Chinese-American from Hawaii who lived for a time in Japan, which means his particular homage to the Proustian tastes of his youth is more convoluted than most. Hawaiian cuisine takes elements from Polynesia (roast pig), its immigrant culture (Japan in particular), and the good old USA (yes, the islanders love their Spam), and this odd grab bag of tastes and influences is sprinkled throughout the deceptively ambitious fusion menu at Noreetuh. There are taro chips touched with truffles and kombu chips seasoned with chile-lemon salt, and while you sip your ice-cold shot of shochu, you can snack on pots of silken tofu dabbed with fresh uni; helpings of tempura-fried mushrooms dipped in a thick, mayonnaiselike miso cream; and a popular island rice-and-seaweed delicacy called musubi, which Chow constructs here with corned beef tongue instead of the usual slabs of Spam.
Spam appears on the menu at this East Village restaurant, stuffed elegantly into pouches of fresh-made agnolotti and garnished in an almost comically gourmet way with spring ramps, honshimeji mushrooms, and curling bonito flakes. You can enjoy this inventive dish with rows of gently crisped garlic shrimp over rice, or rosy little wheels of monkfish liver that Chow sweetens with slivers of Bartlett pear and passion-fruit gelée. My serving of traditional Hawaiian poke was mixed with a little too much boutique Japanese seaweed, but that other great local staple, pork, is served in cool, jellied terrine form (it's made with trotters); fried in bountiful, round Kalua pork croquettes (pay attention to the barbecue-style katsu sauce, which the kitchen sweetens with applesauce); and as a classic pork-belly entrée, braised to a lovely, sticky softness in pineapple juice and soy.
No single dish at Noreetuh (the word means "playground" in Korean) costs over $25, and if you're not a pork fan, I suggest calling for the mochi-crusted fluke, or the Wagyu steak, which is cut in gently warmed slices and served over a salad of fiddleheads, cherry tomatoes, red onions, and dried shrimp. You can wash down this food with frosty glasses of Big Wave ale, from Kona, Hawaii; a variety of shochus and sakes; or an impressive wine-geek selection of mostly Continental bottles chosen by partner and general manager Jin Ahn, who worked with Chow at Per Se. Save a little bit of room, however, for the desserts, in particular the soft, dissolving bread pudding (made with sweet King's bread from Hawaii and dappled with raisins), and the pineapple, which is served island style, with the stalk still attached and covered with a crunchy brûléed crust.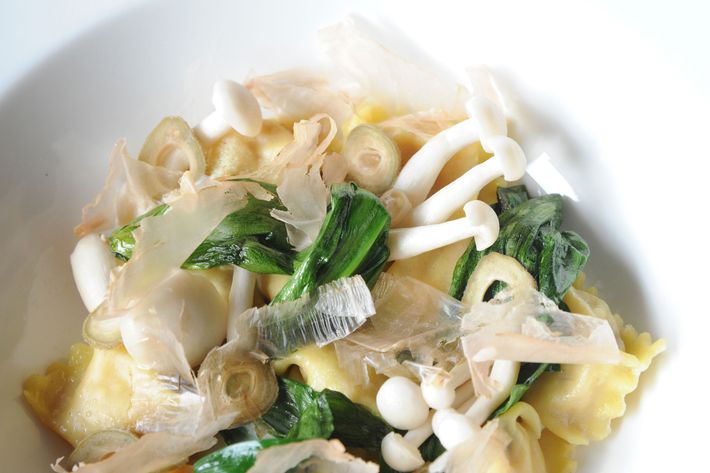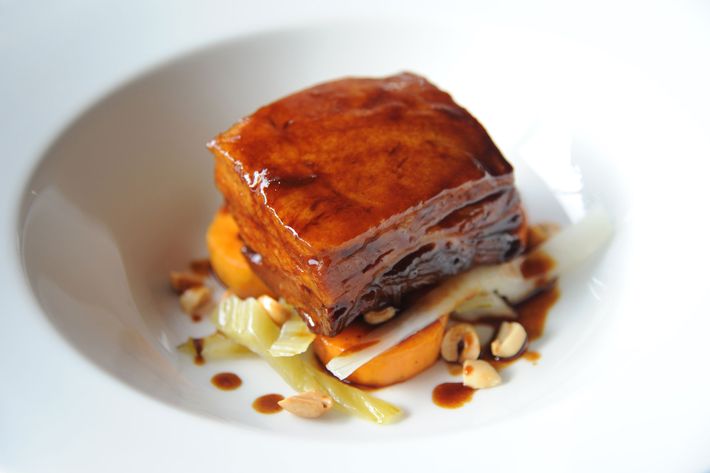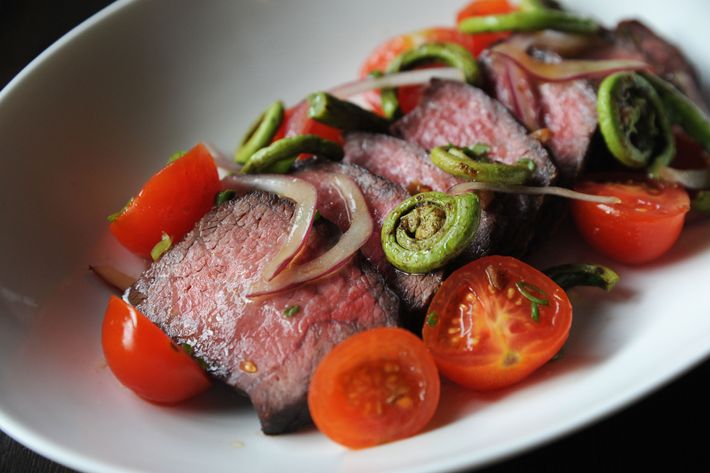 Oiji is another sparely decorated (distressed-wood walls, dangling Edison bulbs, etc.), oddly named (for Korean cucumber kimchee) new restaurant in the East Village (it occupies the former Dok Suni space on First Avenue, directly across from Noreetuh), only instead of one young, highly credentialed chef in the kitchen cooking the beloved delicacies of his youth, there are two. Like Chow across the street, Brian Kim and co-owner Tae Kyung Ku learned their cooking technique in some of the city's grandest kitchens (Bouley and Gramercy Tavern, respectively). Their menu is small and modestly priced, like Chow's (only two of the 14 dishes cost over $20), and it's filled with a variety of Korean home-cooked classics (smoked mackerel, braised oxtail, bossam) filtered in all sorts of deft and generally pleasing ways through the chefs' modern, gourmet sensibilities.
At this satisfying little restaurant, the house version of beef tartare is tinged, not unpleasantly, with a fresh-whisked ramp aïoli, and if you order the fried chicken, you'll find that the morsels of thigh meat are sizzled in a light coating of tapioca instead of the usual greasy clouds of flour. The aforementioned mackerel is smoked in pine needles, and the Ssam Platter contains a pot of spiced tofu (along with the usual pork) and packets of sticky rice wrapped in lotus leaves. The slow-cooked oxtail is one of the best iterations of this home-style dish I've tasted in a while, and the eggy beef shank and rice Jang Jo Rim was so good we ordered it twice. Delicate eaters will enjoy the seafood stew (with a hint of truffles), but the only dessert option is an addictive Korean mash-up sensation called honey butter chips (potato chips drizzled with butter and honey), and yes, it's impossible to eat just one.

Noreetuh
128 First Ave., nr. St. Marks Pl.; 646-892-3050; noreetuh.com
Open: Dinner, Tuesday to Sunday.
Prices: Appetizers, $11 to $17; entrées, $18 to $25.
Ideal Meal: Pork croquettes and/or crispy mushrooms, garlic fried shrimp, pork belly or mochi-crusted fluke, King's Hawaiian bread pudding or brûléed pineapple.
Note: High rollers, take note: The wine list contains 18 varieties of Champagne and sparkling wine.
Scratchpad: One star for the food and another for the service and the well-chosen wine.

Oiji
119 First Ave., nr. 7th St.; 646-767-9050; oijinyc.com
Open: Dinner, Tuesday to Sunday.
Prices: $7 to $34.
Ideal Meal: Fried chicken, cold buckwheat noodles, beef shank over rice, Ssam Platter, braised oxtail and/or seafood stew, honey butter chips.
Note: Hard liquor is available here, unlike across the street, but avoid the cocktails in favor of the traditional sojus and rice wines.
Scratchpad: One star for the home-cooked goodness and another for the elevated gourmet technique.
*This article appears in the June 1, 2015 issue of New York Magazine.