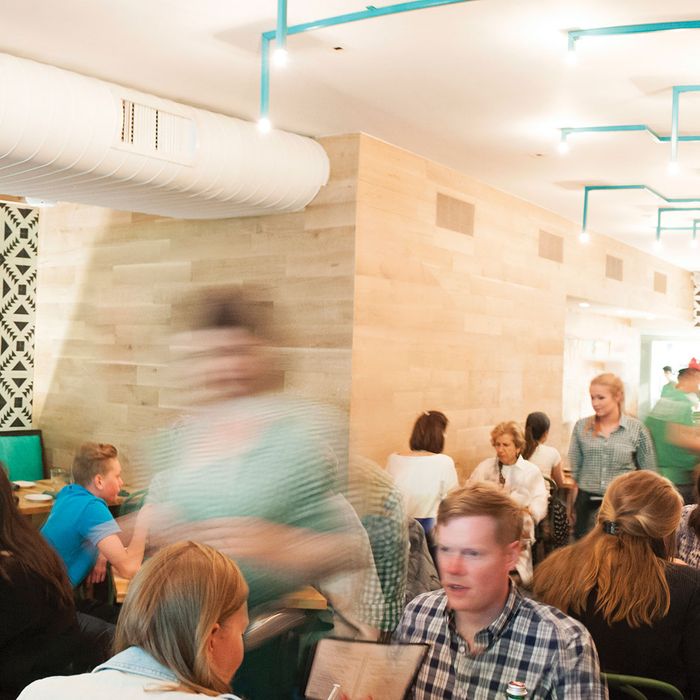 Javelina
Photo: Tirzah Brott/New York Magazine
Like everything else in this fashion-mad city, the dining world is prone to bizarre and random fads now and then, and lately we seem to be in the grip of a mini Tex-Mex craze. To witness the madness firsthand, I suggest you attempt to belly up to the bar at a cacophonic little establishment called Javelina, which has been more or less mobbed ever since the doors opened a couple of months ago on 18th Street, just off Union Square. When I dropped in at 5:30 p.m. recently, there was already a crowd gathered in the little cactus-rimmed holding pen up front, diddling on their smartphones, waiting for their tables. The bar in the narrow, aqua-green-accented room was a row deep with revelers nibbling on piles of nachos layered with dank heaps of mashed brisket and hoisting strange hybrid cocktails like the Smokey Negroni, which is the color of cherry Kool-Aid and spiked with mezcal instead of gin.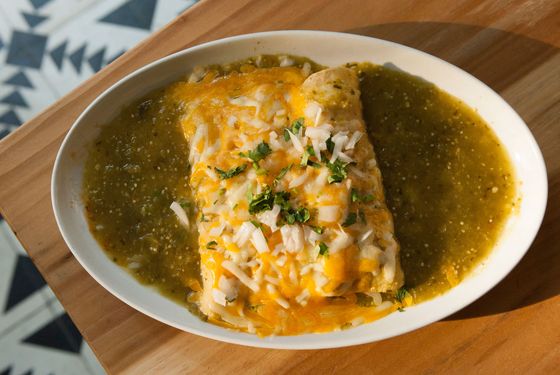 So what exactly does "Tex-Mex" mean? Once I'd situated myself at the bar, the friendly woman to my left, who'd spent time living in Texas, described it as a kind of comforting, denatured, supersize version of the real thing, the Texas equivalent of Chinese carryout or New York City's Italian red-sauce cuisine. There is an absence of complicated moles in Tex-Mex food and a preponderance of cheap melted cheeses and refried beans. "In Texas, they just call it 'Mexican,' not 'Tex-Mex,' " she said, picking at a wan-looking helping of shrimp nachos. "I think the name's more of a marketing tool." The bartender, who was from Houston originally, said that, in his humble opinion, the ultimate expression of the genre was melted-cheese dip (chile con queso). "They're the best things on the menu," he hollered through the gathering happy-hour din. "I guarantee there's no Velveeta in any of them!"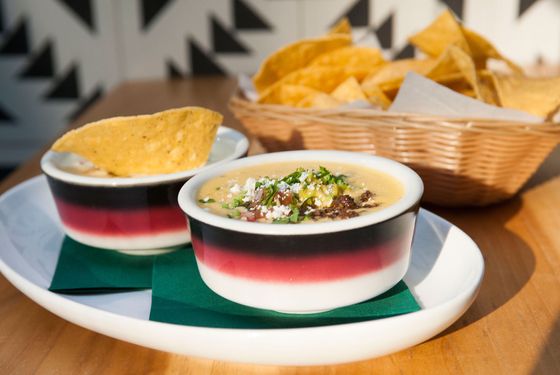 The quesos (one yellow, one white) at Javelina have their alluring qualities (for maximum heart-attack-inducing pleasure, ask for the sampler), but after these early fireworks the proceedings go inexorably downhill. My bowl of Texas red chili was more of a dreary armadillo gray than a fiery Texas red, and the rapidly cooling cap of cheese on its top had the consistency of vulcanized rubber. The spicy, properly soft yellow-corn-masa tamales were the best of a not very inspired selection of "traditional" appetizers; the run-of-the-mill fajitas only tended to pop when you slathered more queso on them (Tex-Mex aficionados call this the "sunset" option); and with the possible exception of the "San Antonio puffy" beef taco, nothing that my tasters and I sampled was quite on a par with the many interesting options available around town these days as part of the city's recent taco renaissance.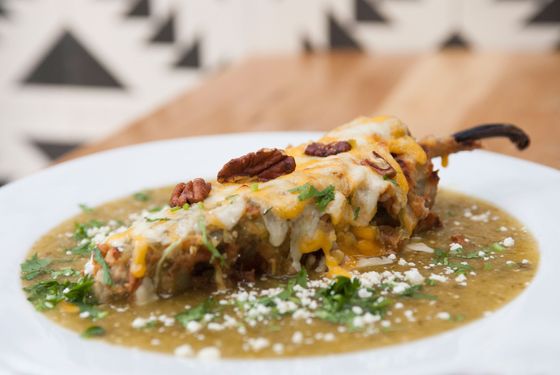 The safest bet on the menu at Javelina is that other great totem of the Tex-Mex canon, the chicken enchilada, although if you're feeling adventurous, I recommend the beef-stuffed chile relleno, which is garnished in an ambitious, big-city way with raisins and toasted pecans and is roughly the size of a small blimp. Most of the other entrées I sampled were a mess, in particular the chewy, over-aged (and, at 12 ounces for $38, way overpriced) "Cowboy Steak," and the helping of chewy, undergrilled quail, garnished with a watery mystery-meat sauce. You probably won't need a dessert after working your way through all of this uneven food, which is a good thing because there aren't any on the menu, unless you count the complimentary end-of-dinner fried-dough sopaipillas, which are set in a gooey ooze of honey and have the texture of old candle wax.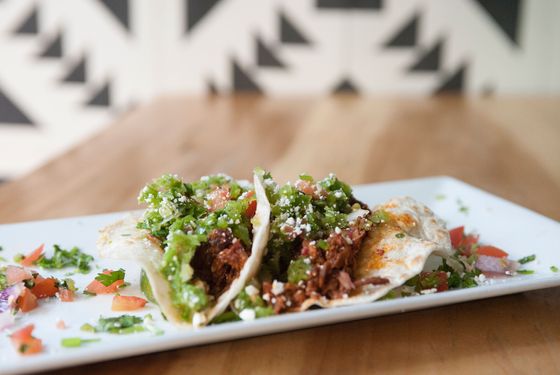 El Original, which opened not long ago on the ground floor of that old Hell's Kitchen landmark the Skyline Hotel, on 50th Street and Tenth Avenue, has a more authentic-sounding Tex-Mex name than Javelina, a more inviting menu, and also a larger, more promising space. You can enjoy numerous varieties of tequila in the roomy bar area, which features dining counters, a long, comfortable bar, and countless televisions tuned to countless sporting events. Both dining rooms are walled with slats of distressed plywood and strings of lights hanging from the ceiling like at a Texas barn dance. Mournful borderland ballads play over the sound system, and before the ritual onslaught of quesos, refried beans, and enchiladas even begins, warm stacks of golden, just-cooked corn chips are brought to the table in red plastic baskets, just like they do, I imagine, in Amarillo or El Paso.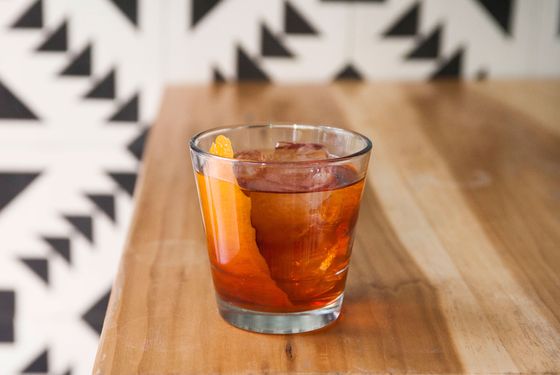 I'm afraid to report, however, that, with the possible exception of the wickedly greasy chicken-fried steak (which, Tex-Mex purists point out, is not really Tex-Mex), there's not much on this perfunctory, rehashed menu that would make even the most fervid Tex-Mex loon wish to return. The "Armadillo" eggs have a certain horrifying charm (they're spicy sausage balls filled with more melted cheese), and the steak fajitas have a nice, tender texture, provided you don't wad them with too many greasy peppers. But the "crispy" beef tacos reminded me of something you'd pick up in the taco section of your local supermarket, and the endless combinations of enchiladas, tamales, and refried beans reminded one disgruntled Texan at the table of "glorified TV-dinner food." If you're still standing for dessert, try the soothing vanilla flan, which has the benefit of being less Tex and a little more classically Mex.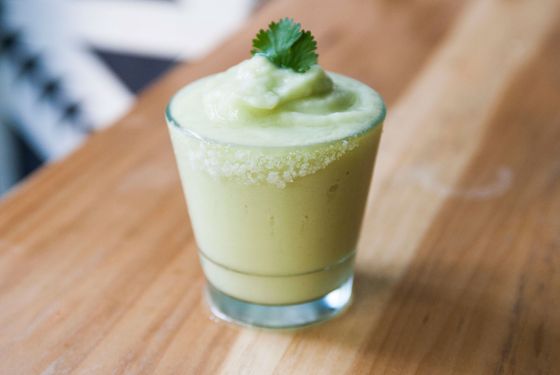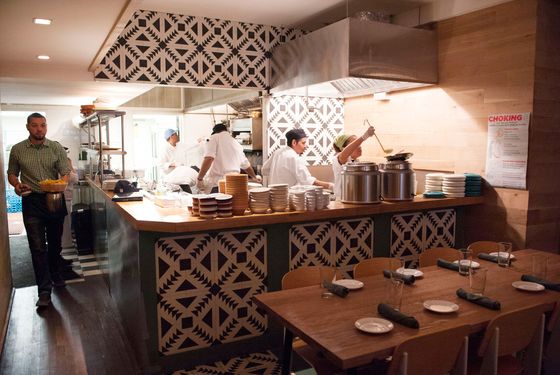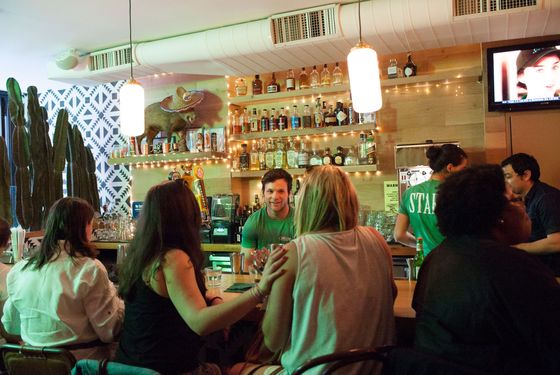 No stars
Javelina
119 E. 18th St., nr. Irving Pl.; 212-539-0202; javelinatexmex.com
Open: Monday to Friday for lunch and dinner; Saturday and Sunday for brunch and dinner.
Prices: Appetizers, $6 to $14; entrées, $17 to $38.
Ideal Meal: Queso sampler, chicken enchiladas, lots and lots of margaritas.
Note: The restaurant is open for lunch, which we're betting is a less harried, more peaceful meal than dinner.
Scratchpad: Half a star for the quesos and another half for the enchiladas. Minus a star for the uneven grub and the noisy little room.
No stars
El Original
735 Tenth Ave., at 50th St.; 917-382-5512; eloriginaltxmx.com
Open: Daily for dinner.
Prices: Appetizers, $8 to $12; entrées, $15 to $24.
Ideal Meal: Chips and queso, "Armadillo" eggs, steak fajita, flan, lots and lots of margaritas.
Note: There are 11 mezcals on the menu and 53 tequilas.
Scratchpad: Half a star for the ambience and another half for the service, minus a star for the slapdash food.
*This article appears in the May 18, 2015 issue of New York Magazine.