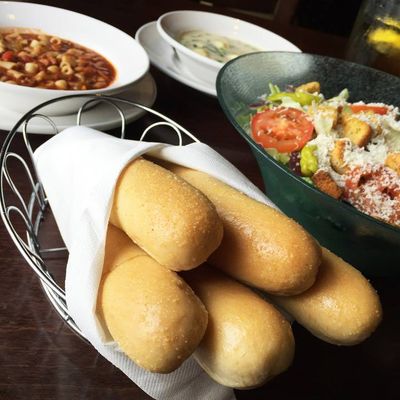 A mere two weeks after announcing that it would introduce game-changing breadstick sandwiches to the world, Olive Garden is doubling down on its commitment by adding breadstick crostini. Despite a thriving black market for Never Ending Pasta Passes, Olive Garden has suffered from a dip in sales lately and, like McDonald's, the company is looking to revamp and reinvent to catch up with nimbler nemeses like Chipotle.
Apparently, it seems, that means curbing breadstick waste by using the signature item in all kinds of gimmicky new menu items. This rather unexciting-sounding idea of an appetizer incorporates toasted breadstick — not exactly changing things up too much. It's possible that controlling investor Starboard Value, which chided the company for said waste, believes that fixing the breadstick conundrum is the solution to all of Olive Garden's problems.
Perhaps, even, Olive Garden is making the first moves of a broader scheme to transform itself into a one-item restaurant, where absolutely everything and anything is served on a breadstick. After all, as executive vice-president of marketing Jose Duenas told the AP, "the flavor profile of the breadstick is powerful." (How long until he says umami?) Still, sticking with crostini and sandwiches is playing it safe. If Olive Garden really wants to shake things up, it's got to be bold and go for the gold: breadstick pizza.
[AP]