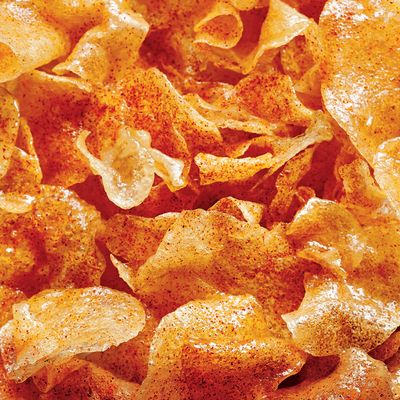 Oiji's $5 "honey butter chips."
Photo: Bobby Doherty
Nothing against the wild-sesame soup or the pig's-trotter salad with spicy lemon vinaigrette, but the thing we're most intrigued by at Oiji, a new Korean restaurant in the East Village, is the potato chips. These $5 "honey butter chips" are listed as "sides" and also served as dessert, but that's not the most interesting thing about them. The inspiration for Oiji's chips comes from South Korea, the birthplace of co-chefs Brian Kim and Tae Kyung Ku as well as of a recent craze of Cronut proportions. Last summer, the Korean snack giant Haetae launched a honey-buttered chip on the local market, and the unassuming junk food became a sensation, spawning copycats, disappearing from store shelves minutes after being stocked, and earning its manufacturer more than $20 million in sales in two months alone.
You can score a bright-yellow bag on eBay, but otherwise Haetae's chips are impossible to find in New York. Oiji's take is more homage than replica. For one thing, the kitchen is working in a vacuum, the chefs having never actually gotten their hands on the real thing. For another, they're made from russet potatoes shaved on a mandoline and deep-fried. Then they're wok-glazed to order in an emulsion of high-fat French butter, brown sugar, and Greenmarket honey, seasoned with salt and cayenne pepper, and served warm. Old snack hounds might detect a hint of Screaming Yellow Zonkers, but the overall effect is uniquely sweet, salty, and sticky, with a notable moistened crunch.
119 First Ave., nr. 7th St.; 646-767-9050
*This article appears in the May 18, 2015 issue of New York Magazine.