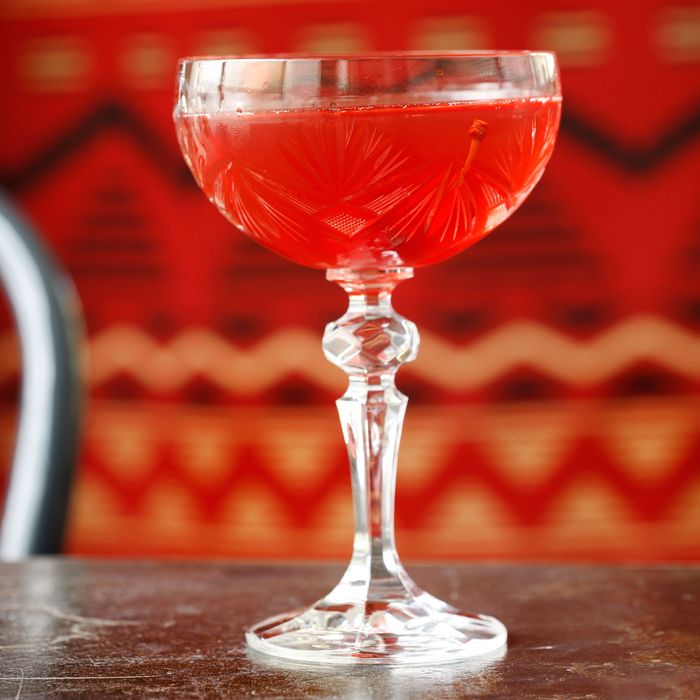 Damon Boelte's American Royal Zephyr at Grand Army.
Photo: Melissa Hom
There are certain advantages to drinking at bars that also happen to be owned (or, in some cases, co-owned) by the bartenders: There tends to be an increased emphasis on creativity, and the bartenders' point-of-view can be displayed more clearly. You (probably) won't have to worry about a short-sighted bait-and-switch of scaling back on the quality of drink ingredients six months in or so. And, smart, bankable mixologists tend to attract an equally smart, bankable staff. When Julie Reiner and Audrey Saunders opened spots like the Flatiron Lounge and Pegu Club, respectively, bartender-owned bars were an anomaly. Now, however, nearly all important new cocktail destinations are operated by the people making the actual cocktails — here are a half-dozen up-and-coming bar stars who are running their own brand-new spots.
Leyenda, Cobble Hill, Brooklyn
The bartender-owner: Ivy Mix
Julie Reiner teamed up with her longtime Clover Club bartender, who has the improbably perfect name Ivy Mix, to create this bar that goes beyond tequila and mezcal to focus on the entire universe of Latin spirits, including cachaça, pisco, rum, sherry, raicilla and more — all of which happen to be within Mix's spiritous bailiwick. Chef Sue Torres is on hand to make sure the food is on par with the drinks, which are both complex and immediately likable. 
What to drink: Stir Key, a strong multi-rum old-fashioned riff with macadamia-nut orgeat, Jamaican rum, Black Strap rum, Bermudan rum, and two types of bitters.
Mace, East Village
The bartender-owner: Nico de Soto
Parisian barman de Soto is a veteran of the Paris, London, and New York stations of the quirky French-born Experimental Cocktail Club empire, where things are done with a bit more insane flourish than they are in tradition-bound New York. With Mace, he's trying to rattle the locals with unlikely liquid combinations in which a single informing spice is surrounded by the likes of pistachio-oil-fat-washed vodka, snap pea shrub and oat orgeat. The back bar looks like a laboratory, with rows upon rows of jarred spices.
What to drink:The namesake cocktail may have a mace mist, but it's the Aperol and beet juice that dominate its sunny, glad-to-meet-you personality. It's a good place to start. Once initiated, move on to the deeply odd Grass, with its silver-needle-white-tea-infused Shochu and grass cordial.
Grand Army, Boerum Hill, Brooklyn
The bartender-owner: Damon Boelte
Boelte, a long-haired, lanky Oklahoman, held down the fort at Prime Meats for six years, doling out Fernet Branca and Underberg bitters aplenty, in addition to spirit-forward drinks like a pear-bitters-tinged Old-Fashioned. He's loosened up a bit at this new place, a collaboration with Noah Bernamoff of Mile End, Julian Brizzi of Rucola, and food photographer Daniel Krieger. The debut menu boasts tiki-esque concoctions that employ blue curacao and banana liqueur. The oyster program is Maison Premiere good. And the railroad names given to the drinks, along with a collection of turkey figurines and the patriotic name, ensure an Americana feel.
What to drink: Try the Surfliner, a hard-to-resist green crushed-ice concoction of Navy-strength rum, allspice dram, blue curacao, lime juice, pineapple juice and bitters.
Suffolk Arms, Lower East Side (Scheduled to open in June)
The bartender-owner: Giuseppe Gonzalez
Gonzalez has been around for a long time, working at bars such as Flatiron Lounge, Clover Club, Dutch Kills, Painkiller, and Golden Cadillac. But this is the first bar where the buck stops with him. The initial menu will look to reclaim vodka from the corner that mixologists shoved it into a decade ago, while also featuring a collection of "signature drinks" Gonzalez has created over the years. He will also try out a guest-centric technique called "omakase," in which cocktails will be customized based on guests' spirits and flavor preferences — a more outwardly directed form of the now-familiar "bartender's choice."
What to drink: The menu is still a work in progress, but Gonzalez is one of the most ebullient showmen in the biz; if he's behind the bar, you'll have a good time — even if you're drinking Castor oil.
Slowly Shirley, West Village
The bartender-owner: Jim Kearns
Kearns is a cocktail-bar veteran whose credits stretch back to Pegu Club and Death & Co. A low-key, clean-cut type with horn-rimmed glasses, he looks more accountant than bartender. At the perpetually packed Happiest Hour — the first bar he has co-owned — he matches his regular-guy appeal by keeping the cocktails democratic and user-friendly (vodka can be substituted in any of the original drinks). Downstairs, at the recently opened, more seriously minded Slowly Shirley, cocktail nerds can properly geek out about all things shaken and stirred, without fear of condemnation. 
What to drink: Try the Loose Lemon, a Tom Collins-like concoction, with pisco. From the classics section, the Ol' Wisco does the Wisconsin-style, brandy Old-Fashioned proud, and comes with a shorty of Miller High Life. At Slowly Shirley, go all-in on the drink-nerd vibe and and try a "scaffa," a genre of room-temperature cocktails dating from the mid-1800s.
Bar Goto, Lower East Side (Schedule to open in June)
The bartender-owner: Kenta Goto
Goto put in seven years of service at Pegu Club, drawing a devoted following for his modest, quiet style of service and expert skills. He is now breaking out with a bar of his own, and it may be the closest thing New York has seen to a Japanese-style cocktail bar since Angel's Share arrived 20 years ago. Many cocktails will have an Asian twist, using ingredients like sake and miso. Japanese beer will be on offer, as will a bar menu of Japanese appetizers and comfort-food dishes by chef Kiyo Shinoki, including Okonomi-yaki, savory pancakes inspired by Goto's childhood memories of his mother's restaurant outside of Tokyo. 
What to drink: Based on the specs alone, the Sakura Martini (sake, gin, maraschino liqueur, cherry blossom) sounds like the way to go here.