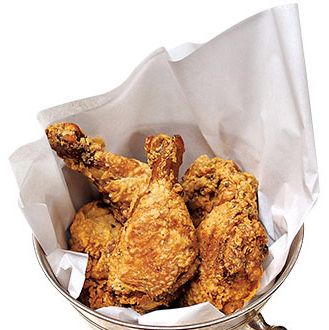 How about fried chicken and Champange at Birds & Bubbles?
Photo: Cassandra Rose Tannenbaum
There's no reason to feel like you're missing out if you're staying in the city over the long weekend: For one, it's always relatively easy to score coveted tables at hot restaurants during holiday weekends — and if you're feeling festive, plenty of spots are hosting special brunches and parties in honor of the holiday. And still others are just extending their usual weekend plans to accommodate midday diners on Memorial Day. Come Monday, the Dutch will hold a luau, Maison Premiere will serve up some barbecue dishes, and Narcissa will host a crawfish boil. Here are Grub's top ten picks:
Birds & Bubbles
Sarah Simmons will host a traditional low-country boil on her Lower East Side restaurant's outdoor patio. A $95 ticket includes three glasses of sparkling wine, as well as a spread of food like shrimp, sausage, and corn on the cob.
Narcissa
From May 23 to May 25, the East Village restaurant will host a crawfish boil from noon to 8 p.m. Tickets cost $25 per person, and you can reserve them here.
Maison Premiere
The Williamsburg restaurant will open early, at noon, and offer special barbecue dishes (all à la carte) and live music. It's a first-come, first-served situation, and the dinner menu will be available from 5 to 11 p.m.
Do or Dine
Over in Bed-Stuy, Justin Warner's holding his annual "Rub-A-Grub" backyard party on the May 24. Tickets, for $15 or $30 for VIP access, buys two dishes, two drinks, and a live-music show.
Bien Cuit
The Boerum Hill bakery will sell hot dog and burger buns just for the holiday next weekend, using its Pain au Lait dough as the base.
Upland
Justin Smillie will serve his brunch menu on Monday — which you can enjoy outside.
The Dutch
The Soho restaurant is hosting its third-annual Memorial Day luau, with tiki cocktails, spam masubi, and Kalua pig available for lunch and dinner, à la carte.
Back Forty West
It'll open for brunch on Monday from 11 a.m. to 6 p.m., with dishes like pulled-pork hash and a kale-and-bacon salad.
The Gander
Memorial Day happens to mark the launch of Jesse Schenker's sundae cart: a mobile ice-cream station filled with housemade flavors and toppings like fresh figs, macerated berries, and rhubarb jam. The restaurant will also offer all-day brunch service and all-day happy hour, which means a half-priced Bar Room menu.
SixtyFive
Up high on SixtyFive's terrace, which offers views of the skyline, glasses of sparkling rosé and Prosecco will be sold for $10, all night long. Not bad.
Café Clover
The health-conscious restaurant will launch its new lunch menu in time for the holiday weekend. Some highlights: burrata with fava beans, spring peas, and red watercress; and a smoked vegetable Cuban sandwich.
Seaport Smorgasburg
New York's newest food market opens on Fulton Street on May 21, just in time for Memorial Day. It consists of eight vendors — Cemita, Milk Truck, Pizza Moto, Red Hook Lobster Pound, Lonestar Empire, Lumpia Shack, Ramen Burger, and Schnitz — and, best of all, it also has a full bar.