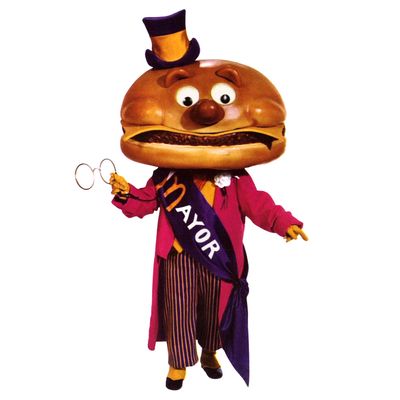 Just put this guy back in charge.
Another day, another plan from McDonald's, which execs hope will be the one that finally fixes the struggling chain. Today, newly installed CEO Steve Easterbrook released a 23-minute video promising he's committed to finally improving both the quality and flavor of McDonald's food. Wait, no, that's not what happened. Instead, Easterbrook says in the video that he's going to restructure the corporate makeup and re-franchise some 3,500 existing stores by 2018 so corporate owns fewer restaurants going forward.
The video comes on the heels of a long stream of bad news for the company. In the last month alone, Mickey D's brass announced hundreds of closings, started retooling their recently developed custom burger initiative, and released a so-named Artisan Grilled Chicken Sandwich that's arriving about 10 years too late to really capitalize on the whole artisan movement. Don't forget March's $40 million global marketing failure. Meanwhile, the promise of an all-day breakfast menu — their big move for 2015 and something that actually sounded good — proved to be a huge letdown for fans of biscuits and McGriddles.
You can watch today's full video here if you'd like (it's not embeddable), but Easterbrook's announcement is as predictably dry and corporate as his artisan chicken. He makes lofty, empty references to franchisee's entrepreneurial spirit and the company's, uh, celebrated history of positively impacting their communities. (Last time we checked the company was being sued by employees over hazardous work conditions, the latest chapter in an ongoing labor saga.)
Easterbrook bills this plan as a "reset," saying that it will "shape McDonald's future as a modern, progressive burger company" while creating renewed interest around the golden arches. It is not clear how a corporate video with all the production value of a mid-90s infomercial will ignite a renewed sense of interest, but this whole performance mostly seems aimed at assuaging the growing discontent among franchise owners, who currently have a, uh… rocky relationship with corporate. So Easterbrook says in the video that he wants to "unlock financial value," "drive operational growth," and "create brand excitement," and oh, man, is this stuff ever boring.
Obviously, the phrase "modern, progressive burger company" sounds like an exact description of Shake Shack, and it's no secret that McDonald's feels like a lumbering, out-of-touch giant compared to Danny Meyer's fast-growing burger blockbuster or — here comes the inevitable mention — Chipotle. What McDonald's should realize is that those other operations continue to thrive because customers have proven they're ready to pay more for better food. People don't go to Shake Shack because the chain calls itself progressive or bills its sandwiches as "artisan." People go to Shake Shack because the burgers taste good. Despite all these recent changes and announcements, improving the quality of the food still doesn't seem like a priority over at Mickey D's, so perhaps Easterbrook & Co. should take a cue from their loony competitors at Taco Bell and just go all in on "foodie experiences" like Doritos tacos and Cap'n Crunch doughnuts. Honestly, something like a a McGriddle filled with potato chips doesn't sound all that bad. Just as long as they don't call it "artisanal."