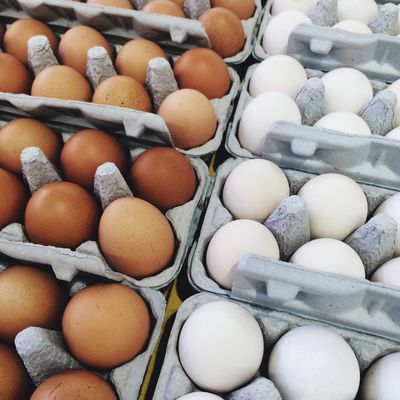 End of days.
Photo: Kerin Forstmanis/Corbis
That record-breaking bird flu that's busy devastating midwestern farms is about to start screwing with breakfast, too. About 87 percent of sick birds are laying hens, forcing farmers to kill something like 38 million birds, according to the Department of Agriculture. It doesn't take a math whiz to intuit short egg supplies are on the horizon.
McDonald's and Panera Bread, as well as food conglomerates Unilever and General Mills, all say they're fine for now, but the Times reports they're tracking down new suppliers. This comes alongside an announcement that "several" locations of Cargill Kitchen Solutions, a McDonald's supplier, have been hit by avian flu, and the news that one large food-service business that manages hundreds of university and museum cafés is working to eliminate eggs altogether from recipes.
Some companies are so desperate that they're exploring egg alternatives for the first time. "Eight companies called today to see if we could do anything for them," Joshua Tetrick, CEO of egg-substitute-maker Hampton Creek, told the Times. His company is shipping tens of thousands of pounds of a powdered-egg substitute called "Just Mix" to General Mills, of all places, and the Hampton Creek team is working to have a new line of mixes for restaurants and grocery bakeries ready by the summer.
[NYT]