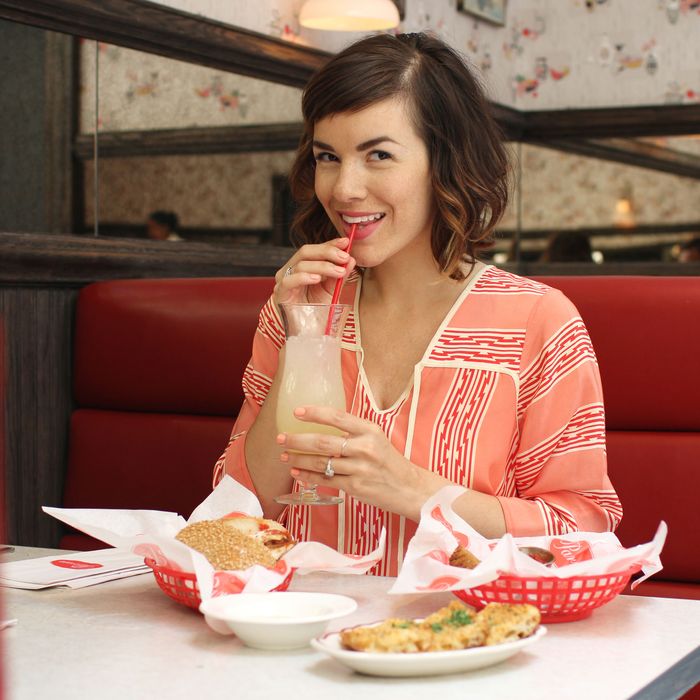 Davis calls Parm's mozzarella sticks "the best ever."
Photo: Melissa Hom
Naomi Davis has earned a loyal following for her blog Love Taza, where she documents her family's adventures across New York. Food plays a big part in her work: She often puts together neighborhood guides highlighting her favorite restaurants, and in real life, she'll trek downtown just to eat her favorite slice of pizza. "The thing that gets me out of bed is figuring out what I'm going to eat for breakfast," Davis says. "I love to try everything." This week, that translated to homemade bucatini alla marinara, mozzarella sticks at Parm, massaman chicken curry, and fried chicken alongside some macaroni and cheese.
Thursday, May 21
We were in Hawaii a few months ago and had our first açai bowls. We can't get enough of them now, and have them about two or three times a week. My kids, Eleanor and Samson, both devour them in either the bowl or smoothie form, too. I like blending it with a frozen banana and figs, and then putting fresh fruit, granola, and a little bit of honey on top. Sometimes, if I'm feeling extra adventurous, I'll add some shredded coconut. We usually trade off having açai bowls or oatmeal for breakfast. I go through phases with food, so I can't really look at oatmeal right now (so sick of it!).
We went out to Brooklyn to see Tom Fruin's stained-glass house installation after breakfast, and if you're going to be that close to Juliana's Pizza, you cannot say no. So we shared a margarita-style (half with pepperoni) pie and sausage pizza for lunch. We also tried their meatballs, which we hadn't had before. I had a Coke with my meal. My husband, Josh, gave up soda, sugar, and ice cream at the beginning of the year and I've been trying to do the same (with soda, mostly — I can't give up sugar! Absolutely no way!), but I still occasionally love a Coke with my meal.
We walked over to the Brooklyn Ice Cream Factory after seeing the installation to get the little ones an ice-cream cone. They have the best butter-pecan ice cream in this city, so I had to have some.
I snuck away to a café to get some work done during the afternoon and had a double chocolate-chip cookie while I was there. It was from Birdbath Bakery. I used to go all the way down to City Bakery for chocolate-chip cookies, even in the snow, but I think they've taken a dip. They used to be chewier and gooier. Now I grab the double-chocolate one.
For dinner, we made a bunch of green smoothies. It changes over time, but we filled these with kale, frozen bananas, almond milk, and figs and dates. Sometimes we do something lighter if we have a big a lunch. I don't like going to sleep completely stuffed.
Friday, May 22
I was up most of the night with our newest baby, Conrad, who is just 5 months old. Ugh. He finally fell into a deep sleep around 6:30 a.m., just as our older two kids were waking up. My husband took them out to grab some bagels to bring home (from Absolute Bagels! The best in the city!), so I had a plain bagel with cream cheese and some juice.
I had a mid-morning snack of leftover pizza from Juliana's while working at home. Pizza on the second day is divine! I also drink sparkling water throughout the day. I've been on a big Poland Spring flavored sparkling water kick lately. The orange flavored, especially.
We took a picnic to a nearby splash pad with the kiddos for lunch. We packed up a bunch of sliced cucumbers, peppers, apples, and sugar snap peas. And some sparkling water, too. My kids call it spicy water, ha!
For dinner, Josh — who does the majority of cooking in our home — made a delicious bucatini alla marinara pasta with sautéed kale. He's a little bit particular about his Parmesan cheese after living in Italy for a few years — so, side note, he swears the best Parmesan cheese is from Costco, of all places! It's the two-year-aged Parmigiano Reggiano cheese.
I made chocolate-chip cookies with the kids, too. They like to sit up on the counter by the KitchenAid and pour everything into the mixer. It makes the process twice as slow, and my kitchen looks like flour exploded everywhere after we're finished, but they have such a good time. Both my husband and I really feel passionately about including them in everything we do. You can see it in their faces how proud they feel, and how encouraged they are when they pour a tiny teaspoon of vanilla into a bowl.
Saturday, May 23
Every couple of months, we like to volunteer down at Meatloaf Kitchen in the East Village. Since the kitchen is small, they don't accept very many volunteers at one time, but we try to open it up and invite a few blog readers to join us. We usually bring a group of ten or so people, and it's a fun way to get to know a few readers in person, while preparing and serving a warm meal together.
The shift is from 8 a.m. to 12 p.m., so we loaded our entire family into a taxi around 7:15 a.m. in order to drop the little ones off at our babysitter's apartment on our way. We ate apple slices and drank OJ in the cab ride. I ended up grabbing a Snickers bar from a bodega close by the Meatloaf Kitchen on our way in, because my stomach was still growling and I'm the grumpiest when I'm hungry. At the kitchen, we took a break mid-morning to eat what we were serving the guests. It's one of the things I like most about the place: We eat the exact same food we are serving the guests, and with them. I ate a pastry and had some apple juice.
After we finished serving breakfast, we picked up the kids and, since we were in the neighborhood, we tried Root & Bone for lunch. Josh and I shared a goat-cheese-and-crab omelette, half of a fried chicken, and biscuits. It's true: The fried chicken is pretty amazing. I'm already wanting to go back. We ordered the kiddos macaroni and cheese, and I ate what they didn't finish. That was probably my favorite.
We made more green smoothies for dinner (kale, banana, and almond milk), and made some homemade stove-top popcorn. It might be because of how I was raised on my dad's stove-top popcorn, but I really don't think any fancy popcorn, microwave popcorn, or movie-theater popcorn will ever compare to just simple popcorn over the stove. We eat a lot of it in our home.
Sunday, May 24
I had a half-grapefruit, a hard-boiled egg, toast with jam, and fresh-squeezed OJ for breakfast. We head to church at 9 a.m. on Sundays, so we pack lots of snacks for the kids (and me, let's be honest). We brought along a bag of popcorn, some yellow peppers, sliced apples, and almonds.
We like to make our biggest homemade meal later in the afternoons on Sunday. Josh prepared prosciutto and melon, pea ravioli with butter and Parmigiano Reggiano sauce, pan-fried steak, roasted butternut squash, and sautéed asparagus. And I had a flavored sparkling water, too.
A little later in the evening, we made some more homemade popcorn.
Monday, May 25
I had another hard-boiled egg and toast with raspberry jam and fresh OJ for breakfast. We were in a bit of a hurry to get out the door to go visit the General Grant National Memorial together, since it was Memorial Day.
My twin sisters also came to town that day, so we took them to Parm (so glad they came to the Upper West Side!), where we had chicken-parm sandwiches, mozzarella sticks (the best ever — they basically melt in your mouth), and zucchini-string fries. I also had a lemonade.
Later on in the day, we stopped by Juice Generation, where I had a watermelon smoothie. We ordered takeout that evening with one of my sisters from Land Thai Kitchen. It's my favorite Thai on the Upper West Side. I always get the chicken lettuce wraps, massaman chicken curry with sticky rice, and a mango sticky rice for dessert.
Tuesday, May 26
We made açai bowls together for breakfast. I then took the kids to soccer practice, where we all snacked on some yellow peppers and almonds and more water. I'm not super-proud of this tradition, but on the way home from soccer every Tuesday, we grab a couple of doughnut holes from Dunkin' Donuts.
Since my sister was still in town, we took her down to Joe's for a slice of pizza for lunch. It's our favorite spot to grab a slice in the city — we go often. Popbar is next door, and we are really loving their popsicles lately, too. My kids always get the fruit bars, but I usually get a pistachio bar dipped in milk chocolate with almonds and pistachio nuts on the outside. This time, though, I tried their coconut bar dipped in chocolate with almonds. My sister loves to visit Sockerbit whenever she's in the city, so we stopped by to grab some sour gummies and candies afterward.
For dinner at home, we ate leftover pasta, and then I didn't even realize it, but I ate almost a half-pint of Häagen-Dazs mint-chocolate-chip ice cream while working, after the kids were asleep. It's probably why we shouldn't stock ice cream in our freezer.