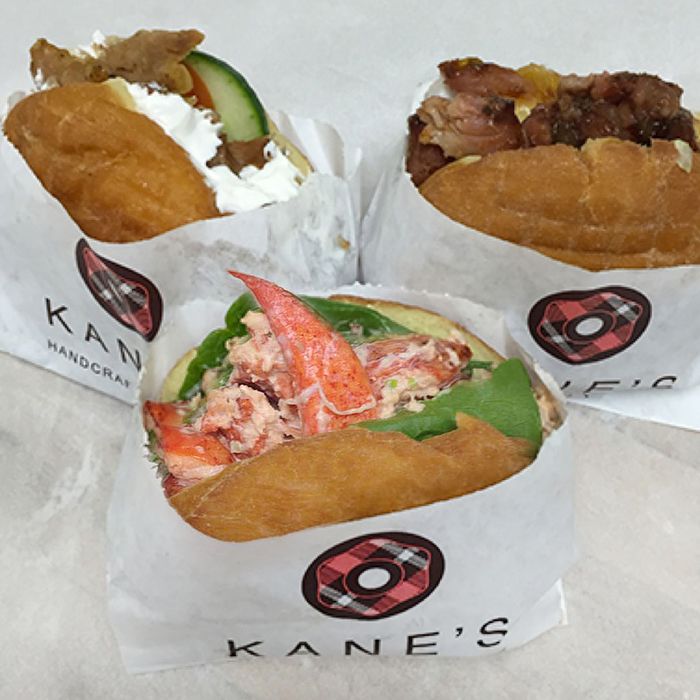 It begs the question: Does a lobster roll even count as a sandwich?
Photo: Courtesy of Kane's Handcrafted Donuts
The concept of a doughnut sandwich — that is, naturally, a sandwich wherein the bread is replaced with slices of doughnut — has been steadily rising from menu novelty to totally normal thing to eat. Doughnut burgers are plentiful these days. Dunkin' Donuts has been making a breakfast sandwich with their glazed sugar bombs since 2013, and bakeries in Maryland and Chicago have since gone all-in with fried chicken do'wiches. And yet, here's a new creation that still sounds … unusual. Massachusetts bakery Kane's Handcrafted is apparently giving the do'wich a New England makeover at their Boston location, where they're stuffing their brioche-based doughnuts with lobster salad.
The lobster do'roll, as Grub Street has taken to calling it, is the ultimate regional specialty, mashing up two local favorites. It sounds kind of grossly over-the-top at first, but, who knows, it might actually work in its own high-low kind of way, just as long as the doughnut remains unglazed. Seriously: Grub likes wacky food combos as much as anyone else, but sugary lobster is a no.
[Forbes]