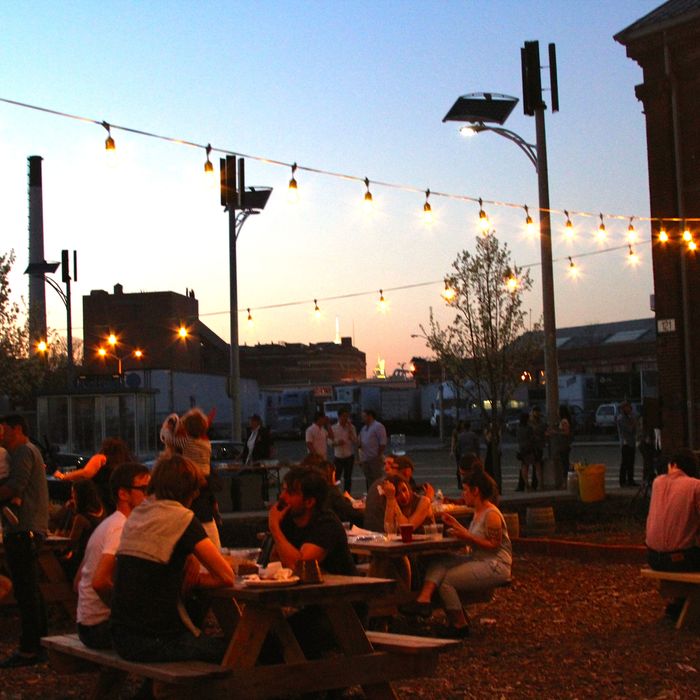 Head to the Navy Yard on Friday night or Saturday afternoon.
Photo: Audrey Green
Summer unofficially kicks off this weekend, and with it the season of outdoor eating and drinking. To the perennial list of beer gardens, rooftop bars, and rosé-swilling sidewalk cafés, add this very nifty new option at the Brooklyn Navy Yard home of Kings County Distillery, the city's oldest operating whiskey distillery and its first since Prohibition. (Full disclosure: The distillery is co-owned by an editor at New York Magazine.)
Since Kings County distills its spirits using New York-state-grown grains, it's allowed to sell bottles and offer tastes of its bourbon and moonshine to visitors under the terms of its farm distillery license. But this year, Governor Cuomo pushed through some legislative changes that make it possible to sell cocktails as well. So on Fridays and Saturdays throughout the summer, weather permitting, the distillery's grain garden will be equipped with 11 picnic tables amid the rows of corn and barley.
Along with whiskey flights and exclusive tastes of small-batch collaborations like brandy (co-produced with Brooklyn Winery) and honey whiskey (made with sweetener gathered from the rooftop hives at Brooklyn Grange), the distillery will pour drinks like barrel-aged Manhattans, mint juleps, and moonshine punch, all made from booze distilled on premises. And to eat, each week will bring a different guest chef — some local, some from out of town — with Tim Laursen of Smoak kicking things off with a bourbon-friendly barbecue.
The distillery occupies the Navy Yard's historic Paymaster Building, which is the first structure inside the gates; 299 Sands Street, at Navy Street. Hours are Fridays 4 to 10 p.m., Saturdays 2 to 10 p.m.; for weather and menu updates, check the tasting room's Twitter account, or the official site.