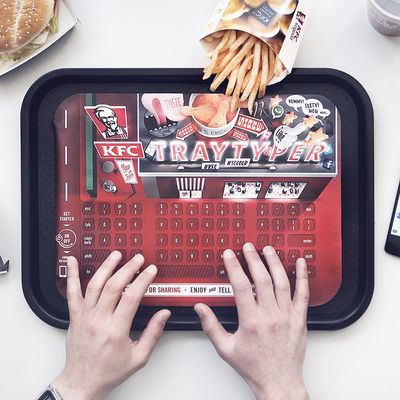 Text, scroll, and swipe with impunity.
The slogan "finger lickin' good" is KFC's glass-half-full way of acknowledging that you must wash your hands after eating its food. No more: The company has put its penchant for inane electronic peripherals to use with something called the Tray Typer — a laminated tray liner that's also a rechargeable Bluetooth-enabled keyboard, so no amount of handling fried chicken can slime up your screen.
KFC stuck them in the trays of new stores in Germany for a week, discovering "geo-located social media discussions skyrocketed and every single one of the smart paper trays was taken home." It's a somewhat embarrassing device to bust out elsewhere, but as cheesy inventions go, it's actually pretty useful.
[Verge]