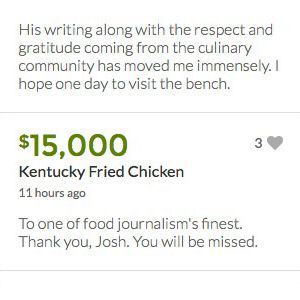 That's over half the memorial's cost.
In the wake of meat evangelist Josh Ozersky's untimely death last week, a group of friends established a memorial fund to adopt a Portland park bench in his honor. A memorial like this was actually something that Ozersky had discussed with his wife, Danit, as she is quoted saying on the group's GoFundMe, but no money had been set aside to cover any such expenses. To honor his legacy, they asked friends and fans to help make the bench a reality.
Now, five days after the campaign launched, their $26,200 mark has almost been met after KFC — as in: Kentucky Fried Chicken — donated $15,000 to the cause. (At the time of this writing, the fund has raised $24,036.) It's a fitting tribute to Ozersky, who wrote the book on the rise of Colonel Harland Sanders, the real man who rose from poverty to become a fast-food icon.
[GoFundMe]