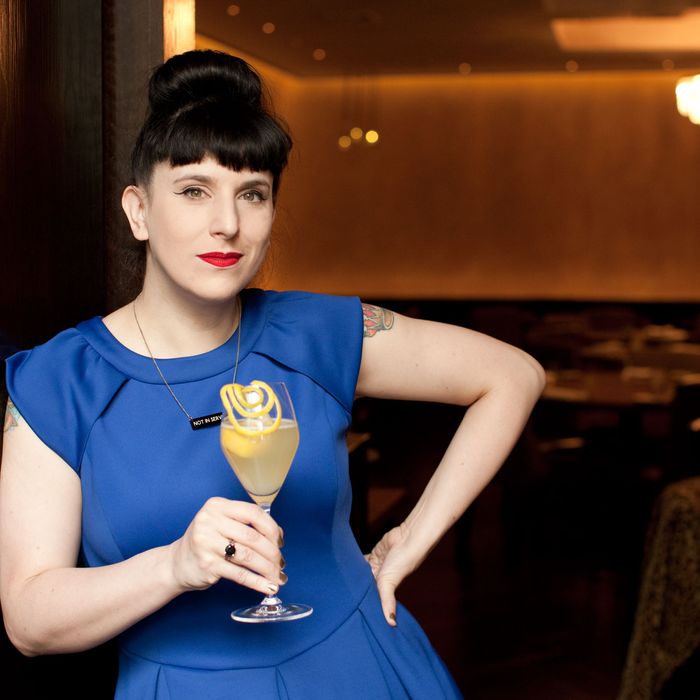 Kinsman at Bâtard, the winner of the James Beard Foundation's Best New Restaurant award.
Photo: Melissa Hom
As the editor-in-chief of Tasting Table, Kat Kinsman — like most fortunate food journalists — has a job that entails eating a lot of excellent meals. (Before TT, she worked as the managing editor of CNN's Eatocracy.) And so this week, Kinsman treated a hard-working colleague to lunch at Babbo, hosted a dinner with Hugh Acheson, and traveled to Chicago for the James Beard Awards, where she stopped by Avec, Big Star, and a whole lot of other restaurants, all within a span of two days. Even when a server called her order "aggressive," she didn't slow down.
Thursday, April 30
Breakfast today, most days, is coffee. It is not artful, considered coffee by anyone's reckoning; just purely for maintenance, both physical and psychic. My husband Douglas gets up way earlier than I do and is kind enough to leave a goodly amount behind in the pot for me, and sometimes it's still even warm. Often it's Cafe Bustelo. The only decision I make is which mug to use and today's is emblazoned with the CNN New Day logo. It's chipped.
I pour more coffee in the office after our edit meeting, then more after that's gone cold around noon. I don't often manage to eat any solid food before 3 or 4 p.m., but today our food editor Andy Baraghani surprises us with a lunch of asparagus, morels, and ramp toast with crème fraîche and spaghetti with green garlic and ramp puree with a few dollops of sheep's-milk ricotta. He says he's cleaning the fridge. I say he's saving my soul.
I eat lightly but gratefully because on Thursdays I know I'll grab a sandwich from the Num Pang next to my shrink's office as a post-session ritual. Today it's peppercorn catfish with sweet soy sauce, and I finally manage to gobble it down at my desk around 4:30. It's therapeutic as all get out.
A few months back, I turned in the first draft of my book, Hi, Anxiety, and I'm finally meeting up with my editor, Carrie Thornton, for edits after work. We get deep over French 75s at the bar at Bâtard, then I have to sprint back up to the Tasting Table Test Kitchen to say hello to some people at a dinner we're hosting there. I don't manage to actually sit down and eat, save for a spoonful of blueberries and cream that our Test Kitchen chef pops into my mouth, but Douglas texts me the word "Tacos?" and 45 minutes later, I'm at Tacos Nuevo Mexico with my standard order: lengua taco, chorizo taco, and a wild-card taco (today it's shrimp). I've eaten there one trillion times over the past 17 years, and for the first time ever, one of the pickled onions I usually save for the end of the meal has slipped into the mix and it's so spicy, I can briefly see through time. The seltzer I'm drinking will only cause harm, so I just ride it out, man.
Back home, we've got some bourbon slush left over from a party the weekend before, so that's my nightcap/dessert/sleep aid all rolled into one. Sweet dreams.
Friday, May 1
Mug: K&W; Cafeteria 75th anniversary commemorative. At the office around 11:15, I look down and there is a coffee in my hand. I only vaguely remember having poured it.
Our executive editor Karen Palmer just kicks ass steadily and thoroughly, and we've missed our last few weekly one-to-one meetings, so I tell her I'm taking her to lunch. I don't tell her it's going to be Babbo, so we both get giddy when the cab pulls up. French 75s and the tasting menu, which celebrates the hell out of a tender baby artichoke, pork francobolli (which I suspect Mario Batali is just making up until I look it up: they're "postage stamp" ravioli) with charred ramps and a lightly fried soft shell crab that just makes me grin like a toddler.
Speaking of toddling, my colleague finishes off with a vin santo and I ask our server for an amaro that will make me regret all my life decisions. When we step back into the office and must sample Andy's test of an Old Bay-dusted soft-shell crab, we just smile a little. I chug a ton of water at my desk so that a few hours later, having a drink in midtown, where Douglas is shopping, does not seem out of the question. The hotel bar is a little jewel box. The drink is overly precious and utterly middling, but I'm charmed by the dissonance of the soundtrack (Ramones, Buzzcocks) and the octogenarian couple who come in as we're leaving. He's on a walker. She seats him gently. They pore over the cocktail menu together.
The dogs need to be fed at some time before midnight, so we opt for dinner near home at Stone Park. I've been eating there as long as they've been open, usually at the bar, and it never disappoints. We catch up with our favorite staffers and I pretty much inhale spring: grilled, chilled asparagus with a poached egg and prosciutto; and utterly melting, crispy-topped cod with dandelion greens, ramps, and morels. I drink a Pimm's Cup because I'm taking it easy. Good dogs, mom's going to bed.
Saturday, May 2
Mug: a photo of my dearly departed rabbit, Claudette. I get a little wistful each time I go with the Claudiemug, but hey, circle of life.
Douglas and I have an early dinner planned, so we stay hunkered at home for breakfast. I slow-scramble some eggs and spoon them onto whomp biscuits to tide us over until we get to Parm for our early-bird reservation.
We only have one rule in our marriage — no getting up on a ladder if you're the only one home — but we have a lot of principles, and the one in effect this evening is "creative autonomy and affectional solidarity." This means we're meeting old friends of his for dinner before a concert I don't care to see, then, I'm going back home solo. A blue drink, a glass of Prosecco, warm mozzarella, calamari, a perfect meatball parm with salad, that friggin' s'mores ice-cream cake, and excellent company make the shlep home from the Upper West Side absolutely worth it. I sugar-crash back in Brooklyn.
Sunday, May 3
Douglas came home late from the concert and I still need to pack for my flight to the James Beard Awards, so I creep downstairs to feed the dogs and start the coffee. I somehow mangle the works and the coffee flows out over the counter. I chug what's left from the special-edition 25th anniversary James Beard Awards mug from the previous week's swag bag while I'm trying to un-knot the least-shredded tights from the king rat of pairs in my drawer and … screw it. They sell hosiery in Chicago, right? Now run, you're late.
TSA line at JFK is similarly snarled, and by the time I'm scanned through, there's no time for the snack I'd hoped for. It's approximately 597 miles from the checkpoint to Gate E47 and I practically snap my neck looking back in jealousy at satisfied Shake Shack patrons while I sprint by. I crash, sweaty and wrecked, into my exit-row seat.Then it's beverage time, so it's seltzer and Biscoff for me.
By the time I arrive at the hotel, I'm ready to claw my face off and it's my own damned fault for not planning better. I'm cursing myself at the check-in desk when I spot movement from the corner of my eye. It's a hand coming toward me and it's got … is that chocolate? I'm not in the habit of accepting candy from random strangers, but it's Josh Ozersky, who's snapped off a couple of squares from the Hershey bar he's wolfing down in the lobby. I open wide. "Thanks, pal," I tell him. "I think you just saved my life."
We catch up for a few minutes. I say he looks so damned happy since he moved to Portland, and he tells me his new dog makes him a better person. The elevator reaches his floor and he says we should bend an elbow together while we're there, and I tell him I'd love that.
I sling my stuff into the hotel room, hang up a few dresses in an attempt to approximate adulthood, and head over to meet my friends Jeffrey and Jeff for a party at Three Dots and a Dash. It's slightly maddening to find, down an alley in a lot across from the actual bar, but when I get there, it's a riot of luau flowers, tiki-drink kiosks, and, most relevant to my current needs, some smoky, sloppy whole hog. It's not until after I've jammed down a small fistful (and a mug of something rummy) that I realize it was made by Thomas Keller expats Timothy Hollingsworth and Rory Herrmann who run Barrel & Ashes in L.A. They do not suck at making barbecue.
A couple of hours later, I stumble into Avec with Marian Bull and Matt Taylor-Gross from Saveur, and we place an order our server tells us is "aggressive." We (mostly) don't back down and this is what I love best about eating with people who make food their living: We do not apologize for our delight, and there is so, so much of that to be had at this meal. There's a whipped brandade that's pungent and runny ("Like a fishy bechamel" says Marian, and I decide that's my new burlesque name), salmon with sumac, exquisitely charred octopus, Brussels sprouts panzanella, smoked whitefish, and I'm floating on a cloud of pink bubbles above it all.
I skip the after-parties to hang out with my friend and hotel roommate, Jennifer Cole, while she eats a room-service cheeseburger, and we talk until we fall asleep.
Monday, May 4
No coffee in the room. Minimal coffee at the brunch I attend in honor of Humanitarian of the Year winner Michel Nischan, but he's worth it. I pick at the pastries, poke at the poached eggs, and grab a sturdy coffee with "half a cow" at Little Goat because I'm pacing myself and killing time before the Southern Foodways Alliance's annual pre-awards Southern Mafia Lunch, where I usually stuff myself silly. Only this year, it's not a sit-down, it's a stand-around and there are dozens of food folks I love all in a room together, so I only get a few bites of Paul Feirbach's excellent 2012 ham and Chicago-meets-Southern hot dog and a Bloody Mary while I stand around and jaw.
This will be my seventh time covering the awards, and I know all too well that if I don't get some substantial food in me beforehand, it'll be 2 a.m. and I won't have eaten. Jeffrey takes me to his favorite osteria for charred octopus with lemony potatoes, red-sauced meatballs, and a foccacia to which I want to start a minor religion. French 75, because why not? I run back to the hotel to change and head over to the awards, fortified by carbs.
Fun fact: My first public panic attack was in the Beard Awards press room a few years ago, and the way it's filling up, we may be heading for a repeat. I'm reporting from the floor, and eventually a chair, and I stand up to say hello to some people I know when someone I just met tells me that Josh Ozersky has died. I say no, that is not possible, because he just fed me chocolate and people who go around doing that do not just up and die because they're just not allowed. And then more people are saying it and no and no and oh God, no, it's actually true and none of us can breathe. There are two bars in the press room and they are suddenly very, very busied with stunned, weeping people, myself included.
Bâtard is named best new restaurant and I'm trying to process the moment. The managing partner, John Winterman, is a close enough friend that Douglas got ordained in order to marry him and Jenn, his girlfriend, on our ten-year dating anniversary in January. I told him last year at the Beards, before they even opened, that this year he'd have that medal around his neck, but when he does and I hug him very hard, I'm crying a different kind of tears than I could have imagined.
Some of the best chefs in the country are cooking upstairs, but those of us who know what's happened just can't bring ourselves to walk around and nosh because I think we're all waiting for Josh to show up and tell us it was all a big, dumb joke.
I climb in a cab to Girl & the Goat with some friends, but when I get there, Winterman pulls me into an SUV with Bâtard's chef Markus Glocker and I try to absorb the joy that they're feeling, that they deserve, and I realize I may have to push pause on that. At Big Star, I stuff a fish taco in my face and we're all just slathering guacamole on our wounds and I see my friend — and Josh's friend — Marco Canora and we're just clinking margarita glasses and saying, "Dammit, dammit, dammit. Just dammit."
Back at the room, I dig up my favorite old piece of Josh's, a 2,000-word ode to eating grilled cheese in your underwear, and I post it on Facebook and Twitter. I order a room-service grilled cheese and it's terrible, but it seems wrong not to finish it.