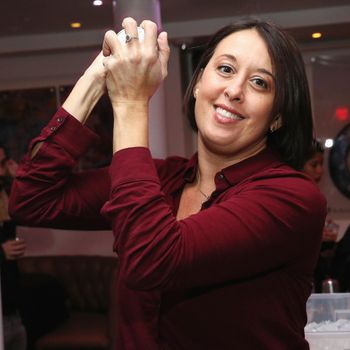 Reiner.
Photo: Mireya Acierto/Getty Images
For all the new cocktail books that have been released in the past couple of years, too few of them have been written by the pioneer mixologists that actually got the craft-cocktail movement going in the '90s and early '00s. So you can count this week's publication of Julie Reiner's first book, The Craft Cocktail Party, as momentous. Few people have had the impact that Reiner's had on the cocktail world: She helped open landmark New York bars the Flatiron Lounge, Pegu Club, and Clover Club — all of which are still open — and trained dozens of the country's best bartenders. And now she's collaborating with one of those bartenders, Ivy Mix, on a new project, Leyenda, which should open later this month in Carroll Gardens. The focus will be Latin American spirits — tequila and mezcal, pisco, cachaça, and more — with food from Sue Torres of Sueños fame. It's all made Reiner even busier than usual, but she found some time to sit down with Grub Street to talk about the book, the new bar, her history in the industry, and why she thinks women bartenders tend to be more down-to-earth.
You've been in the bar business for almost 20 years now.
Longer that that.
And yet The Craft Cocktail Party is your first book. What took so long?
I've been asked to write a book literally from the first year we opened Flatiron Lounge. I even met with a book agent. And I realized in the process of sitting down with this agent that I didn't have enough experience and hadn't done enough to feel that I had something to say yet. I didn't want to write a book just to write a book. I was also slightly terrified by it. I was still trying to figure out how to run the bar. I was working seven days a week. We were working insane hours. I was managing it and bartending and training people. So I shelved it for years. And I'm not a writer. I'm an operator and a bartender.
What was the hardest part of doing the book?
The hardest part was all of the time alone in front of the computer, to put down on paper something you do all the time in layman's terms. "Hold the lemon in your right hand and take the peeler … " You know?

At first, The Craft Cocktail Party seems like a user-friendly cocktail book, but the text has a lot of cocktail history of what you've done over the past 15 years, including drinks from every bar you've run through the years.
Yeah, it did end up being a bit of an autobiography. It's funny, because [spirits producer] Simon Ford called me just yesterday to congratulate me on the book, and he said it was one of the first books he'd seen where the personality of the writer really comes through. He's looking at it and thinking, "That's a Julie recipe." And he's known me since before Flatiron opened.
Was there any hesitation about including recipes for earlier drinks from the C3 Lounge, where you worked before Flatiron — drinks that might be considered pretty simple in today's mixology world?
Totally. And I said that. The Flatiron Martini, the original way that that was done was with a slice of orange thrown in the drink. And it was one of the No. 1-selling drinks. It was so simple.
A bartender at Flatiron recently told me that the Beijing Peach, a vodka drink that was a big hit for the bar early on, is still the No. 1-selling cocktail there.
Absolutely. And I didn't put that in the book. Katie [Stipe], one of the early bartenders, read the book and said, "It was like reading my high school yearbook." A lot of the recipes and simple drinks that we created back then got us to where we are now. And a lot of the stuff that we're doing behind the bar here at Clover Club is complicated and not stuff you would make at home. At home, I want it to be a simple cocktail. The Flatiron Martini is a perfect example of that. And now I make it with an orange twist and a couple dashes of orange bitters. I've updated it for the times.
When you opened Flatiron Lounge, a cocktail bar opened by a bartender was a novelty. Now that's commonplace. Most of the important new cocktail bars today are opened by bartenders. Do you regard this as part of your legacy?
Absolutely. It's not easy to open bars. I've partnered with some different people. And I've finally gotten to a point where I'm happy with my partnership. But I prefer to partner with people who are hands-on and are bartenders and who really know what they're doing. We get the aspect of the business that sells the drinks.
And now you're opening a new bar, Leyenda, with another bartender, Ivy Mix.
Yeah, and she's super-savvy when it comes to cocktails and menus and press and social media and all of that stuff. But this is a crash course for her.
What's the first piece of advice you would give to a bartender opening their first bar?
Partner with someone who's not a bartender, somebody who knows the aspect of the business that you don't, who knows how to navigate city agencies and lease negotiations and construction. Those are important skills.
Among that second generation of New York mixologists inspired by Dale DeGroff — the generation that came of age in the early 2000s — I think of you as the best business person. Did you always take the business side as seriously as you did the drinks?
I've always had a head for business and things that make money.
You opened Flatiron in 2003. Leyenda will be your fifth bar.
Right. And this is the first one we're doing completely on our own, and so far it's on budget and on time. So, [manager and Reiner's wife] Sue [Fedroff]'s like, "In your face!" to all of the other bars we've opened. She wants to hit that finish line and be on time and on budget.
After Lani Kai opened and closed fairly quickly, I thought you might not open another bar. What changed your mind?
I was not looking to open another bar. Our landlord [at Clover Club], who is very old-school Brooklyn, lives upstairs. His mother, who is 100, lives above him on the top floor. She bought five buildings on Smith Street for next to nothing. He had 221 Smith Street and had two failed restaurants in there by first-time entrepreneurs. He came to us in December and said, "I want you girls to take this space." He gave us a deal that we couldn't say no to. Ivy, at that time, had been trying to open her own space. She's been looking, but so many landlords won't rent to a first-time person, because they have no track record. It was just one of those things where everything just fell into place so neatly.
In a city saturated with new cocktail bars, one focused on Latin spirits in their entirety — not just tequila and mezcal — is actually a new concept. Was that Ivy's idea?
Yes. We knew that Latin America is her passion. Which is kind of the polar opposite of what we do here at Clover. It's all Latin American spirits and she loves it.
You can put a big portrait of Charles H. Baker Jr. on the wall.
Exactly. We want this to be Ivy's bar. It's hard, because anything that I'm close to, it's like "The Doyenne of Cocktails" and "The Mistress of Mixology"…
I can tell you love those nicknames.
They have to write something, I guess. But at the end of the day, this is a bar to showcase Ivy and the cocktails and spirits she wants to showcase. I'm playing the role of the supportive mentor.
You have produced more important female mixologists than any other cocktail bar owner in New York: Lynnette Marrero, Katie Stipe, Cabell Tomlinson, Ivy Mix, Tonia Guffey. Was that by accident or intentional?
I think we've always created an environment that's been supportive of women in the industry. I've always loved to create atmospheres where everyone's comfortable in the space. By having a co-ed staff, you create that kind of a vibe. And, being a female bartender, I wanted to give other women opportunities to be behind the bar.
You broke into the business in that atmosphere. The Red Room in San Francisco, where you worked in the '90s, has a female staff.
In San Francisco, there were a lot of women behind the bar. When I lived there, I felt there were more women behind the bar than men. Red Room, in particular, was all women, including the door lady. Mind you, she was quite butch. And the bar back was a woman.
And now, at Leyenda, the partnership team — with the exception of Clover Club bartender Tom Macy — is women: you, Sue, Ivy, and Christine Williams, even the chef Sue Torres.
Yeah, and Tom has a wife and two daughters at home, so he's really used to it!
Does female leadership of a bar mean anything in terms of the way the place is run? Or is hospitality the same thing when it comes down to it, no matter who's in charge?
I think it definitely means something. Men and women approach things differently. We've always had a lot of women in our bars. I think we've created atmospheres that are very welcoming and where a woman who wants to have a drink by herself can do that.
At the beginning of the cocktail movement, women were the gatekeepers. They got into cocktails well before the men.
Absolutely. They were much more adventurous.
And then the men, seeing it was okay to drink cocktails — and wanting to meet women — followed suit.
They would have the Beijing Peach put in a double rocks glass with no orchid.
Male bartenders of the modern era can be a little peacock-ish. Women mixologists actually seem more down-to-earth. Do you find this?
Absolutely agree. It's funny, because Katie [Stipe] was the first female bartender at Flatiron besides the owners. And I remember when she first got back there after training her, she was so beautiful to watch because she was so fluid. She didn't have any aggressive air about her. She didn't have anything to prove. She was just good at what she did and took care of people. My favorite was Katie and Cabell [Tomlinson] bartending together.
You've had food at every one of your bars since Flatiron Lounge. Is that on purpose? Did you think it was a mistake not to have food at Flatiron?
No. Flatiron was genius because it had no food! Food is where it gets tough. I know bars. Food is a whole other ballgame, a totally different skill set. At Pegu, Audrey Saunders wanted some food. It's a civilized drinking environment. You don't get as drunk. At Flatiron, I certainly cleaned up more people's sickness and dealt with drunken fools all the time. That being said, it was a very successful bar. The money's in the booze. That's a winning model, though not necessarily the easiest to deal with sometimes. That snack mix only goes so far. When we came to Brooklyn [with Clover Club], people wanted to eat. They wanted to eat even more than we realized. We had a small appetizer menu at first. We quickly realized they wanted more, so we hired a chef. We got lucky with Craig Rivard.
And you got even luckier with your new chef, Sue Torres.
I know. I'm not excited for my waistline. I'm actually really scared. We used to live on 14th Street between Seventh and Eighth, and Flatiron was on 19th, so Sueños was on our walk home. We used to eat there all the time and the food was so authentic and delicious. Ivy and Sue already knew each other and go way back. Sue was excited to be associated with a project that was pretty much being launched by all women. And Tom.