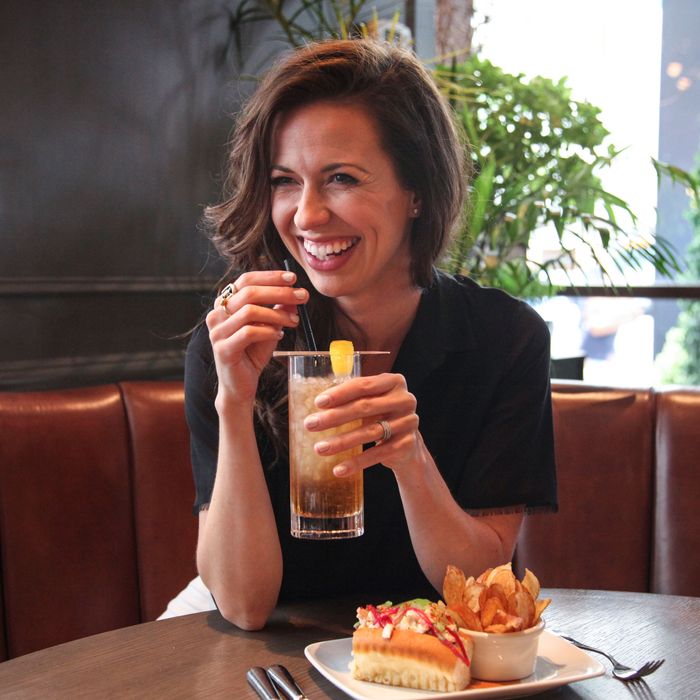 At Wayfarer with an Arnold Palmer.
Photo: Hannah Mattix
Next month, singer Joy Williams — formerly one half of the Civil Wars — will release a new solo record, Venus. So this week, she was in New York to hit Seth Meyers's show and perform at the Gramercy Theater. "It's great to do shows, and I love that," she says. "But there's generally a lot of time before you step onstage." So Williams tries to spend that time hitting restaurants wherever she happens to be traveling. During her trip to New York, that meant lunch at the Meatball Shop, a late-night dinner at Sweet Chick, and more than a few breakfasts at the Torrisi team's Dirty French.
Friday, May 8
It was my last day in England. I'd had my first show in London, so we stayed at a hotel called St. Martin's Lane, and they have breakfast. So in classic British form, I had two fried eggs, baked beans, and some turkey bacon. And some gluten-free toast with butter and ham. English breakfast tea with cream. When in London …
The Virgin Lounge at Heathrow is one of my favorite lounges of all the airports I've ever been to. There's a pool, if you want, and a sauna. They've also got a huge spread of food, so I had a salad with avocado, shaved radishes, carrots, and peas in olive-oil dressing, and a small plate of salami and cashews. And elderflower fizz to drink, which became my total go-to when I was pregnant with my son. It's been a few years since then, but it still sounded really good that day. And I had an Americano coffee to help with the jet lag before getting on the plane.
On the plane I had baked chicken with rice, roasted tomatoes, and broccoli. And a glass of Chardonnay and a huge bottle of Smart Water.
Saturday, May 9
I got to New York, and we were staying at the Ludlow on the Lower East Side, and Dirty French is there, and it's just become my headquarters. So breakfast was fresh orange juice, an Americano, a parfait with granola and coconut yogurt, and eggs Benedict with gluten-free bread. And we had some roasted potatoes on the side.
For lunch I went to the Meatball Shop, which was very fun. It was the weekend, so when you're with friends, you order things like the Buzzed Lebowski, which is vodka, Kahlúa, and Grady's cold-brew coffee with a little cream. That was a good eye-opener.
I had a chicken ball with Parmesan cream sauce, a beef ball with tomato sauce, and — wait for it — the special ball, which is sort of awkward to say out loud. It was breakfast sausage with mushroom sauce. On the side we had polenta and sautéed broccoli, and I had a chocolate-cookie sandwich with peanut-butter ice cream for dessert.
In the afternoon I was feeling jet-lagged, so I stopped at one of the many juice places and had a cold-pressed juice. I was just walking around since the weather was nice, so I also stopped off at Il Laboratorio del Gelato and had two scoops of blackberry-port sorbet, which I highly recommend.
Around dinner, my 2-year-old son arrived with our nanny, and I was so excited to see him. We went to a place called L'Asso and had penne with homemade pesto and some gluten-free pizzas. Then I dashed that off with Pinot Noir.
Sunday, May 10
It was Mother's Day and I got to have breakfast with my men, my husband and my son. We were back at Dirty French. Scrambled eggs, house potatoes, Americano with soy and, because I grew up in California and live there most of the time now, I got some avocado toast with a side of bacon.
Lunch was room service while my son napped: a Ludlow Burger with fries and some Pellegrino.
We ran around Central Park all afternoon and had so much fun doing that that by the time we realized it was dinner we needed something close, so we went to Radiance Tea House and Books. It was really, really good. We got some dan-dan noodles, spicy beef and tofu casserole, barbecue chicken, pork buns, and dumplings, pork and shrimp.
After that, we added to the decadence and went to Momofuku Milk Bar for dessert. It was my first time! We got a peanut-butter cookie, a compost cookie, candy-bar pie, and the cereal-milk ice cream. I've never had ice cream like that in my life. It literally tastes exactly like my childhood.
Monday, May 11
I did Late Night With Seth Meyers, so days like that can get kind of hectic — eating is not always on the schedule, so you have to make do. But I got up early and ordered room service, eggs and toast and coffee.
Around 3:30, I realized it'd been a while since I'd eaten anything in between sound checks and getting ready for the show, so I had a salad with hummus and a Kind bar to help with that.
When you do late-night television in particular as a musician, and you're going to sing, your day revolves around about three minutes when you'll be performing, so you spend a lot of hours getting ready and getting the band started and sound-checking and you ride the roller coaster. Then after that, after the nerves have settled down a little bit, then it's time for food again. So my husband and I had a late-night dinner once we got back to the hotel. We went next door to Sweet Chick. We got the BLT salad, which was baby kale and pork belly, and was really amazing. And we did the chicken and waffles at about 11:45 and, I mean, I feel great about that. The chicken came with chile honey and the waffles were with strawberry butter, and I very much enjoyed the combo.
Tuesday, May 12
I had a day of promotion for the new record, and I started the morning fueling up on the same breakfast I'd had, avocado toast, scrambled eggs, and a double espresso.
After a meeting, I stopped at Eataly. I guess you'd call it a market. We had the insalata di bresaola with arugula, Grana Padano, and quince vinaigrette. And we had the burrata with olive oil and sea salt. And the bocconcini, which was fresh mozzarella with pancetta, broccoli rabe, and pickled fresno peppers.
For dinner, one of my favorite places to go is Freemans whenever I'm here. I love the devils on horseback and the mussels. But I also love how much New York changes every time you return, too. I mean, there are new restaurants cropping up all the time. When I'm traveling, going to great restaurants is the way I stay sane, because if you just move from city to city it can all start to feel a bit like Groundhog Day. I think I try to find places where you can sit and experience something unique so you can at least pick up some of the cultural flavor of the cities you're in.