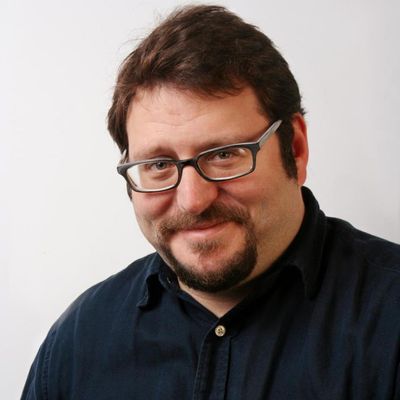 He will be missed.
Photo: Melissa Hom
Josh Ozersky, the celebrated food writer, Esquire contributor, and a founding editor of this site, died this past weekend in Chicago. As Pete Wells first reported on Twitter, Ozersky had been in town for the James Beard Foundation's annual chef and restaurant awards. His body was reportedly found Monday morning at the Conrad Hotel. Autopsy results were initially inconclusive, but on May 27, it was announced that Ozersky passed away after he suffered a seizure in the shower and drowned.*
Even as the industry gathered to celebrate the Beard winners, Twitter was instead quickly filled with thoughts of Ozersky, who will be remembered as a fiercely talented, deeply passionate, often divisive writer capable of producing immensely personal work:
Ozersky was, famously, a meat lover and a populist who wrote an erudite book about the hamburger an excerpt (excerpted here), along with diversions like an ode to late-night buffets and a defense of Rachael Ray and the Food Network. He was very much a food enthusiast, and a man about the food scene who loved to champion his finds, like the spice guru to the chefs, the "secret chef" working in an ultra-primitive kitchen, or the "Ferrari of slicers.". He was not afraid to take strong positions for and against the restaurant trends of the day, like his very early calls against bacon mania and Brooklyn hype in 2007. His critiques of the then-new-to-New York Michelin guide and Zagat methodology were piercing. The early days of Grub Street included bloggish pranks like a spot check of Gordon Ramsay's smelly London restaurant and a restaurant world Howl submitted by a reader. And he was a cultural polymath capable of things like predicting the rise of There Will Be Blood's "I Drink Your Milkshake" line as a cultural catchphrase. But the archetypal Ozersky was probably Ozersky at the grill — he was an accomplished cook in his own right — as demonstrated in this crash-course video, including flames.
Other notable Ozersky stories include "Solitary Man" for Saveur, "Consider the Food Writer" for Medium, "This Is the Best New Restaurant in America … " for Esquire, "A Proposal for Feeding the Fax and Anxious" for Gastronomica, "The Last of the Non-Telegenic TV Chefs" for Time, and "Five New York Burgers to Avoid" for the New York Daily News. According to Paula Forbes, he had two books in the works: a collection of essays, and one on knives with chef John Tesar.
* This post has been updated with additional information throughout.