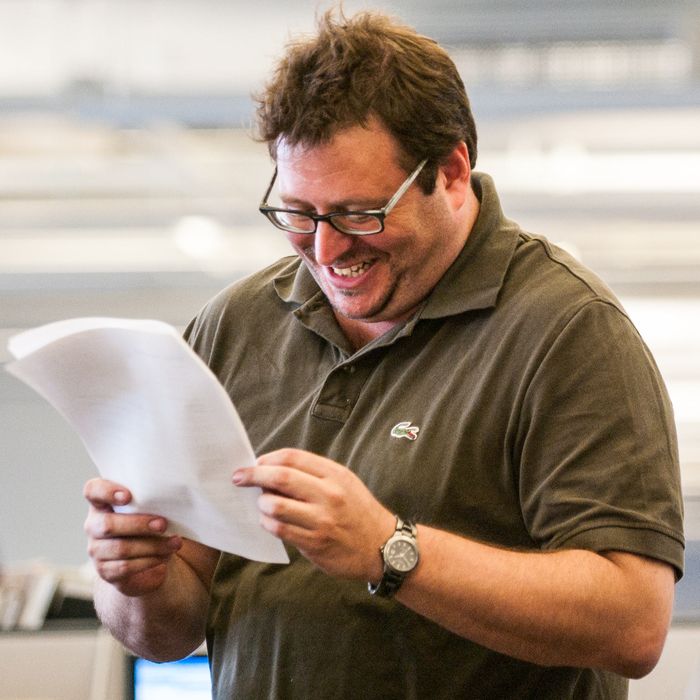 Ozersky, on his last day at Grub Street.
Photo: Jed Egan
Not a day after Grub Street launched in September of 2006 with a promise of hourly restaurant news, Eater was chiding its editor, Josh "Mr. Cutlets" Ozersky, for only getting three stories up. (To be fair, one of them was a big scoop: Momofuku Ssam Bar, then a simple "Asian burrito emporium," was expanding its menu.) The next day, Eater twisted the knife: "BREAKING: Cutlets Misses Noon Posts, 1PM in Question."
At the time, Josh and I worked just a few feet from each other, out of a small room at New York Magazine's old offices off of 50th Street. All day long, I'd listen to him dial up chefs and ask them, "Do me a mitzvah … " before begging for any morsel of news that might best his "mortal enemies" at Eater. Or he'd just as often invite them out to dinner: "Are you coming into Manhatty? A bunch of us are heading down to 5 Ninth to tie on the feedbag … "
If Josh slammed his fist on his desk and blurted out "Jesus H. Christ!" or lamented, "Oy vey ist mir," I knew he'd just lost a story to Eater, or one of just a handful of other restaurant blogs that existed at the time: Restaurant Girl, Midtown Lunch, the Strong Buzz, Serious Eats. And if one of his "big scoops" didn't get linked to, he'd snarl, "What crust! Crust of the Earth." (Many of the quotes I'm using here come from a list of Josh-isms kept by Sharon Clott Kanter; she worked on the fashion desk, a place of salads and stilettos that might as well have been Mars to him.)
Josh wasn't a natural-born blogger — he'd later pen an Observer essay describing those days of feverishly attacking his greasy keyboard as a "life radically wretched." Every time his editor would pop in to check on a post about Zagat sucking or the joys of "gulag gourmet," Josh's response was always the same: "I'm only one man!" or "What do you think, I'm playing Tetris over here?"
Josh was a "great newsroom character," as our colleague Dan Kois put it — it was from him that I learned expressions like "alte kaker" and "between you and me and the Staten Island Ferry." Not to mention the burger orthodoxy he repeated ad nauseam while giving interviews about The Hamburger: A History: "A burger has to be flat, a burger has to be round, and a burger has to be covered with a thick layer of viscous yellow American cheese." But he wasn't cut out for office life — he'd have loud phone conversations about his dating foibles, talking about how he tried to get a lucky lady back to Ditmas Park, a.k.a. Ozerkistan, to no avail: "She gave me the mitten!" Still, his unabashed candor — peppered with a combination of Bourdain-esque bravado, Woody Allen-like neurosis, and equal parts bluster and self-deprecation — made him such a fun person to be around.
As much as he loved cruising the city for boutique pork and refined Italian, Josh's lunches were simple affairs. He'd call down to the in-house Nosh Café — a homespun deli counter in the building's lobby that seemed to exist solely for his patronage — and portentously order a corned-beef sandwich (never a Reuben, which he considered an "abomination") or a bagel with a schmear. "Never again, never again," he once sneered at a subpar bagel sandwich. "This is from this imbecile in the cart out front."
Sometimes he'd bring in leftovers and feed you a slice of, say, "the ham that drives men mad," making sure to affectionately paw it as he handed it to you. ("I have an intimate bond with him," he was once overheard telling someone. "You and I are strictly platonic. Me and him bonded over pig fat.")
His generosity had its limits, of course. One day, a line was crossed and he was forced to send out this email:
Somebody took an Ossabaw pork jowl which I left in the refrigerator for a few hours today. Please return it. I acquired it at great personal expense and difficulty, and need it for a special meal I'm preparing this weekend. Please return it to the refrigerator; there will be no questions asked.
While Josh introduced readers to the Virginia farmer who was the
"toast of the New York pork world," or the mustachioed man who was the "spice guru to the chefs," I was writing about the sort of boîtes or scenestaurants that he dismissed as "trustafarian" discotheques. He liked the nightlife. But he eschewed the Beatrice Inns for places like Box Car Lounge, where he and proprietor John "Johnny Spin" Spingola could nerd out about obscure movies, or Manitoba's, where he and punk legend Richard "Handsome Dick" Manitoba could discuss their mutual love of White Castle. (Josh considered them the "Colonial Williamsburg of hamburgers.") To him, saloons were salons — places to mingle with uplifting gormandizers and trade gossip such as: "He's got an Asian fetish and an elbow fetish. It's well known in the industry."
As badly as Josh wanted to be known as the "Walter Winchell of the restaurant world," he was extremely generous about giving me more than my share of credit. There was a Samuel Johnson expression he liked to use when, for instance, he let me tag along for a Times spread on food bloggers or audition with him for Top Chef. "Fame is a shuttlecock," he'd say. He genuinely loved shining the spotlight on those who deserved it, whether it was the "secret chef" he discovered in the back of an East Village bar or the Red Hook food vendors whose plight he followed.
Though he preferred to play fanboy, Josh would sometimes stoop to snark, which at the time was the lingua franca of blogging, as when he aired a "chef's desperate plea" for a Beard award nomination or called David Chang "the Sanjaya of soup." The latter came after Chang famously banned Josh from his restaurants. Sometime later, Josh ended up getting hold of a Momofuku kitchen posting that depicted him as the comic-book collector from The Simpsons. "Fuck Grub Street," it read. "Ozersky aka Cutlets 86'd." He hung it in his cubicle as a point of pride, but the rift weighed heavily on him. I was glad to see Chang finally acknowledge Josh's brilliance as a writer.
In 2008, Grub Street won a Beard Award for Multimedia Writing on Food. After Josh and I accepted our "baldy" medals, we floated onto the street and then to the nearest bar to do shots of crappy booze (I'm pretty sure it was Jäger) before proceeding to the after-party, where Josh showed off his "Uncle Fester" award as countless chefs and colleagues slapped him on the back. He was a man in his element, happier than a pig in — well, let's just say happier than Mr. Cutlets with an Ossabaw pork jowl in his mouth.
After Monday's terrible news, it was heartening to watch video footage of him back at the Beards, karaoke-ing into the wee hours. And I wasn't surprised to read his final tweet: "Where should I eat?"