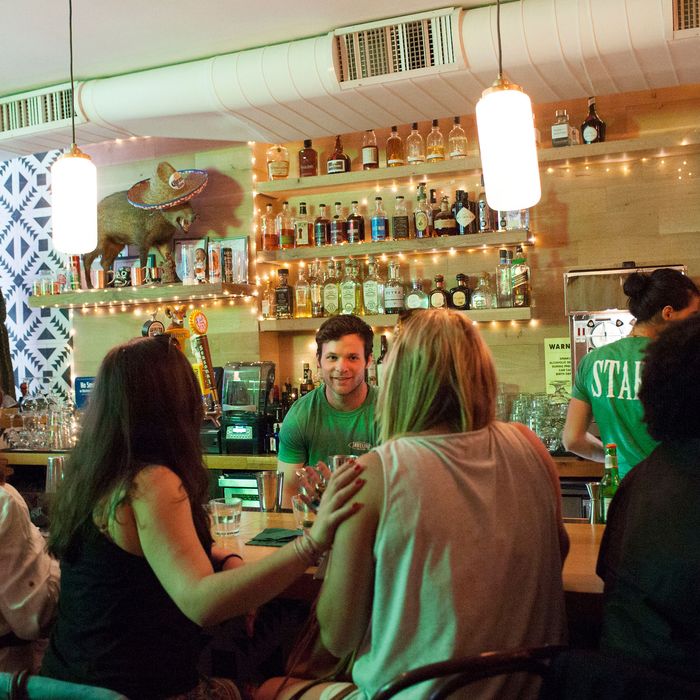 "Even the water is sometimes served at room temperature."
Photo: Tirzah Brott/New York Magazine
May has not been kind to Javelina, the much-hyped Gramercy Park restaurant that helped kick off the city's current — now-deceased? — Tex-Mex trend. Over the last week and a half, it's gotten hammered by a trio of harsh reviews, which have all undermined the hype that instantly turned a restaurant without a big name behind it into a buzzy hot spot.
The latest in this line of pans comes from Times critic Pete Wells, who pens a zero-star review that rivals his famous Guy Fieri takedown in both its blistering sarcasm and its sheer entertainment value. Wells bemoans the chemical-tasting margaritas, haphazard service, and just about everything else, save for the "outstanding" flour tortillas. (Apparently the pro move is to just order the brisket tacos, discard the cold filling, and eat the tortillas solo.) In one memorable passage — keeping in the review's spirit of faux-positivity so as not to upset any Texans who may be reading — he calls out a completely blatant error:
One night, the bar made me a Paloma in a pint glass, while a woman at my table got her Paloma in a much smaller glass. Everybody knows women drink less than men, so we appreciated the thoughtfulness. To avoid making her self-conscious, I suppose, the restaurant even charged us both the same amount, $13.
It sounds like Wells's experiences were not unusual. The review follows New York's own Adam Platt, who, in his own zero-star review, deemed the "uneven" menu's appetizers "not very inspired" and the entrees mostly a "mess." Bloomberg's Tejal Rao had her own negative feelings about a place that she describes as being not unlike "a college campus cafe."
The critical consensus is both telling, and somewhat surprising, since most critics tend to save their zero-star reviews for corporate restaurants and big-money projects like Kappo Masa (another restaurant most critics agreed was terrible). Javelina, on the other hand, doesn't have a name like Fieri or Masa attached. And, in fact, in spite of these reviews — and indeed one of the criticisms of it — the restaurant is also jammed with queso-seeking customers. Whether that trend holds up in the face of three big clunkers remains to be seen, but all this negative press might be enough to whip Javelina into shape. As Platt said last year, explaining his approach to the goose-egg, "the best chefs and restaurateurs will use a bad review as a guide, and even as a way to improve." At the very least, customers at Javelina tonight will probably all be getting their Palomas in the same kind of glassware.