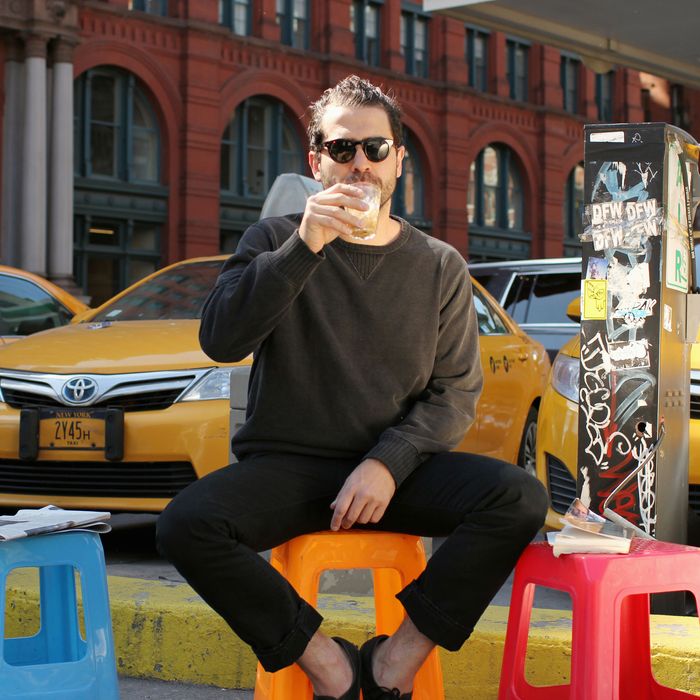 Peddler is his "most consistent break spot."
Photo: Melissa Hom
Ignacio Mattos is one of the most celebrated chefs in New York right now — and he's up for yet another James Beard award at next week's ceremony — but that doesn't mean he's holed up in Estela, never seeing the light of day. This week, he did spend time perfecting his recipes (like a blood cake wrapped in pickled grape leaves), but he also hit up neighborhood favorite Soba-ya, tried pizzas at Lucali for the first time, and grabbed a burger — and stole some potatoes — at Minetta Tavern. Read all about it in this week's Grub Street Diet.
Friday, April 24
For the most part, on weekdays, I stick to simple things that just fuel me. This day, for instance, started at Il Buco Alimentari with a prosciutto roll and a cortado. I saw Joel [Hough], the chef, and Kamel [Saci], the baker, and caught up for a bit.
I headed back to Estela, where I had some black tea and honey straight away. I also tasted some asparagus that we had gotten from Bodhi Tree Farm. We started working with it on a new dish, and it's going well. We're doing it with béarnaise and bottarga. I love working with ingredients that I don't like. The way asparagus looks — it's hard for me to put it on the plate. I don't really care about endive, either. So how I can make it in a way that people will love it? I find that challenge appealing. But the more you mess around with asparagus, the worse that it gets.
I had a meeting and didn't have time to grab lunch, so Thomas [Carter, Estela's co-owner] put together some beans and fried eggs, as well as a green-garlic juice. It was delicious, but really powerful. We weren't aware of that, though, so we went to our meeting stinking.
I grabbed an apple and raw almonds. After that, I had a book meeting with Gabe Ulla and went over the state of things, and started to bounce around more ideas. Things are just getting started, but it's exciting. But it won't come out until 2017.
At 4:30 p.m., it's time for family meal. This time, it was roasted pork, mashed potatoes, and arugula-and-orange salad. Family meal is quite special. Around 5 p.m., we pretty much taste half of the menu to ensure things are in tune and make the needed adjustments.
This was pretty much all the food I had for the night, besides eating the leftovers from endive salads, plus testing some potato chips. I'm a sucker for those.
Saturday, April 25
I went over to Box Kite for a cortado, a biscuit with bacon and egg, and juice. Delicious and on point. Those guys are so nice.
Lunch was at Soba-ya — a favorite part of my weekend routine. I had cold soba with uni and Japanese yam. Also a bit of goma-ae. It is fast, consistent, pleasant, and reasonably priced.
In the afternoon, I had some black tea with honey. I'm realizing that it's my favorite thing to have these days when I'm lingering around the restaurant and working.
Dinner was at Contra with Daniel Kessler. We caught up and had a very intense, engaging conversation. And Contra is just a great place — not even considering Jeremiah and Fabs are great friends. It's a delicious and comfortable restaurant, but it's just the right amount of clever. I go there fairly often, but I had some new things: a snack of jicama with walnut praline and sorrel; scallop tartare with fava-bean pesto; and poached swordfish with kale, which was simple and clean.
Kessler and I ended up heading back to Estela for a quick glass of wine before we passed out. Justin Smillie, from Upland, was also there. Even though it was late at night, he and I somehow got to talking about tasting and developing your palate, and how hard it is to teach that to cooks.
Sunday, April 26
I started with some almond milk, which I had with muesli, torn Turkish figs, and raw cashews. It was, of course, joined by black tea and a bit of honey.
Lunch was at El Rey — the perfect spot for a sunny weekend bite.I had a small grains-and-crudité salad. Gerardo [Gonzalez], the generous guy that he is, also made a sardine tostada with carrots and jalapeños for me. It was really tasty.
I got a cortado after, and headed to Estela to say hello to Enrique Olvera, who was having brunch there. He showed me an amazing video about making hot-dog tacos for family meal, and we laughed and ended up tasting a new fish dish we were doing for the night.
For dinner, we — my good friend and designer James Casey, Thomas, Alex Vallis, Gabe Ulla, and TJ Murphy — headed out to Brooklyn. We tend to all get together for dinner or long lunches on Sunday. The plan was to eat at Lucali, but since there was a wait, we stopped at Prime Meats for drinks. Their cocktails are fantastic. Even better are the hot dogs, which I think are the best in the city. Too bad they don't have them at night.
We did end up getting seated at Lucali — the first time any one of us had ever been there — and the vibe was spot-on. We had three great pies, a fantastic calzone, a magnum of Barbaresco, and another of Barbera d'Alba that TJ (owner of Baldor) brought. One of those "only in New York" nights.
Monday, April 27
I started the day with a Bluebird cortado and croissant. They do a really tasty biscuit sandwich. I got tempted, by passed this time.
Then, a black tea and honey over at Estela, followed by a meet-up with Thomas for coffee at Peddler (the mobile cart on Lafayette and Houston). This is our most consistent break spot. I then snacked on some bread and brie at Estela, and later, some green juice. The diet during workdays can get a little messy and weird.
I had the No Kid Hungry benefit, so I missed family meal. I ended up snacking on some tasty cavatelli that Daniel Holzman from the Meatball Shop was doing, plus a few of Betony's delicious drinks for the event. The standout was a milk punch.
Eli Kulp (the owner of High Street on Market in Philadelphia) brought over a loaf of bread while we were plating the second course at the event. I'm not sure what it was, exactly, but it tasted delicious. I just spread some aïoli on it — it's my favorite kitchen snack. We destroyed that bread.
Tuesday, April 28
I went early in the morning to O Cafe, my friend Fernando [Aciar]'s place. Got the usual: cortado and pao de queijo (not one, but two). One of those is never enough.
I went over to Estela and worked on the menu for the day. We've been trying to play with this blood cake wrapped in pickled grape leaves, and served with fava beans. I feel like I have tasted it too many times to know the difference anymore, but I think we have it. Actually, I know we have it.
Lunch was a juice from Juice Press while tasting some tasty cheese samples. Family meal today was grilled cheese and a tomato soup, along with a salad with endive and fava beans.
After service, Gabe and I headed to Minetta Tavern and inhaled a couple of burgers. They make a good, fancy burger. The potatoes are really great, too. I always end up eating Gabe's potatoes, or whoever is next to me. We don't have fries at the restaurant because I would be fat. I can't control myself.