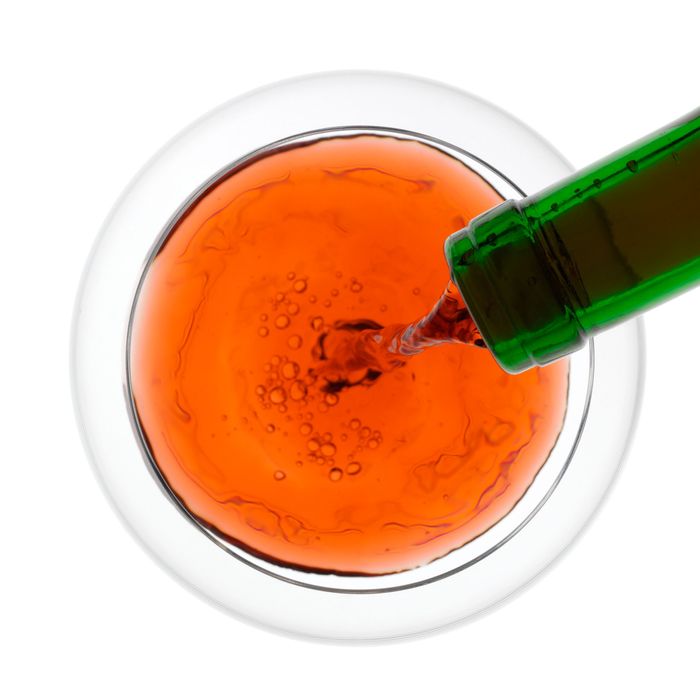 "They're not all cloudy or funky or taste like poop or shoes."
Photo: Getty Images
For LCD Soundsystem's James Murphy, a fascination with natural wine began after drinking a bottle of Frank Cornelissen MunJebel Bianco 3. As he told the Times this week, it "was just so crazy … In my memory there were leaves and twigs floating in it … It was absolutely mind-blowing." Murphy, who's opening his own natural-wine bar next month, isn't alone. For funk-loving wine geeks, the term natural wine conjures images of cloudy liquid in unexpected shades, and tasting notes that can include references to beach balls, chalkboards, or even dirty diapers (but, you know, in a good sort of way). And now, New York's wine lists are filled with "natural," biodynamic, and organic bottles — back-to-basics wines that haven't only quietly surged in popularity, but which have managed to become the norm in some of the city's best cellars.
Broadly speaking, natural wine refers to a bramble of farming and winemaking practices rooted in the idea of messing with the grapes as little as possible, both in the field and in the cellar. Earning an organic or a biodynamic certification requires reams of paperwork, so many vintners just choose to use the practices unofficially. Most spray no chemicals on vines, harvest their grapes by hand, and prefer to rely on natural, wild yeasts for fermentation. And while some natural vintners filter out silt and sediment before bottling, plenty of others are happy to leave in all the cloudy goodness. There are obvious environmental benefits to this approach, and the resulting wines are, to say the least, extremely unique.
Really, natural wines run the full gamut in taste, but because they're made with minimal interference, the common line is that the actual finished wines tend to be a little rougher around the edges than what people are used to. If you try the Pheasant's Tears wine that's on the list at Anfora you'll think you're drinking a  cup of chilled chamomile tea. Go to Blue Ribbon's Downing Street Bar for the La Garagista White Petillant Naturel and you'll get a glass of something resembling a dainty hard cider.
That doesn't mean it's all weird. In fact, more and more, the people assembling New York's wine lists are choosing natural bottles that are just really beautiful wines. The 2009 Roagna Pira Barolo currently available at Del Posto is nothing but ripe cherry fruit. "It's super delicious," says Jeffrey Porter, who oversees the restaurant's 3,000-label collection, at least half of which could be classified as natural. "They're not all cloudy or funky or taste like poop or shoes. Most of them are really pretty and polished."
That elegance might be one reason why so few people have noticed the natural-wine takeover happening at many New York bars and restaurants. In addition to spots like Racines and June, which specialize in natural wines, this style of wine-making is growing in popularity all over town. At Marco Canora's Fifty Paces, more than half of the by-the-glass offerings are natural (including one unfiltered white that is as murky as a glass of Gowanus water, but which drinks bright and refreshing with a hint of tartness). Natural wines make up 30 percent of the lists at Blue Ribbon and Il Buco Alimentari and between 60 and 70 percent of the lists at Jody Williams's Buvette and Via Carota. The Camlin, a new wine bar near the Williamsburg waterfront, has a list that's 40 percent natural. And 95 percent of the bottles on the wine list at Keith McNally's Cherche Midi are made using sustainable practices, including a funky as hell red Arbois from Domaine Rolet that will only run you $36 a bottle.
Yet it's not just envelope-pushing bars and restaurants in downtown Manhattan and Brooklyn that are seeing a rise in natural-wine availability. Midtown power-lunch mainstays like Casa Lever have gone organic, too. Sommelier Gaetano Muscatello says about half of his list is natural. At Daniel, sommelier Rajeev Vaidya says two thirds of his offerings can be classified as natural, and that they've become the standard in fine wines. "The people doing the farming have to spend more time in their vineyard," Vaidya points out. "It's more hands-on and requires more work, and that goes hand in hand with higher quality."
Porter, whose list at Del Posto rivals the one Vaidya manages at Daniel in both depth and quality, agrees, and points out natural wines have made the full transition from curiosity to must-have on the city's lists. "On the high end of wine, it's become the norm," he says. "If we exclude them, we'd be doing our guests a disservice."
10 Natural Wines to Try Now
Grub asked Caleb Ganzer, who has worked at Eleven Madison Park and Daniel and is now the sommelier at Compagnie des Vins Surnaturels, to choose his favorite natural bottles being sold in the city right now.
1. La Grange aux Belles "Fragile" 2013 ($23 at Chambers Street Wines)
A very fun Chenin Blanc from a producer who only released its first wine in 2008.
2. Bruno Duchêne Collioure Rouge "La Pascole" 2011 ($46 at Flatiron Wine and Spirits)
A dry red that's made in Southern France by a former mushroom distributor.
3. Domaine Rimbert Petit Cochon Bronzé Rosé 2014 ($15 at September Wine and Spirits)
A popular, inexpesive rosé that is excellent in the summer.
4. Frank Cornelissen Contadino 2013 ($29 at Uva Wines and Spirits)
The "entry-level" red from one of Italy's natural-wine superstars. This bottling is a blend of local varietels.
5. Franz Strohmeier Schilcher Sparkling Rosé ($60 at Reynard)
This unique style of wine is distinct to a very small region of Austria — this frizzante version is great with hefty meats, of which you'll find plenty at Reynard.
6. Domaine Chahut et Prodige Nid de Guepes ($13 per glass at Ten Bells)
A blend of Sauvignon Blanc and Chenin Blanc, this wine isn't filtered and has no added sulfur, and is a great example of a "natural" wine.
7. Vouette et Sorbée Extra Brut Fidèle 2010 ($97 at Marta)
A very well-respected Champagne (that should pair nicely with pizza).
8. Nicolas Joly Clos de la Coulée de Serrant 2009 ($50 per glass at Corkbuzz Union Square)
Joly is one one of the leading names in the biodynamic movement. This wine, made from Chenin Blanc grapes, is often cited as one of the world's best white wines (and as you can see, it's priced accordingly).
9. Domaine Prieuré Roch Nuits-St-Georges 1er Cru Clos des Corvées 2000 ($495 at Eleven Madison Park)
While most natural wines are in the more reasonably priced range, there are some greats that set the standards super-high. This rare beauty from Burgundy is one of them.
10. "Mystery Wine" at Compagnie des Vins Surnaturels ($15 per glass)
Ganzer says, "We mix up our mystery wine all the time and people can see what they're tasting by following our Instagram feed. I will keep it a surprise, but the red mystery wine is natural right now — we have a few more bottles to go through before we move on to the next wine, too."