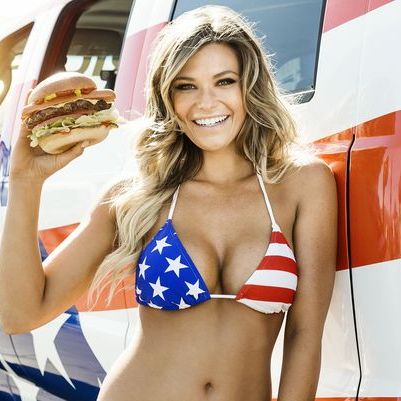 So much 'Merica right here.
In time for summer, fast-food sister chains Hardee's and Carl's Jr. — so committed to democracy they don't even force a single brand name on their customers — have given the people a new burger that's essentially an entire Fourth of July in a single sandwich.
The Most American Thickburger, as it's being called, starts with a burger patty, slaps some American cheese on there, adds a layer of Lay's potato chips, then tops everything with a grilled hot dog that's been split in half. It costs $8.29 with fries and a drink, and the reason for the higher-than-average price is it's "like two sandwiches in one — and your side." (Plus, this big beast has 1,030 calories, 64 grams of fat, and 2,350 milligrams of sodium, so it's not like you'd have to eat anything else that day.)
A company rep tells USA Today this patriotic beauty has been in the works for nearly a decade. The big hangup was this quandary of how to create a sandwich with chips that don't get soggy. Luckily, the R&D; team eventually discovered extra-crispy kettle chips — decade-long chip puzzle finally solved. Alas, America's obesity epidemic might take a little longer to figure out.
[USAT]