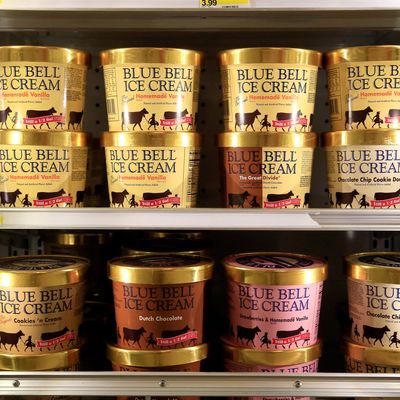 Uh-oh.
Photo: Jamie Squire/Getty Images
After some encouraging news that Blue Bell could be back by Memorial Day, the ice cream giant has just received a reality check. An investigation released by the FDA paints a much dirtier picture of the company's ice cream operations, that's at odds with Blue Bell's claim that its factories "were and are clean." But now the AP reports that might not be that case.
Though the CDC said the outbreak could be traced back to 2010 (which a Blue Bell rep called "a surprise"), this government investigation says Blue Bell knew that listeria was detected at the company's Oklahoma factory in March, 2013. Yet despite this, the company continued to ship ice cream, even though, per the AP, the FDA "released 16 separate positive tests for listeria on equipment and in ice cream from March 2013 through January 2015."
That's not all: employees were found to be wearing — gross —soiled clothing in Alabama, not practicing basic hygiene in Oklahoma, and, in Texas, investigators saw ceiling condensation drip directly into food. In each plant, dirty equipment and infrastructure complicated the process of actually cleaning properly—which could have helped them avoid this whole mess. This isn't good news for the company, which was hoping to turn a corner and get back on their feet in time for summer.