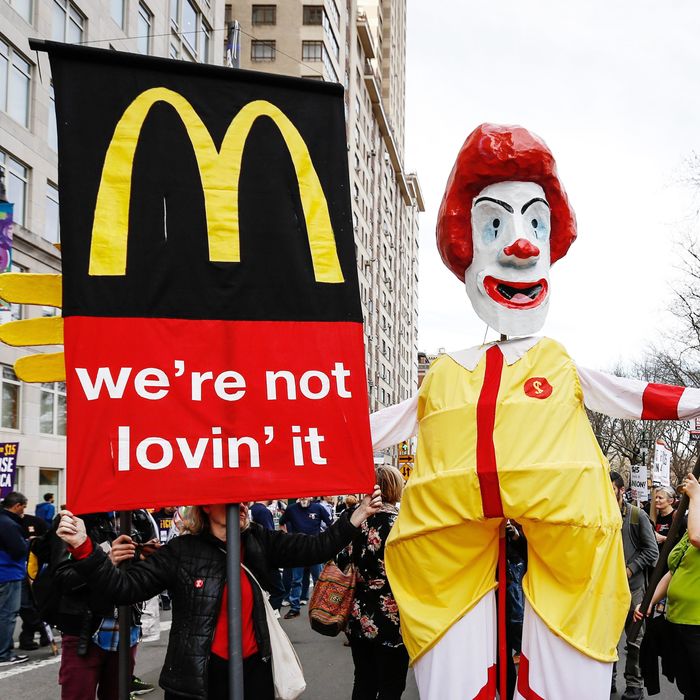 Finally.
Photo: Anadolu Agency/Getty Images
Governor Cuomo says that it's high time the state pay its 180,000 fast-food workers more money — and he's making a big push today that includes a press conference with leaders of the Fight for $15 movement, as well as an op-ed in the New York Times. "Nowhere," he writes, "is the income gap more extreme and obnoxious than in the fast-food industry." He continues:
In my latest budget, I proposed raising [the minimum wage] again, to $11.50 in New York City and $10.50 elsewhere in the state. But the Legislature rejected that proposal. So I am continuing the fight. While lawmakers delay, I am taking action.
In his role as governor, Cuomo can make Acting Labor Commissioner Mario Musolino convene a panel to study any particular industry's wages. He said he'll do that today, and that the recommendations are due by August. If the panel recommends a raise (which, somewhat controversially, would only be for fast-food workers), he can grant it without approval from the Legislature — exactly what he did back in February to increase the tipped minimum wage from around $5 to $7.50.
And even if his panel doesn't recommend a raise, no matter: Cuomo can modify their recommendations as he sees fit.
[NYT]