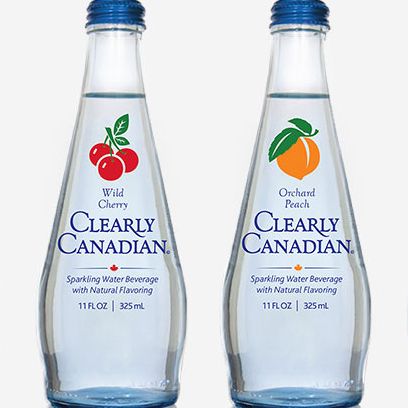 Six years after mismanagement crashed the company, Clearly Canadian — the transparent, glass-bottled soft drink you almost certainly drank a lot of back in 1995 or so — is back. The company, which was purchased by a group that includes chairman and chief creative officer Robert R. Kahn, officially returned this year with a preorder crowdfunding campaign. Having met its funding goal for the first round of cases, it's kicking production into gear. There's more: Today, the group launched a second preorder campaign on Indiegogo to give more people a chance to get some. This comeback has all the makings of a hit, so Grub wanted to know what things were like inside Clearly HQ. We called Kahn, who was happy to talk about how the fateful purchase was made, when Mountain Blackberry will be back on store shelves, and how this new ownership group sees itself as "stewards of the brand."
Can you tell us about your background as a venture capitalist?
I don't see myself as that. We're community and social entrepreneurs. Our team is eight people: five Canadians and three Americans. We're running the whole thing.
What's your title at Clearly Canadian?
When I began this, I said I don't believe in titles. We see ourselves as stewards of the brand. We're trying to bring it back to the community that made it all real in the first place. We see this as a huge experience in building community. I cannot overstress that enough.
So what was your reaction when you found out that Clearly Canadian, the company, was available?
At first, we thought it was a joke. I'm a Gen-Xer, 40, and when I told my partners everyone was like, "What do you mean, it's not around?"
But how did you learn that it was on the market? And how did you secure the rights?
Clearly Canadian was acquired privately from its last senior creditor in 2012. The backstory to this is I was working, personally, on another famous brand in 2011. That brand wanted to also create a food and beverage line of products. In late 2011, I was at a wedding in L.A. — a friend was marrying a girl from British Columbia, and someone told me Clearly Canadian is in trouble. It was controlled by New York City investors that were interested in selling it. They did not want to do a public fail, and we made them an offer. That allowed us to secure the rights. When we got control of the company, there was no operating capital at all. We started with literally no money, and it's all been community-based. I realized it was a huge opportunity. I had to drop that other project and go to this immediately.
So you were willing to drop another project for this one — despite the lack of funding?
It really just had gone off [the] radar. Had this been a high-flying American brand, I [would never] have had the opportunity. I would've been up against large private-equity firms. I didn't have $10 million to purchase this. I'm a social entrepreneur and community activist. We'll have investors eventually, but we really do believe this can be [a] beneficial and positive catalyst in our very capitalist world. We're all about good thoughts, good deeds, good ideas.
Were you surprised that the brand was so readily available?
I couldn't believe a brand as well known wasn't being scooped up immediately by tier-one equity shops. So many people didn't realize it was missing. Clearly Canadian is literally a master brand of Canada. Canada doesn't have lots of brands that are internationally known like in the United States. There are lots that are successful in Canada, but there aren't many that are successful outside the country.
You talked about your nostalgia for the brand, but what made you think this was financially viable? Did you ever expect this kind of enthusiasm?
It wasn't difficult for me to anticipate this response. Generation X grew up on Clearly Canadian, the baby boomers all were drinking it in the '90s, too. It was like a momentary lapse of reason, like we entered a Twilight Zone episode — for me it was beyond obvious.
How fast could we get going? Get the money? Because it's so well known, our greatest challenges are in reverse: We have demand from all over the world, but how do we assemble enough capital to have 300,000 to 400,000 cases of standing inventory to supply the world? We're not building a brand. It's already worth $200 to 300 million dollars.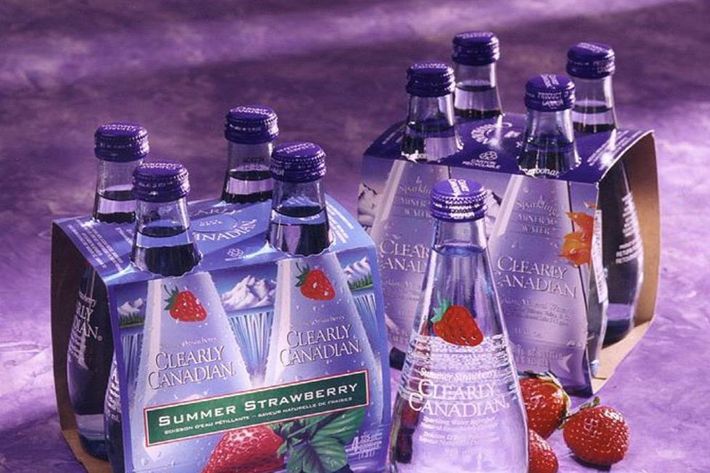 Where do you see Clearly Canadian going?
This brand broke open the water market. If they hadn't made mistakes, they would've dominated the premium water space in America. That's our goal: to triangulate the market.
So do you think the acquisition was a steal?
I wouldn't phrase it like that. When we acquired Clearly Canadian, we received three cardboard boxes in a New York City boardroom. We had no connections to the old company, no design drawings of bottles, nothing. Do we think we got a very good value situation? Yeah, of course we do. But unlocking that value has to be by bringing together [the] right marketing, production, and distribution partners. Is the brand going to be very profitable? Yes, but I don't wake up and count nickels. Food and beverage is not for the lighthearted. It's very expensive. Glass bottles make up upwards of 60 percent of cost. Aluminum or plastic would be like 15 percent of cost, but that's not what the brand is known for.

Why did you think the crowdfunding path made the most sense?
Because we knew that the community was not going to force us to gut our values and belief in what it was to us. There was no way for us to prove the interest we claimed was there. We've had venture capitalists come to us and offer $15 million, but they would've taken complete control of the company. They'd gut the company. The investor community didn't want us to bring back the original formulas, they wanted us to use plastic and do licensing deals. The brand is going to be profitable, but it's not what drives us.
So crowd-sourcing was your way of demonstrating interest?
Yes, but also to finance.
Okay. When will customers be able to see this stuff on store shelves?
We're planning to have the national rollout in early 2016, and we want to be in 13,000 grocery stores in Canada and America by the middle of 2016. We're open to everyone, but the larger chains have all shown lots of interest. Then we would like to bring it to Northern Europe, United Kingdom, Sweden, and other countries where the brand is well known. The goal isn't to be [a] global brand but to bring it back to all those who miss it and want it back in their lives.
How do you get there?
Production has begun, aluminum caps are being ordered, bottles are being ordered. How do we get to standing inventory of 300,000 to 400,000 standing cases — $12 million dollars of standing inventory? The market is demanding Clearly Canadian, and we're like, Great, how do we make this happen without losing control to investors? We should be able to do $60-65 million in sales without stressing out. We have to build that out.
Do you expect those kinds of numbers to happen in the first year?
We would like to have an organic, controlled growth curve. We don't want to have runaway growth where the train goes off the track. We would hope the investor community will support us in the way we ask, so everyone can reach this goal in good time. We don't want it to take six years. We want the financial community to work with this. We'll hopefully be sponsoring lifestyle festivals and stuff once we have a marketing budget. I don't want to go into details, but we're looking to create community experiences that are enduring to youth and families and everyone in between. There's a lot that we want to do.