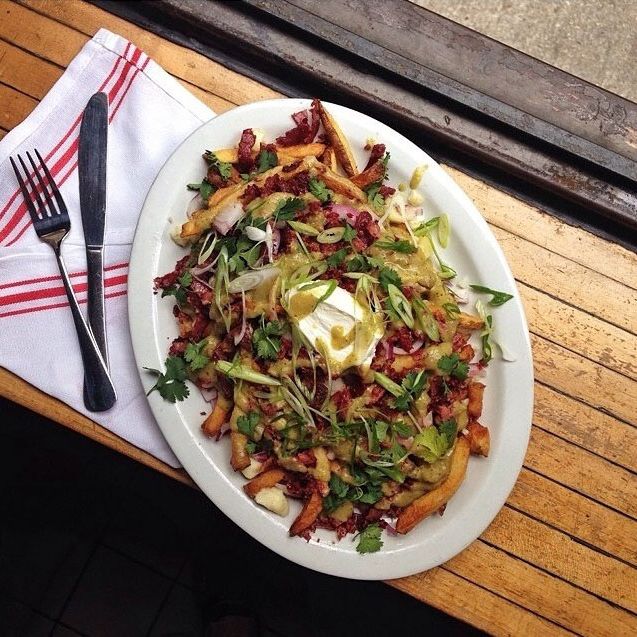 Chilaquiles poutine at Mile End Deli!
While Cinco de Mayo can often descend into a flurry of margaritas, mediocre tacos, and drunken chaos, it can also serve as a great excuse to eat some wonderful Mexican food. Chefs around New York are celebrating the holiday with a variety of specials: There's a five-course tasting menu at Xixa, taco dumplings a Mimi Cheng's, and a special happy hour at Empellón Taqueria.
Empellón Taqueria
From 3 to 8 p.m., the restaurant will have an extended Hora Del Amigo happy hour, with $3 Mexicali cans, buy-one-get-one-free margaritas, and à la carte tacos sold individually.
Horchata
The West Village restaurant has a special menu tonight: five drinks (margaritas, sangria, etc.) and five snacks each cost just $5.
Louro
Taco Tuesday will reach peak excellence at this East Village restaurant tonight: From 5 p.m. onwards, all tacos will cost $2.50, and all margaritas $8. If that's not enough, it will also offer a $45 package of ten tacos and a pitcher of margaritas.
Mimi Cheng's
This East Village dumpling shop has a Mexican mash-up: "Taco dumplings" are filled with beef, drizzled with lime crema, and topped with crunchy radishes and pico de gallo. They'll be available all month long.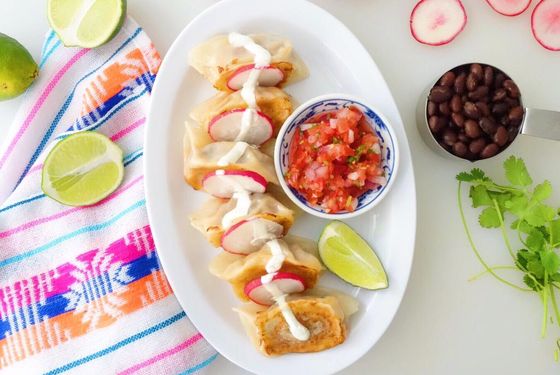 Mile End Deli
The Bond Street location is serving chilaquiles poutine today and tonight: fries topped with a fried egg, red onion, cilanto, cheese curds, salsa verde, and crema — for $15.
Dos Toros
Today, the New York mini-chain will celebrate the holiday, as well as the grand opening of its brand-new midtown east location, with $1 burritos, tacos, platos, and quesadillas.
Otto's Tacos
For every three tacos ordered through Caviar, the restaurant will tack on a complimentary side of chips and salsa. Not too shabby.
Xixa
Tonight, this Williamsburg restaurant has a one-night-only five-course tasting menu that costs $55. Dishes include a foie-gras tostada, steak tartare with horseradish crema, and slow-roasted cote de boeuf.