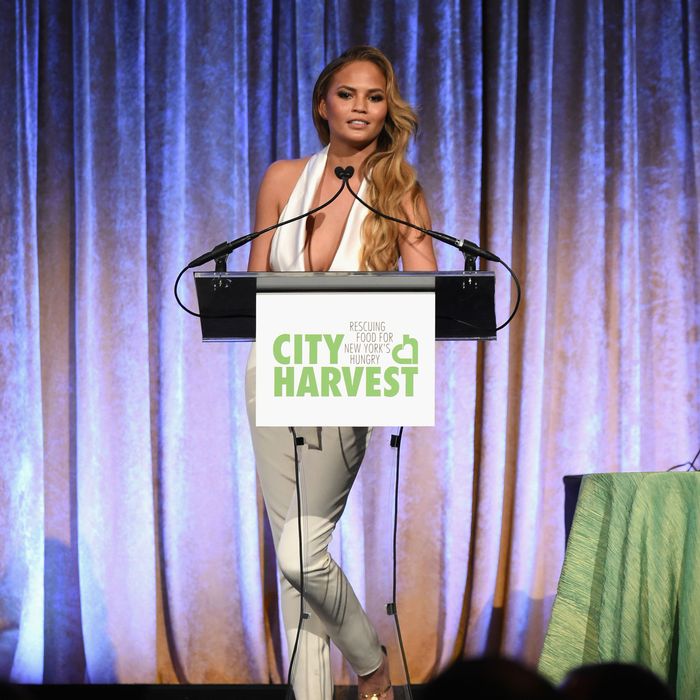 Teigen.
Photo: Andrew H. Walker/Getty Images
Over the past couple of years, Chrissy Teigen has been steadily raising her profile in the food world, and now, in addition to all her other projects, she's working on a new cookbook, a process that can be notoriously repetitive and time-consuming, as you test the same recipe over, and over, and over, until it's just right. So, when Grub bumped into the model at last night's City Harvest gala, we took the chance to ask her how it's going.
Can you tell me a little bit about your cookbook that's coming out? Is it going to be a collection of recipes from your blog?
No, we want to try to keep it separate. The blog was always such a casual thing; I would post random things I made. A lot of them weren't my own recipes. For the book, it's mostly, like, our household staples, the things I love to make for John, things I love cooking for our friends for Super Bowl Sunday, things for girls' nights, which I have all the time. I maybe have a chef come in and teach us how to make something. It's really stuff that we truly love to eat — everything in the book is stuff we have once or twice a month, so it's tried and true.
Do you test the recipes a lot? Or are they so familiar to you that you don't have to test them at this point?
Oh my God, yes, it's hard sometimes because obviously I love to drink wine and maybe I'm like Did the wine affect this recipe? I gotta make it again without wine! But, yeah, I've moved in my co-author, who is so fantastic, and we just cook together all day. Listen, we made a meatloaf the other day and did it two, three, four times, and you do not want to have a tenth slice of meatloaf, but you do it and you want it to be perfect because, for a lot of people, this is their first time cooking and they want to impress their man.
Meatloaf sandwiches for days!
I know, seriously. You want it to be good enough to eat all week.
Do you and John ever work on recipes together?
Not really. The recipes that he's great at and that he loves are, you know, his fried chicken and mac and cheese. Something fun about the book is we'll have his take and then we'll have my take. For example, everybody in his family and all of our friends love his mac and cheese, but I think they only love it because John Legend is cooking it, like, Oh my God! This is amazing! But it's a little thick for me — I like a creamy mac. So I'm making my version, too.
So the book will have a special section, like his and hers?
Yes, but of course everyone is still going to love his more.