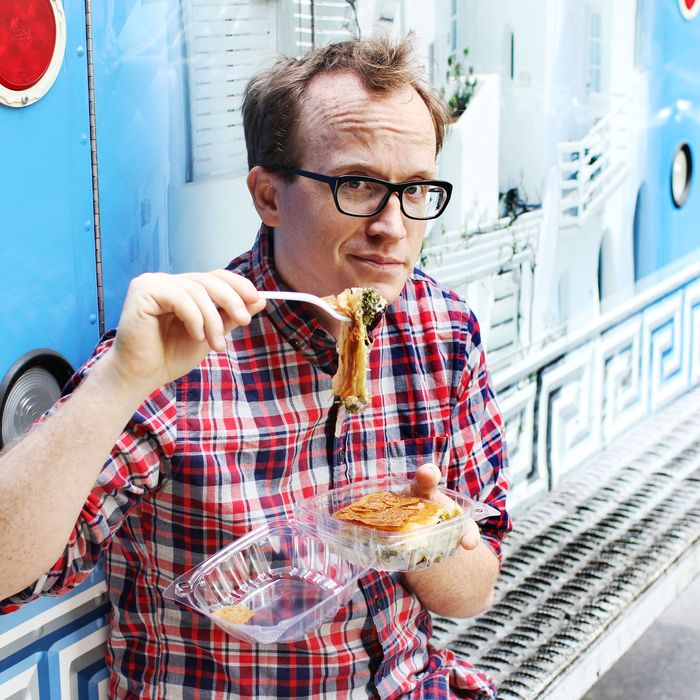 Gethard, with his usual order from the Mykonos Grill food truck.
Photo: Melissa Hom
"This is a real Heart of Darkness look into my own life," says Chris Gethard of his Grub Street Diet. The comedian has appeared on shows like Louie, Broad City, and Inside Amy Schumer, but he's probably best known as the host of his namesake talk show, which he's busy prepping for its premiere on Fusion. Even with his busy work schedule, he managed to find a little time to order some egg-foo young, grab a bunch of excellent sandwiches all around town, and even take a trip upstate for superlative soft-serve.
Friday, May 15
Around 4 p.m., I realize that my day got away from me, and I am only now able to grab a late lunch. Late lunches are bad for me. Everyone who knows me well knows that if I get hungry, I have a limited window to eat. If I wait too long, I turn into a cranky child. I do not like myself when I am like this.
Anyway, late lunch means I have to go someplace close. Luckily, there is a food truck that parks right outside of our office every single day. It is the Mykonos Grill, and based on that name, you will not be surprised to hear that it serves Greek food. Luckily, this is a seriously quality food truck, and due to its proximity, I eat there roughly three times a week. Generally, I get the spinach-pie platter, which comes with salad and rice. Today, I just went with the spinach pie. In my mind, spinach pie is very healthy because the word spinach is in the name. I am aware that it also features lots of dough and cheese.
We're only a few weeks away from our first shoot, and I spend a ton of time at the office these days. My wife has been stopping by when she has time, to make sure we get to see each other and hang out a bit. She stopped by today and brought me a treat: two round chocolate balls that she tells me are from a place on 58th Street called Fika.
I don't know anything about Fika, and don't know if my wife goes there regularly. What I do know is that whatever these round brown balls are, I want to eat them again. They were chocolate but also had a ton of coconut in them. Are they macaroons? I also taste sea salt, which is not surprising, since it's 2015 and fancy chocolate requires sea salt. Also, I'm pretty certain there's coffee in there. It's so hard to say what all these flavors are. The only thing I'm sure of right now is that I want more of these in my mouth ASAP.
I got home from work around 8 p.m., and my wife and I made a last-minute decision to go visit my parents up in the Adirondacks, where they now live because they are old and retired and happy. Because of this, I decide to make it a real quick dinner and grab a sandwich.
There is a bodega in my neighborhood that is in most ways an average Greenpoint bodega (Greenpoint bodegas are just like every other New York bodega, except they also carry almond milk). For some reason, though, the Franklin Corner Café also makes some of the most insanely delicious pressed sandwiches I've ever had, and they go out of their way to combine ingredients that you don't expect. I get my go-to, which is the "New Mexico" — a pressed sandwich that features eggplant, bean dip, avocado, and jalapeños. It is so good. Just so, so good.
I grab my usual accompanying items for this sandwich: sweet potato chips and a Reed's Spiced Apple Brew flavored soda. I am kind of a soda aficionado. I stopped drinking booze in late 2001, but I still very much have an addictive personality, and soda has filled that void in a big way. I collect sodas from all over the country and keep them under my sink. My wife is furious about it. There are like 200 bottles of soda under our fridge. I obsess over them.
The Franklin Corner Café is one of the only places in New York that carries Reed's Spiced Apple Ginger Brew, which is really the only apple soda that I truly enjoy on a regular basis. It's got cinnamon and nutmeg flavors and tastes sort of like apple pie. It's great. Also, if you ever come across a bottle of Virgil's Special Edition Bavarian Nutmeg Root Beer, buy it and hoard it. It is the best root beer you'll ever have, as long as you keep it very cold. I only know of two places in New York that sometimes have it, and I will never tell you where those two places are.
I take this quick meal back to my house, and man, do I enjoy the first bites of that sandwich. Then, I open up my bottle of Reed's Spiced Apple Ginger Brew and it is flat. This sends me into a mild internal rage. I dump it down the drain of my sink, open my fridge, and am relieved to see that I have a bottle of Nu Grape soda that's being kept cold. It is sad how much this rights the ship for me and keeps my mental health in check.
Saturday, May 16
My wife and I are upstate, and the food is not notable for most of the day. Mostly stuff my mom cooked, which is good but not really your business.
I should point out, though, that we got to go to Martha's Dandee Crème on Route 9 in Queensbury, New York. This place has a real '50s roadside vibe and a big, giant rooster statue in the parking lot. I don't get what roosters have to do with ice cream, but it works.
I don't know what makes "dandee crème" different than "soft-serve ice cream," but it is discernible. Soft-serve ice cream is usually all the same — reliably good and what you want. For some reason, though, I can't deny that this soft-serve ice cream is better than average soft-serve ice cream. That must be the "dandee." I get a sundae with chocolate ice cream, peanut-butter sauce, whipped cream, nuts, and a cherry.
Immediately afterwards, I somehow convinced my father to race me at a go-kart track. My father is six foot two and weighs over 200 pounds.
Sunday, May 17
Breakfast and lunch are hastily eaten while in transit. I arrive home late in the afternoon and only eat one meal while in New York: a chicken egg-foo young from Shanghai Lee in Greenpoint. I also get scallion pancakes. I tell myself I get the scallion pancakes so I am above the credit-card minimum, but in reality, I have done no research, and to my knowledge, there is no credit-card minimum. I just want an excuse to eat scallion pancakes.
I have found that egg-foo young is an item that confuses many of my friends, even though to my knowledge, it is on the menus of 95 percent of Chinese restaurants in New York. It's just an omelette that you pour gross and delicious brown sauce on top of. I don't know why this stresses people out, but it does. Order an egg-foo young around a bunch of people and I promise you at least one of them will react as if you just ordered a pile of monkey brains. It makes no sense.
Monday, May 18
On my way to work, I stop at a place on 53rd and Third called Treehaus. They sell many things, but the only thing I ever buy here is their "Peanut Better" smoothie. I enjoy the taste of a good smoothie, but have to admit that there's part of me that will never let go of the fact that I pay this much for something I could make at home. I tell myself it is just because I have limited time, but the truth is if I had all the time in the world, I would still be too lazy to make a smoothie. I am part of the problem.
One thing I enjoy about this smoothie is that it's green, even though it's peanut butter-flavored. They put a little kale in it. This allows me to pretend I have eaten leafy-green vegetables for the day.
My wife again stops by the office and brings lunch. She is the best. I hate that we are too busy to see each other, but I love that she loves me enough to make this effort.
She brings me a chicken sandwich from a place called Devon & Blakely on Third Avenue. The multigrain bread is good. The avocado is good. The chicken is fine, though they don't even pretend it's not frozen and processed. I cannot complain. I need the protein. She also brought me a bag of sweet-potato chips, and I am too sad about my dieting habits to tell her that this is the second time in a day that I've had a sandwich and sweet-potato chips. It feels wrong to live this way.
I did a show at UCB Chelsea and realized as I got offstage at 10 p.m. that I forgot to eat. I headed down to 23rd and Eighth and went to Blossom Du Jour, a vegan sandwich place. I again realize that I eat too many sandwiches. I would not have realized this if I didn't write everything down, so thank you, Grub Street, for this eye-opening lesson.
I am not a vegan, nor a vegetarian. My wife is a vegetarian, and it's really illuminating. One thing I have noticed is that she is more alive than I am and I am more dead than she is. She has more energy, looks better, and is healthy. I am pale and tired all the time, and it's almost definitely rooted at least in part in that she eats like a sane person and I eat like a child who has eliminated all the adults from his life. So every once in a while, I eat something vegetarian or vegan in a desperate attempt to be healthier.
I got a seitan Philly cheesesteak. There is nothing about this that is healthier than what I usually eat, but I convince myself there is simply because I ordered it from a vegan place. It is good.
Tuesday, May 19
When I wake up at 7 a.m., my still-sleeping wife mumbles that she made oatmeal in our rice cooker. I open it up and see that she put a layer of chia seeds on top. I am usually disgusted by chia seeds, but they're a superfood and I recognize she included them in a futile effort to make sure I eat something healthy at least once today. Because they are borne of love, I excuse the presence of chia seeds.
Holy shit — someone sent pizzas to our office. One of the great things about fans of The Chris Gethard Show is they're insane and sometimes send us stuff to cheer us on as we build our show. I eat three whole slices and do a little dance while consciously thinking to myself, This will negate the effects of the chia seeds.
I do not care. I cannot care. The pizza was free. Is there any happier phrase in the English language than "free pizza"?
My wife shows up at the office and brings me another Peanut Better smoothie from Treehaus. Because she knows me really well, and our love is true. I drink it, and then I get back to work.