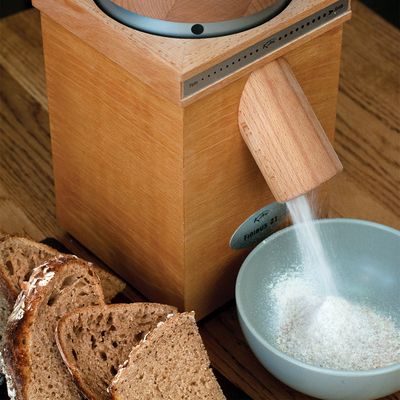 A beechwood countertop grain mill, made by KoMo.
It's no longer enough for chefs to bake their own bread and make their own pasta. Lately, in a quest for freshness, flavor, and the benefits of whole grains, they've even taken to milling their own flour. Blue Hill's Dan Barber, Philadelphia's Marc Vetri, and San Francisco baker Chad Robertson have all proselytized for regional non-commodity wheat, and grain mills have made their way into such unlikely places as the Colorado-based Pizzeria Locale, a nascent chain backed by Chipotle.
In New York, two rival mill brands have been vying for kitchen space: In one corner is the German-made KoMo (pictured), a crafty, beechwood-clad countertop model, used by both Williamsburg's Semilla and the new downtown cider bar Wassail to grind heritage strains of wheat and ancient grains for sour­dough loaves. At Bushwick new­comer Faro, chef Kevin Adey uses his KoMo for everything from grano arso, or "burnt flour" pasta, to Parker House rolls. Then there are the heavy-duty grinders from Meadows Mills, a venerable North Carolina firm, that have recently been acquired by East Village neighbors Hearth and the forthcoming Bruno Pizza. "We're planning on grinding our own '00' flour for pizza and pasta," says Bruno owner Demian Repucci, who financed his $12,000 mill with a Kickstarter campaign. Hearth's Marco Canora has always served Anson Mills polenta, but then he began grinding his own from heirloom hominy. "The presence of natural corn oil in freshly milled polenta is mind-blowing," he says. "It's as if you added a ton of butter or olive oil."
*This article appears in the May 18, 2015 issue of New York Magazine.