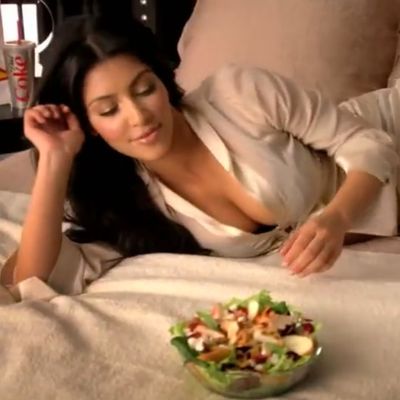 As CEO of Carl's Jr., Andy Puzder actually believes that a crucial part of his job is offending the public with soft-core ads. In an interview today to promote a new sandwich, a "meat-on-meat" hot dog–burger situation (whose ad stars Sports Illustrated swimsuit model Samantha Hoopes), Puzder decided to start insulting prior female talent.
He said gross things, like "Heidi Klum is no spring chicken," and also took a dig at Kim Kardashian. Back in 2009, Kardashian starred in an ad for a grilled-chicken salad because, as she wrote at the time, it "fits in perfectly with my healthy lifestyle." Puzder's version of the story is quite different. He says:
We used Kim Kardashian in an ad. But Kim really couldn't eat the burgers. Luckily, we had a salad we were promoting, so we used Kim in the salad ad. But if we had not been promoting a salad, we probably never would've done an ad with Kim, because she wasn't good at eating the burger.
Kardashian, meanwhile, insists that she picked the salad herself to complement a workout DVD she'd just released. Who knows? If anything good comes of this feud, women will stop accepting Carl's Jr. gigs.
[AP]