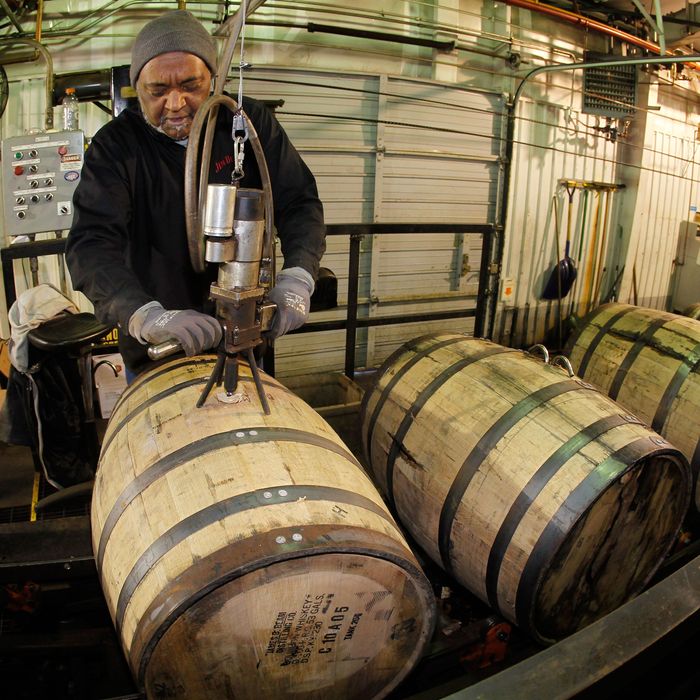 Endangered.
Photo: John Sommers II/Reuters/Corbis
There haven't been enough bourbon barrels to go around for a while: The problem is that bourbon needs to age in a new barrel made from oak, and the lumber industry remains crippled from the 2007 housing-market collapse. There simply isn't enough harvested wood for planks.
With newcomers like Diageo's Piehole edging into the oversaturated market, the situation is getting worse with every new report. Today's dispatch, from The Wall Street Journal: The supply-chain problem is being compounded as much by the lumber industry's super-slow supply as it is by the market's insane demand, and it's basically crunch time for several distillers. Georgia's Independent Distilling is apparently short half the supply it ordered, which, if not fixed, will mean trouble for aging this year's product.
Jack Daniels just exacerbated the problem, too, by winning a battle to keep lawmakers from fiddling with the definition for Tennessee whiskey — which requires new oak barrels, but expressly forbids their reuse or, really, creative aging of any kind.
Not everybody's screwed, though. Leroy McGinnis, of the very popular McGinnis Wood Products, says, "There's never been nothing like there is today, and I don't see it letting up." But that's actually great for him financially — he says he routinely turns down four email requests a day for barrels, and has had multiple distillers offer to pay $250 per barrel, a 70 percent markup.
[WSJ]