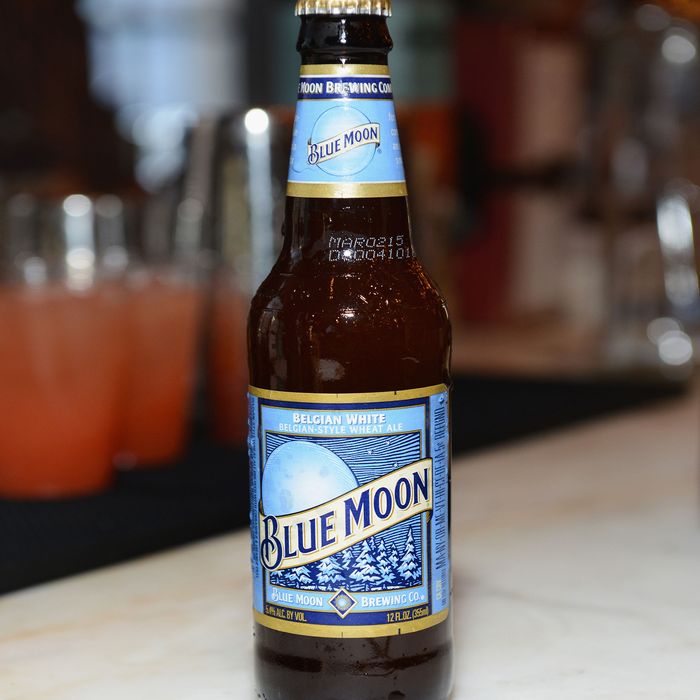 That crafty label isn't fooling him.
Photo: Noam Galai/Getty Images
Blue Moon may have started off as a small operation inside the Coors Field stadium, but according to one disgruntled former fan, Evan Parent, the company has become "an almost entirely fictitious brewery," used by MillerCoors to fleece consumers. He's suing the beer giant for deceptively marketing Blue Moon as craft when, according to him, it's clearly not.
Parent's class-action suit outlines the purported scam: MillerCoors goes to great lengths to portray Blue Moon as smaller, more independent, and (in words it has trademarked) more "Artfully Crafted." Blue Moon's bottles and website omit mention of MillerCoors, allowing the company to not only look cool, but charge up to 50 percent more.
Parent's attorney says that the end goal is for Blue Moon to ditch its marketing campaign and return "at least some money" to purchasers. Upon close examination, though, it looks like there's more at play than just a few bucks — because this man's pride got crushed, too. Parent, "who is also a beer aficionado and home brewer," used to buy Blue Moon because it was expensive and got shelved with the other microbrews. Then this happened:
In or around July 2012, Plaintiff was informed by friends that Blue Moon is not a craft beer, but rather a mass produced beer made by MillerCoors. Plaintiff was initially skeptical, but eventually verified the facts through his own research. As a result, Plaintiff has not purchased Blue Moon since.
[Quartz]