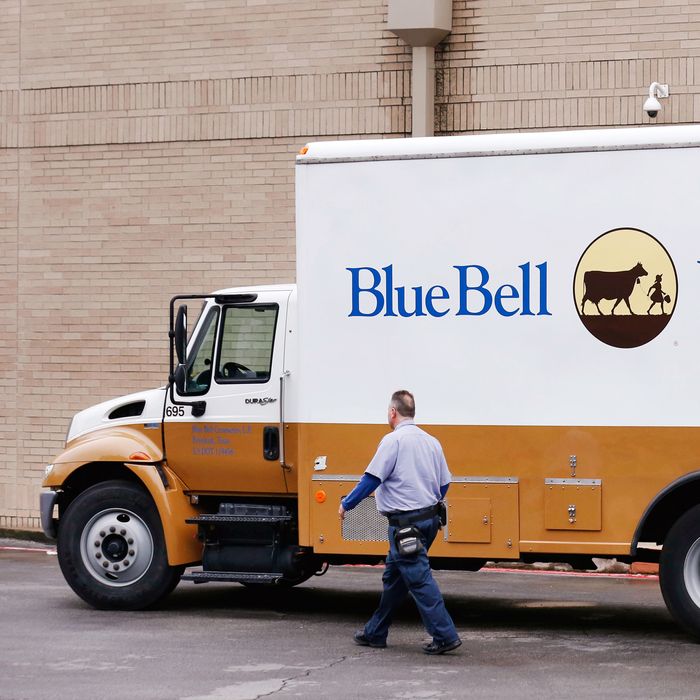 A bad day in Brenham.
Photo: David Guzman/Corbis
Until listeria turned up in its ice cream, Blue Bell went 108 years without recalling any items. Now, after sitting idle for almost a month now, the company's about to add another awful first: the first layoffs in 108 years. The toll has been so severe that the company said in a statement that almost two-fifths of its workforce is being let go. Nearly the same number — another 1,400 employees — are being furloughed, and the lucky 1,000 remaining staffers will be hit with pay cuts.
"Our employees are part of our family, and we did everything we could to keep people on our payroll for as long as possible," CEO Paul Kruse says. "At the same time, we have an obligation to do what is necessary to bring Blue Bell back and ensure its viability in the future. This is a sad day for all of us at Blue Bell, and for me personally."
Understandably, some workers are peeved, and the wife of one worker says her husband, who's been with the company for 13 years, was laid off with "no explanation." Blue Bell says it's reaching out to chambers of commerce to help find jobs for those who have been fired.
Everything's been compounded by the fact that the recovery is taking longer than expected (in other words: no Memorial Day Cookies 'n Cream, alas). It's bad enough that Blue Bell says there's no firm timeline to resume production. And it warns that whenever it does start making ice cream again, it will be in "a more limited way."