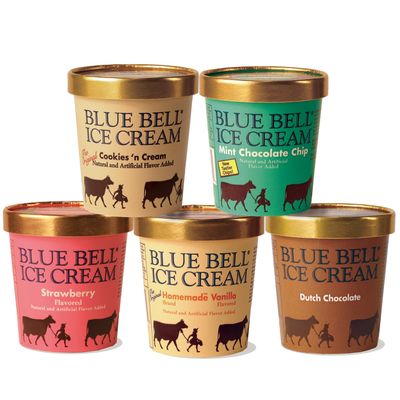 The nightmare continues.
Photo: Courtesy of Blue Bell
A man from Houston who says he "damn near died" after eating tainted Blue Bell ice cream has filed a suit in federal court against the company. It's looks as though he's the first to take action, though he almost certainly won't be the last.
According to David Philip Shockley's suit, "a variety" of Blue Bell products caused listeriosis that gravitated to his brain and left him unconscious. Shockley claims his injuries include "profound brain damage," the "inability to balance and coordinate movements," and a long list of others that "are permanent in nature." The 34-year-old has since moved back in with his parents so they can care for him. His suit isn't specifying any amount for damages, but he's apparently already run up $400,000 in medical expenses.
Estimates put the financial toll of the recall at $10 million — bad enough that the company had to reduce its workforce by almost two fifths and cut the pay of all remaining staffers. It's quite possible that a barrage of lawsuits could sink the company.