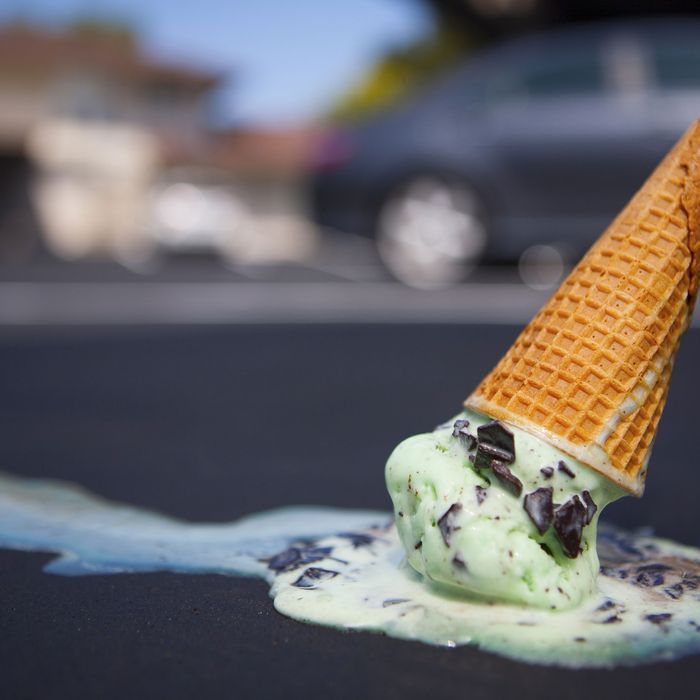 "It's scary not knowing when it's coming back. At some point you have to make a decision."
Photo: Jason Todd
When Blue Bell recalled all of its ice cream over listeria concerns, it obviously made a huge impact on the company's bottom line, but it seems the corporation will be able to weather the shutdown. Other people don't have that kind of cushion, though — especially independent scoop-shop owners who rely on Blue Bell to supply their ice cream. Compounding the problem is that, with Memorial Day coming up, prime ice-cream-eating season is about to get underway.
Many shops have simply shut down until there's ice cream again, while others are doing what they can to stay afloat without their main product. Grub called Devan Gaudry, the co-owner of Whipp'd LA, an ice-cream shop with locations in West Hollywood and Orange County that is known to be the only carrier of Blue Bell in California, to see just how this shutdown has affected his business — and how much longer he thinks he can last before he has to take seriously drastic measures.
A recall is never good, but this has to be a pretty difficult time with the summer break approaching. How has the recall affected your business?
It was very difficult. It's about 40 percent to 50 percent of our sales. We're just going to try to have to survive.
Why have you chosen not to temporarily replace Blue Bell like some other shops have?
The thing is we're the only store in California that sells it. People drive from all over the state to buy this ice cream — two, three hours. If we sold something else, people wouldn't come here anymore. They'd just drive right by us.
So what has the response of your customers been?
We talk to people one hundred times a day. People still come by and want to know if we have it and if they can buy it. We have a big sign up saying, "We miss our Blue Bell." Our customers are eager. They're so loyal. We have people who come in and put $20 in the tip jar and say, "We don't want this store to close." In markets where it's not just a single store like us, they'll probably have to do damage control and give free ice cream away and do a lot of press. But I talked to eight or nine stores down in Texas that have just closed down for the month. They've all put signs up saying, "We'll be back."
From what you're saying, it doesn't seem like your customers think the recall is that big of a deal.
To be honest, I think it's going to be huge for Blue Bell. They've done such a good job. They expand so slowly, they do such a good job of building a loyal following, I don't think there's anything they can do to stop it. The fact is that we are getting 80 to 100 phone calls a day from customers. But then what's happened is people come in and say, "I want to try this Blue Bell." All of our cabinets still say Blue Bell. I think people didn't know what it was and now they want to try it.
The FDA report that came out last week showed that Blue Bell was aware of listeria in their factories going back to 2013. Do you still think that they've handled this well?
We've had Blue Bell for two years and have been in business for five. In the past, there have been other recalls on stuff like yogurt, but there has never been a recall on everything that company made. The fact that Blue Bell recalled everything — I hate to think about what it cost them. I think they'll survive fine. It's like a religion down there; they're doing candlelight vigils in Texas.
There's no timetable yet for Blue Bell to start producing ice cream again. How long can you hold out?
They told us they are close to finding the source of the problem. We're hoping they'll start production by the next month. If it goes on longer than two months, I may have to reconsider. Yet again, we're trying to build a brand like Blue Bell. We're not trying to hit and run. For us to go a couple months and not make any money isn't a big deal. It'd be crazy to just dump them. But it definitely has affected our sales. On a weekend afternoon it'd usually be a 20- to 30-minute wait and now there's hardly any wait at all. Our Yelp reviews have definitely gone down, too. People are giving us one or two stars and asking, "How does an ice-cream store not have ice cream?" It's hurting us in that sense. There are people who don't care what kind of ice cream it is, they just want ice cream.
You said you think Blue Bell will benefit from the awareness generated by this recall. But do you think your store will benefit as well, despite losing at least a month of sales?
Absolutely. And if it doesn't, I'll go out of business. If I stay out of ice cream for two to three months and then Blue Bell doesn't work I'll be in trouble. If people weren't calling about Blue Bell, I'd think about switching.
Do you have any fears about how this will affect your store's future?
It's scary not knowing when it's coming back. At some point you have to make a decision. Jeni's Ice Cream had been talking to us about bringing it in along with Blue Bell, they'd been in contact with us for about five or six months, and then this happened to them, too. It'll be interesting to see what happens when Blue Bell comes back.